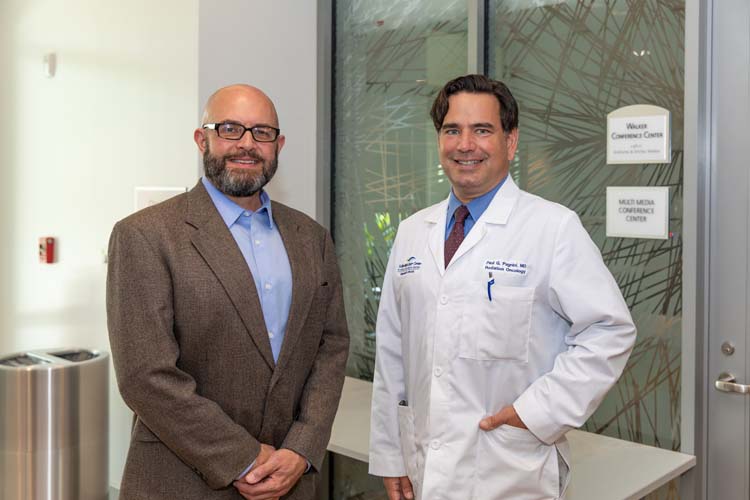 While there is little evidence-based data showing that "cancer support groups" prolong the lives of cancer patients, the Scully-Welsh Cancer Center's volunteer coordinator, Scott Duncan, still marshals his team on the last Tuesday of the month to host support groups for those with breast, prostate and other cancers at the Vero Beach facility.
Why?
Because as the American Society of Clinical Oncology says, "support groups help many people cope with the emotional aspects of cancer by providing a safe place to share their feelings and challenges. They also allow people to learn from others facing similar situations."
The Mayo Clinic shares that view, saying "for many people, a health-related support group may fill a gap between medical treatment and the need for emotional support.
"A person's relationship with a doctor or other medical personnel may not provide adequate emotional support and a person's family and friends may not understand the impact of a disease or treatment. A support group among people with shared experiences may function as a bridge between medical and emotional needs."
Scully-Welsh radiation oncologist Dr. Paul Pagnini, an occasional speaker at Duncan's support group, agrees. "There have been some studies that the National Cancer Institute published – at least in abstract form – that cancer support groups have shown … [a positive] impact on patients' quality of life."
Scully-Welsh currently offers four support sub-groups: one for breast cancer patients, one for prostate cancer, one for general cancer and one for caregivers, though both Duncan and Pagnini appear eager to add a lung cancer group to the mix as well.
According to Duncan, who "facilitates" or leads the prostate cancer group, "at 6 p.m. we all get together and we have our speaker. The speaker could be a nutritionist, it could be a doctor, or someone to talk about exercise … It can pretty much be on anything. Then at 6:30 we break out into our groups."
Joining Duncan at these group meetings are a social worker as well as a team of registered nurses.
Of course, there is no 'one-size-fits-all' when it comes to cancer treatment.
Pagnini agrees it's entirely possible for two patients diagnosed with the same type of cancer to have very different treatment plans based on a variety of factors, and he sees that as a plus.
"There are different curative therapies and there are different side effects associated with those therapies," Pagnini explains. These support groups "allow conversations about all of the options available and they allow people to kind of work through their feelings about those options."
Pagnini then adds, "some of the patients may have just been diagnosed and maybe they haven't had a therapy. They just had a positive biopsy and they may come to the support group to find out what was it like for those who have been treated with surgery versus radiation."
IRMC's cancer support groups actually pre-date the Scully-Welsh Cancer Center. "We started with the prostate cancer support group before the building was completed," says Duncan. "So, we held it over in the physicians' dining room of the hospital back in 2015."
The National Comprehensive Cancer Network sees considerable merit in cancer support groups. It says: "If you or someone you love is coping with cancer, many experts suggest that you may find comfort and strength through support groups."
At Scully-Welsh, the cancer support groups meet on the last Tuesday of the month – except for December, when there is no meeting due to the holidays.
For more information, patients and family members can call 772-563-4673 and ask about the cancer support group program.