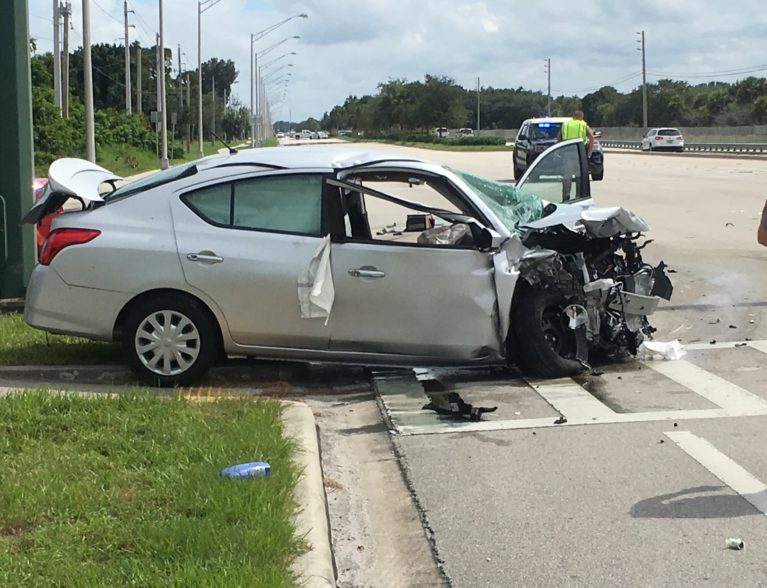 INDIAN RIVER COUNTY — Florida Highway Patrol identified the victims in a Tuesday afternoon crash that left an 87-year-old man dead and three others injured.
Highway troopers identified the deceased as 87-year-old Giulio Rovis. Three others involved in the crash were identified as Rosa Rovis, 84, Angelica Malisham, 22, and Christopher Edwards, 35.
All reside in Vero Beach and were wearing seat belts at the time of the two-vehicle crash, troopers said. Rosa Rovis and Edwards were listed in serious condition at a trauma center late Tuesday. Malisham was listed late Tuesday with minor injuries.
The crash shut down the northbound lanes on U.S. 1 in the immediate area and snarled traffic. The collision occurred south of Vero Beach and near the Vista Royale Condominium complex.
Troopers said the deadly crash happened at 1:22 p.m. Tuesday as Giulio Rovis traveled southbound on U.S. 1 in a Nissan Versa. Rosa Rovis was a passenger in the vehicle.
Guilio Rovis entered the turning lane at the intersection of U.S. 1 and Vista Royale. Troopers said Malisham was driving northbound in a Chevrolet Sonic on U.S. 1 in the outside lane approaching Vista Royale when Guilio Rovis made a left turn into the path of the car.
The Chevrolet then struck the left front of the Nissan. Edwards, who was a passenger in the Chevrolet, Malisham, and Rosa Rovis were taken by ambulance to Lawnwood Regional Medical Center & Heart Institute in Fort Pierce, authorities said.
*Note for videos: Click the audio icon in the lower right hand corner for sound.
One person is dead and three others have traumatic injuries after a two-vehicle crash Tuesday afternoon in the 100 block of U.S. 1. The crash closed northbound lanes in the immediate area. No word yet on what caused the crash. Florida Highway Patrol troopers are investigating. #VeroNews

Posted by Nick Samuel on Tuesday, September 11, 2018
Giulio Rovis went into cardiac arrest and was taken by ambulance to the Indian River Medical Center, where doctors pronounced him dead, according to troopers and fire rescue officials.
The U.S. 1 northbound lanes reopened by Wednesday morning.
Photos by Nick Samuel