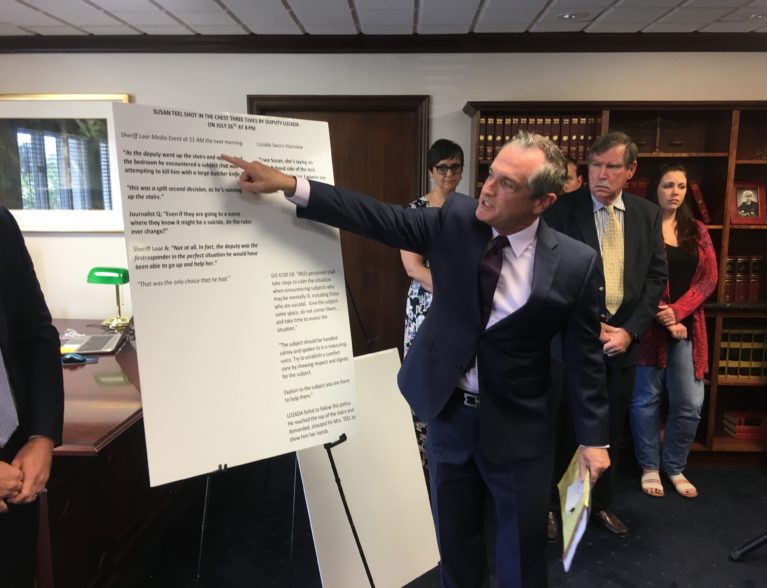 Attorney Guy Rubin early Monday filed a $10 million federal wrongful death lawsuit against Indian River County Sheriff Deryl Loar and sheriff's Deputy Jonathan Lozada for the fatal 2017 shooting of Susan Teel.
"The family is managing the best they can. It's tough," said Rubin, who is representing the Teel family. "They believe in civil justice."
The lawsuit comes a little more than a year after Lozada fatally shot Teel, 62, after responding to reports of a woman threatening suicide at her Carriage Lake Way home. Investigators said that when Lozada arrived, Teel had lunged at the deputy with a large butcher knife.
"(Lozada) facilitated a suicide by cop when he approached her in a threatening manner," Rubin said during a news conference Monday at his law office, 111 S.E. Osceola Street, Stuart. "He gave her the chance to fulfill her wishes."
Rubin said Teel had been dealing with mental health illness for several years. Teel was the wife of longtime emergency room physician Dr. Dudley Teel.
Dr. Dudley Teel, 70, his children Sara Gordon, 40, and Connor Teel, 28, stood alongside Rubin as he spoke to media at the news conference. All three live in Indian River County.
*Note for videos – Click the audio icon in the lower right hand corner for sound. 
Attorney Guy Rubin said he filed a $10 million federal wrongful death lawsuit early Monday against the IRC sheriff's office. The suit stems from a fatal 2017 Deputy involved shooting that claimed the life of 62-year-old Susan Teel. Here what he has to say. #VeroNews

Posted by Nick Samuel on Monday, September 10, 2018
The lawsuit, filed with the U.S. District Court Southern District of Florida, claims that Lozada did not follow proper sheriff's procedure when dealing with a suicidal person. Rubin said Lozada did not take steps to calm or assess the situation, refused to wait for back up and did not try to communicate with Teel before going upstairs.
Rubin also said Lozada took out his firearm prior to going up the stairs.
"Lozada reached the top of the stairs and demanded, shouted for Mrs. Teel to show him her hands, as if she was a suspect on a road side stop," Rubin said. "That was completely inappropriate."
Rubin also contested information that Loar gave at a sheriff's news conference shortly after the incident. In the previous sheriff's conference, Loar described the shooting as a "split-second decision."
But, Rubin cited an internal affairs report from the incident, which states that Lozada initially found Teel lying face down on her bed. Teel then responded by saying, "(Expletive) you, kill me," and then made her way around the bed and approached Lozada with the 13-inch long butcher knife, reports show.
"That is in stark contrast from what the sheriff told the public," Rubin said.
As Teel approached Lozada, the deputy then shot her four times, reports show. Rubin previously said Teel – who was 5-feet 2 inches tall and 118 pounds – was not a threat to anyone but herself.
In January of this year, the grand jury decided to not indict Lozada for the fatal shooting. The sheriff's office also cleared Lozada of any administrative wrongdoing.
Loar was not available for comment and sheriff's Maj. Eric Flowers said the sheriff's office "does not comment on pending civil litigation."
Rubin announced in August 2017 that he would launch an investigation into the deadly shooting.
*Note for videos – Click the audio icon in the lower right hand corner for sound. 
ICYMI – Attorney Guy Rubin filed a $10 million lawsuit against the Indian River County Sheriffs Office and sheriff's Deputy Jonathan Lozada. The suit stems from a fatal 2017 Deputy involved shooting that claimed the life of Susan Teel, who was 62. The lawsuit states Lozada failed to follow proper procedure when dealing with a person with mental illness or suicidal thoughts. Check out the video below. #VeroNews

Posted by Nick Samuel on Monday, September 10, 2018
Photos provided by Guy Rubin, Nick Samuel, Gordon Radford