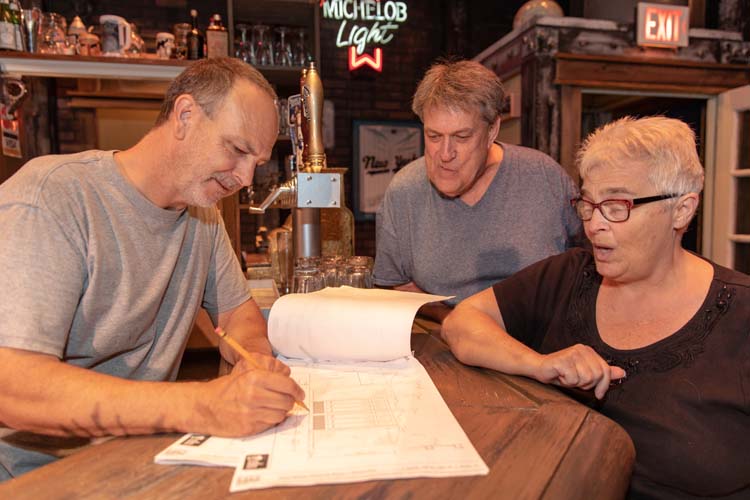 The Vero Beach Theatre Guild put a toe in the water this past July with "Dixie Swim Club," the first production of its huge 61st season. And with next Tuesday's opening of "Yankee Tavern," the nonprofit community theater dives right in with a season packed all yearlong with productions.
There's a thriller, a drop-dead-hysterical whodunit, a couple of heart-warming comedies and an iconic American musical comedy. Additionally, the Apron Series for Readers Theatre serves up four goodies, including a courtroom drama, a spin on a Christmas classic, and comedies of the literary and adult persuasions.
"We wanted the 61st season to be one that will be remembered for many years to come," said stage director Jon Putzke, Guild president.
There's nothing better to ramp things up than with a production of "Yankee Tavern," which runs Sept. 11-23 and is directed by Puzke.
Written by Steven Dietz, this unusual play is set in a New York bar named the Yankee Tavern. In it, a young couple gets involved with a possible nut-job of a bar owner in what Putzke calls "an edge-of-your-seat thriller centered around the conspiracy theories of 9/11."
Chicago Tribune theater critic Chris Jones wrote that the play "… accomplishes a number of things in the theater that are very difficult to do at once and has many useful things to say about how most of us stake out a position that rejects what we see as outlandish conspiracy theories, even as we remain less than convinced that the government is dispensing the whole truth."
Next up, "The Game's Afoot or Holmes for the Holidays," runs Nov. 6-18. This is a popular comedy written by American farce-meister Ken Ludwig. Set in 1936 in a dreary Connecticut castle, it concerns a Broadway actor who has had his turn as Sherlock Holmes. Over-the-top characters and razor-sharp one-liners make this a favorite of theaters around the country.
"Miracle on South Division Street" runs Jan. 15-27. Written by Tom Dudzick, the warmhearted comedy is about a family, faith and deathbed confessions.
"A Funny Thing Happened on the Way to the Forum" runs March 12-24. This is one of the American musical theater's funniest, goofiest and most loved works. Created in 1962 by Burt Shevelove and Larry Gelbart and with music by Stephen Sondheim, this show has arguably graced every stage on the continent. And boy, does it have legs. Whip-smart and fast, the show has a vaudeville aesthetic to it that cries out for rim shots.
"The Savannah Sipping Society" runs May 7-19. This comedy is written by Jessie Jones, Nicholas Hope and Jamie Wooten, the same trio who wrote "The Dixie Swim Club," which launched the season this summer.
In addition to these mainstage shows, the Guild brings back its popular Apron Series for Readers Theatre. A stage "apron" is the deck of the stage in front of the grand drape, so the Guild closes the grand drape and sets actors on that little bit of stage in front to deliver the presentations.
In conventional Readers Theatre, actors place the written plays onto music stands and then interpret the characters and action without benefit of costume, props, scenery and staging. Done right, Readers Theatre can be as exciting as an actual production. It's just a different form.
The four Readers Theatre productions this season are:
"12 Angry Men" runs Oct. 12-14. This is Sherman L. Sergel's classic drama of 12 jurors deciding the fate of a young man accused of murder.
"Jacob Marley's Christmas Carol" runs Dec. 8-10. Written by Tom Mula, this is a wonderful take on Dickens' "A Christmas Carol." In it, Marley is given the chance to redeem Scrooge and by doing so, redeem himself.
"A Night in the Theatre" runs Feb. 8-10. Written by Lawrence Casler, this revolves around a couple and their friends who talk throughout a production of "Hamlet."
"Things You Shouldn't Say Past Midnight" runs April 12-14. Written by Peter Ackerman, it is an adult comedy with naughty one-liners served up by three randy couples.
"This season, we have something for everyone," said Putzke, adding that more work than ever has gone into the selection of their plays and musicals.
For sure, a community theater with a storied history like the Vero Beach Theatre Guild, is already known for serving up something for everyone.
Founded in 1958, the Guild was itinerant in nature, initially producing its shows in an old naval base and schools, while storing props and costumes in people's garages. In 1973, it became the resident acting company in the old Riverside Theatre building. But when the decision was made to turn Riverside into an Equity theater, the Guild decided to look for a new home.
"The Guild stood by its mission statement, that it would be a community theater for, of and by the people of the Vero Beach community," Putzke said. "So they bid farewell to the Riverside, crossed the bridge and planted themselves on San Juan Avenue in their own 300-seat theater (in) a converted church."
Fast forward to 2014, when the Guild renovated the space to a three-story facility which now houses props and costumes as well as a rehearsal hall and, of course, the mainstage.
Since then, the Vero Beach Theatre Guild has seen a growing number of directors, actors, board members, backstage personnel and patrons.
"From a converted church, the Guild renovated, remodeled and became the proud owners of their own theatre," Putzke said. "Thousands of volunteer man hours made the campus the hub of family oriented, community theatre."
Vero Beach resident Shane Frampton says it is a beloved institution, adding that a couple of her favorites were "The Pajama Game" and "Making God Laugh." They entertained and had some "wonderful" talent on stage, she said.
"It's a charming community theater," she said. "It's warm, friendly and a lovely place to spend the evening."
Tickets begin at $15 for the mainstage productions and at $12.50 for the Apron Series Readers Theatre.
The Vero Beach Theatre Guild is at 2020 San Juan Avenue, Vero Beach. Call 772-562-8300 or visit VeroBeachTheatreGuild.com.