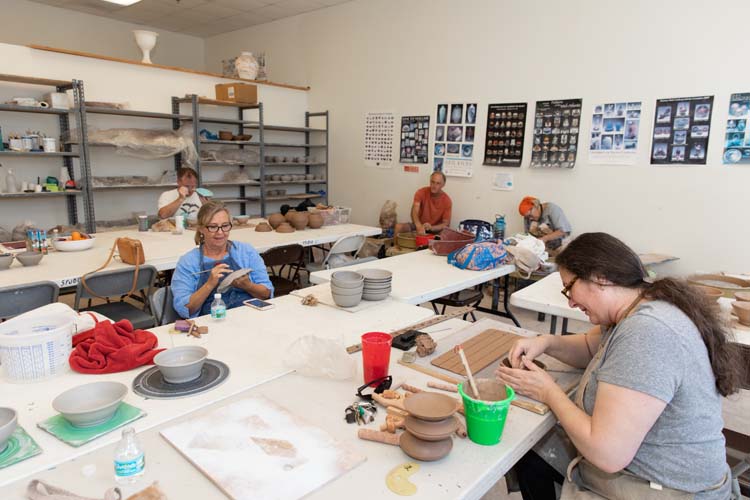 The brand-new Bailey Custom Pro 32 gas kiln at the Vero Beach Museum of Art is having a true baptism by fire this summer. The kiln is being pressed into service to fire the bulk of the roughly 1,200 soup bowls crafted by volunteer clay artists for the 26th annual Samaritan Center Soup Bowl, taking place Thursday, Nov. 1.
Many of the artists say they became hooked on pottery after taking lessons at the Museum and enjoy the camaraderie of coming back to work on their bowls en masse in the VBMA clay studio each August and September. The potters catch up with one another as they hunch over throwing wheels or trim and put final designs on creations started at home. Once the bowls are given an initial bisque firing, they return to glaze their pieces before the final firing.
Last year, roughly half of the bowls were fired at artists' home and studio kilns, as the previous large kiln had already been retired.
VBMA pottery teacher and clay technician Peggy Thomas said they are all quite excited about the new kiln which Sean Clinton, VBMA faculty manager, just recently installed.
"We also have another kiln so we'll be using that too," said Thomas. The other one is roughly half the size of the new kiln. Both will be put to good use throughout the year as the VBMA has increased the number of its pottery classes.
"I've done Soup Bowl for over 20 years," said Thomas. "I love the whole idea of Soup Bowl; I love the idea of spending our time and our energy doing this. That the museum is involved with it is a great thing."
For consistency, potters are allotted 1.5 pounds per bowl of clay, but since throwing styles vary amongst the artists, the sizes range from thin larger bowls to thicker smaller bowls. Most of the potters also enjoy incorporating their own special touches.
"I did dragonflies last year; this year I'm going to do what's called sgraffito fish," said Thomas. "I throw the whole bowl, then put a black slip on it and then draw the fish scales through it."
Last year Linda Thiessen featured three little sea turtles on the fronts of her bowls and this time was perching one atop each rim. She is among many hoping to emulate 89-year-old Terry Green, who continues to throw her age each year. "She's amazing; she's like my inspiration," said Thiessen.
"When I first did the Soup Bowl, somebody else was doing her age. I got very impressed with it and decided to do my age. Next year I have to do 90," said Green with a laugh. She claims to have been "bitten by the clay bug" 40 years ago, adding, "It's incurable."
Green got a head start on her bowls at her studio on Old Dixie, where she generally focuses on the large pieces she displays as a resident artist at Gallery 14.
"I love to throw but I don't do much on the wheel anymore; I mostly do sculpture," said Green. "So that's why I start in June, making a few each day. I have 73 at the studio waiting to be glazed. I save the last 16 to come and do here, because the best fun of all is being together with my potter friends. It's the only time I get to see them."
"It's a wonderful group of women and men and it's always been fun to participate. I collected the bowls before I started as a potter," said ZoAnne Merrill, who began taking classes with Thomas at the VBMA four years ago. "It was something I'd always wanted to do, so when my kids went off to school and I was an empty nester, I took up pottery."
Maria Sparsis also got her start with the Soup Bowl after taking classes – hers with Clinton – at the VBMA roughly 10 years ago. Since "getting hooked in a big way," she has, rightly, achieved acclaim for pieces that range from her whimsical teapots to cheekily risqué objects d'art, as well as for stimulating the local clay artistry movement in general.
"I really enjoy doing this; it's my therapy," said Sparsis, whose bowls this year are a two-part process – throwing the bottom half and hand-building the top half. "Pottery is a very social pastime and we don't get together very often, because a lot of us have home studios."
She pointed across the room to Heidi Hill, a fulltime potter who works from home, saying "she could be doing her soup bowls at home, but then she doesn't get to come hang out with the rest of us. She came in today so that we can all play in the mud together. You get to play in mud with your friends; it doesn't get much better."
Additionally, she noted that since most of the volunteers are not production potters, the repetitiveness of doing the same thing over and over again helps them improve their skills. "A lot of people enjoy that; I know I do."
The determination as to which bowls go where is completely random, so on the day of the event, Soup Bowl collectors often go on the hunt from location to location to search out works by their favorite artists.
"On packing day, we've got boxes and boxes and boxes," said Thomas, explaining that each is filled by volunteers with 10 or 12 colorful bowls from the multiple stacks lining the shelves.
Through donations toward a bowl of soup, the sale of hand-crafted bowls and the purchase of raffle tickets to win ceramic soup tureens made by the some of the same artisans, the event raises funds to benefit the Samaritan Center for Homeless Families, which provides long-term transitional housing and life skills development for homeless Indian River County families.
Renee Bireley, Samaritan Center program administrator, stressed how appreciative they are of the longstanding partnership with the potters and the VBMA, which joined as a Soup Bowl location last year.  She said she encourages Samaritan Center volunteers and board members to view the creative process in action so they can get a true sense of the dedication of the clay artists.
"About 6,000 individuals from Indian River County come out to our 43 different locations – places of worship and businesses throughout the county," said Bireley. She said that last year, 95 five-gallon buckets of soup were donated from about 70 restaurants, country clubs and caterers to be dished out at places of worship, while participating businesses whip up their own delicious concoctions.
"The Soup Bowl is a community wide ritual that the whole community looks forward to coming out to," she added. "I think what's so great about this fundraiser too is that it brings awareness to the plight of the homeless in Indian River County. And this is one of the few completely affordable fundraisers that anyone in the community can go to, because it's just a $5 donation for a bowl of soup and $15 for these beautiful, handcrafted ceramic bowls."
Photos by: Denise Ritchie
Click HERE to see more or buy photos