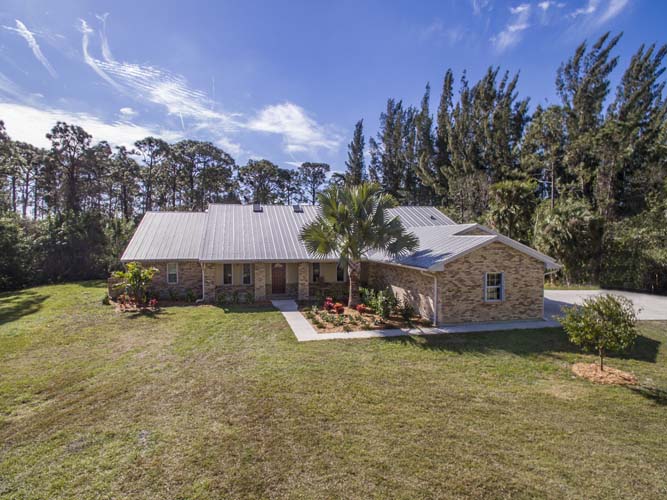 The original 40 acres where this 4-bedroom, 2.5-bath home is located was originally platted as "Garden of Eden" and Jeffrey Valentino bought two tracts – "Adam" and "Fig Leaf" – forming an 11-acre estate. It's so private Adam could go without the latter.
The subdivision is likely to remain a haven of privacy, too; those buying tracts in Eden signing deeds their land will remain "ranchettes," with one house per 4.7 acres, reinforced by the A-1 or agricultural zone designation that limits buildings.
That's not to say this amazing estate with a lake, guest house, main house and big Quonset hut is remote. With development moving west and north, it's arguably mid-town, at 6045 57th St., only a few miles from State Road 60's shopping centers and across the street from Storm Grove Middle School.
Valentino left much of the property untouched, a sound-and-sight buffering forest and fencing ringing the property. The back lot line runs parallel to the North Relief Canal and Valentino says wild pigs forage back there.
"People have inquired if they can hunt the pigs on the property," Berkshire Hathaway Home Services Listing Agent Michelle Clarke said. "Absolutely you can hunt."
Hunters and gatherers should be equally attracted to the property. The A-1 zone allows landscaping or agricultural-related businesses. A nearly 800-foot-deep artesian well supplies water to the all the buildings, including the 60-foot by 36-foot galvanized steel Quonset hut, which has a 14-foot high ceiling, and could be used as a workshop, oversize garage or barn. Valentino put in barn doors at each end, one 12-feet and one 16-feet wide, so big vehicles, such as tractors and trailers, could drive straight through.
Car collectors, take note: The Quonset hut is rated to withstand 220 mph winds and can accommodate 14 cars.
Much of the acreage has underground irrigation, Valentino said, making it easy to step up a centrally-located nursery business.
The artesian well also feeds the large pond Valentino dug shortly after he bought the property in 1996. In the intervening years fish have thrived. Tilapia, blue gill, small- and large-mouth bass, catfish and koi came boiling to the surface for their daily feeding on a recent summer day.
Those looking to offset their mortgage payment for the main house could rent the guest house, built on the front five acres in 2000. It has 1,100 square feet under air, three bedrooms and one and a half baths.
Valentino is selling to move closer to his son in North Carolina, although he thought he'd be living in Eden for the rest of his life. As a building contractor, "I went crazy, overbuilding everything," he said.
Although both the guest house and main house were built before stricter hurricane building codes were passed, "both are up to code for the next 100 years," Clarke joked, with Valentino admitting he is probably an obsessive-compulsive.
As a county fireman for 30 years, Valentino was required to stay during hurricanes and wanted to keep his family, nine dogs and six goats safe. He built every structure on the property to withstand powerful winds.
The main house, with four bedrooms and two and one-half baths, was built on the back acreage in 2003. The walls are 16 inches thick. At the center are cinder blocks, then furring strips to leave an inch of airspace, "the best insulator," according to Valentino. Over the furring strips is insulation board.
The exterior walls are "old, recycled brick" from Chicago in unusual honey shades, or HardiPlank siding. Many of the interior walls are large half-pine log siding in a buttery color. The roof is metal.
The interior displays a bold, cohesive, modern frontiersman aesthetic. The log siding and other wood finishes are complemented by log furniture, including counter stools, rocking chairs, chests of drawers and bedroom suites. Buyers may want to keep the look and Valentino will entertain offers for the log furniture. The large stone fireplace with a split-log mantelpiece in the great room is perfect for pioneer gatherings.
The house includes a rare indoor pool and spa, the room heated and air conditioned, adding over 1,000 square feet to the living space. The 14-foot cathedral ceiling is made of indestructible and handsome cypress with four skylights that can be cranked open or shuttered. The back wall is mostly glass, letting in more light. The concrete walls and deck are designed to handle steam cleaning, draining efficiently. Add the half-bath and teak bar and you have the hang-out spot of the century.
The kitchen is also impressive. The pine-look laminate floor, granite counters and splash boards, cherry cabinets with crown molding and antique wood center island are beautiful and practical. The three-sided breakfast bar can accommodate the junior baseball league. The country kitchen ceramic sink with a bas-relief front is a unique feature.
Two walk-in pantries with fine oak shelving will wow serious cooks.
Indestructible and handsome porcelain tile is laid in the pantries and hard-working laundry room.
The three guest bedrooms are on one side of the house and the master suite on the other, all with solid wood pocket doors to give privacy and quiet.
The master bedroom suite includes a nursery, now converted to an office with two built-in desks. Two walk-in closets have built-in oak shelving and chests and a wall safe.
The bathroom has a walk-in 5-foot by 6-foot shower with two heads, finished with cultured granite from floor to ceiling. Valentino said elderly relatives appreciated the built-in stool and room to maneuver.
The house also includes a security system with auditory and visual online monitoring options and alerts.
Adam would be hard pressed to find a multi-building property as well built or one so well designed to provide a secure, comfortable country lifestyle close to town.
Vital Statistics
Address: 6045 57th St., Vero Beach
Year main house was built: 2003
Home size: 2,500 square feet with 1,000 square-foot indoor pool room
Lot size: 11 acres
Construction: Concrete block and brick or HardiPlank siding, metal roof
Bedrooms: 4 • Bathrooms: 2.5
Additional features:  Main house with 3-bedroom, 1.5-bath guest house, Quonset hut, 2-car garage, stocked lake, artesian well, irrigation system, indoor pool and spa, security system, huge kitchen, two pantries, island, breakfast bar, cathedral and vaulted ceilings, log cabin feel, stone fireplace
Listing agency: Berkshire Hathaway Home Services
Listing agents: Michelle Clarke, 772-263-0386
Listing price: $815,000