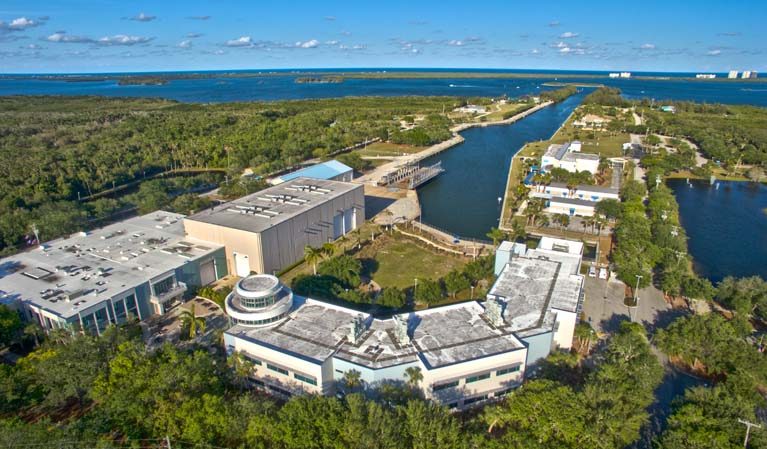 Harbor Branch Foundation and FAU admit impasse, plan court battle
By Federico Martinez
A high-stakes fight between Florida Atlantic University and the leaders of Harbor Branch Oceanographic Institute Foundation over control of a $72 million endowment is lurching towards a court battle after both sides said on Monday at the St. Lucie County Courthouse they've reached an impasse after eight months of negotiations.
After hearing the two parties, 19th District Court Judge Sherwood Bauer Jr. tentatively set a Dec. 6 hearing for opening arguments in the case.
Attorney Richard Mitchell, who is representing FAU, urged Bauer to begin the trial sooner, within two months. The University's position is that it legally has the right to control the Institute's operations and funding.
Foundation officials, who initiated legal action against the university, argue that a pre-existing agreement allows them to operate independently.
"They have already spent $350,000 on attorney fees," said Mitchell, who says the Foundation shouldn't even be using the funds without the University's approval. "Every dollar spent is taking money away from the students. Spending hundreds of thousands of dollars on a case is not in the best interest of the students."
Attorney Joseph Galardi, who is representing the Foundation, initially asked the judge to delay a hearing until at least February, in order to give his clients time to collect documents and other evidence to support their case, which rests on the agreement made with FAU when the university absorbed the previously independent Harbor Branch Oceanographic Institute.
Galardi also asked the judge to dismiss FAU's effort to include a claim in the upcoming trial that the Institute violated Florida's Sunshine Law during the dispute. No supporting evidence of a violation has been presented, he said.
"It's not relevant," Galardi said. "What we have here is a fishing expedition. Don't let them turn this into a sideshow."
Bauer tried to comprise by allowing FAU to request emails and letters that they think would support their allegations. Bauer said it would become clearer by December if there is evidence to support FAU's claims.
The Foundation came to be in 2007, when Harbor Branch's laboratories and research realm were acquired by FAU.
John Seward Johnson Sr., the son of Robert Wood Johnson, one of three founders of the Johnson & Johnson Corporation, had founded Harbor Branch in 1971, with the help of inventor Edwin Link.
The two envisioned an independent institute which would use oceanographic research, innovative engineering and deep-sea exploration to preserve the environment and promote greater scientific understanding of the ocean. The Fort Pierce laboratory soon became a world leader in its field, attracting top scientists from around the world.
After Johnson Sr.'s death, however, finances at the nonprofit began to falter. Expenses outran income in part because the Institute had acquired costly research ships and submarines and suffered extensive damage in the 2004 and 2005 hurricanes.
Johnson Sr.'s heirs were less supportive than he had been, and there was no longer an open checkbook to fund Harbor Branch's many research programs, including extensive studies of bottlenose dolphins in the Indian River Lagoon, according to Michael O'Reilly, chair of the Harbor Branch Oceanographic Institute Board of Directors.
To save Harbor Branch, its board of directors agreed to let the storied institution be acquired by FAU, turning over land, buildings, laboratories and other assets valued at more than $90 million to the university, which incorporated the research institute into its academic structure.
At the same time, the old board became the new Harbor Branch Oceanographic Institute Foundation board and refocused its energies on investment and grant-making, determined to protect John Seward Johnson Sr.'s endowment and use it for the purposes he intended. The new foundation board also maintained control over an annual $2 million stream of revenue from the sale of ocean-themed Florida license plates created to support marine research.
The arrangement that divided Harbor Branch's assets and functions into two parts appeared to work very well. FAU acquired new prestige as a research university and increased opportunities for its students, and the foundation's work thrived.
Focusing exclusively on maximizing investment returns and making impactful scientific grants, the foundation during the past 10 years grew its endowment from $40 million to $70 million and channeled more than $28 million to scientists, according to figures in an annual report released in November 2017.
The dispute began a couple months earlier in 2017 when during budget negotiations, Daniel Flynn, vice president of Research at FAU, proposed the Foundation merge its staff, accounting, legal representation and other administrative functions with the university to save a projected $416,000 annually.
The move alarmed the Foundation's Board of Directors, which feared that, without independent oversight, funds placed in trust by Johnson Sr. and license-plate revenue could be diverted to other uses than marine research.
The nonprofit filed a lawsuit in March 2017 to block the university's takeover attempt, relying on a 2007 Memorandum of Understanding between the two parties that stipulated the Foundation's distributions would be made at the "sole discretion" of the Board for purposes of defraying expenses, retiring debt and benefitting the institute.
"Now the university is trying to say that that agreement doesn't matter," Galardi said.