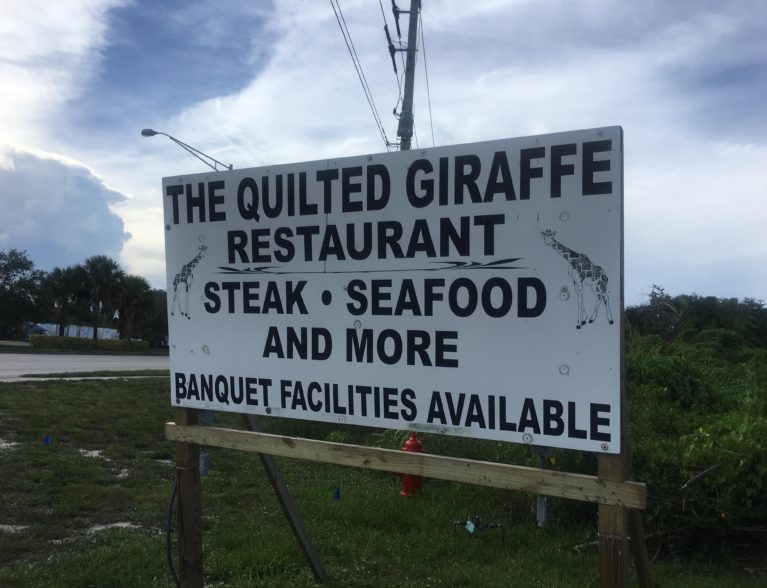 INDIAN RIVER COUNTY — Nearly six months after Patrick Tomassi's wife wandered away from a restaurant they both own, the husband has decided to close the eatery for good.
An auction was held at 11 a.m. Tuesday at the Quilted Giraffe, where items were sold including tables, chairs, kitchen equipment and a piano.
"It's just not the same," said 57-year-old Patrick Tomassi, who entertained guests with his wife Assunta "Susy" Tomassi at the Quilted Giraffe, 500 U.S. 1. "It's not the same positive energy to entertain anybody."
Assunta Tomassi, 73, hasn't been seen since she left the upscale cuisine restaurant March 16. The Tomassi family and Indian River County sheriff's deputies have searched for the woman ever since – including throughout the state of Florida and other states on the east coast – but have not found her.
"It's not easy not knowing what happened," Patrick Tomassi said about the disappearance of his wife, who suffers from dementia. "Nobody will be the same until we find out what happened."
The restaurant, owned by the Tomassis, was already closed for the summer after Patrick Tomassi returned from a trip to Italy. Patrick Tomassi said he has owned the Quilted Giraffe for more than seven years, and that the restaurant has been in operation for at least 17 years.
The eatery, which sells continental food, has a signature dish called the "Susy Seafood Pasta," according to the husband.
Patrick Tomassi said he recently sold the building and that a medical center will move in. The 57-year-old thanked customers, guests and the community for their support.
In the meantime, Patrick Tomassi will focus his energy at another restaurant he co-owns – Mr. Manatee's Casual Grille. Tomassi said he has co-owed the seafood grill for about two years.
But, the search for Assunta Tomassi has not ended for the Tomassi family. The Tomassis pleaded to the community earlier this month for help to get information on the woman's disappearance.
"If somebody knows something, they need to come forward," Patrick Tomassi said. "We need concrete information."
Patrick and Assunta Tomassi have been married for 37 years and live in Fort Pierce.
The family is offering a $15,000 reward for the safe return of Assunta Tomassi. They are also offering $5,000 for anyone who has information leading to an arrest.
Anyone with information on Assunta Tommasi's whereabouts should contact the Indian River County Sheriff's Office at 772-978-6240. Those who want information about the auction should call 561-706-7218.