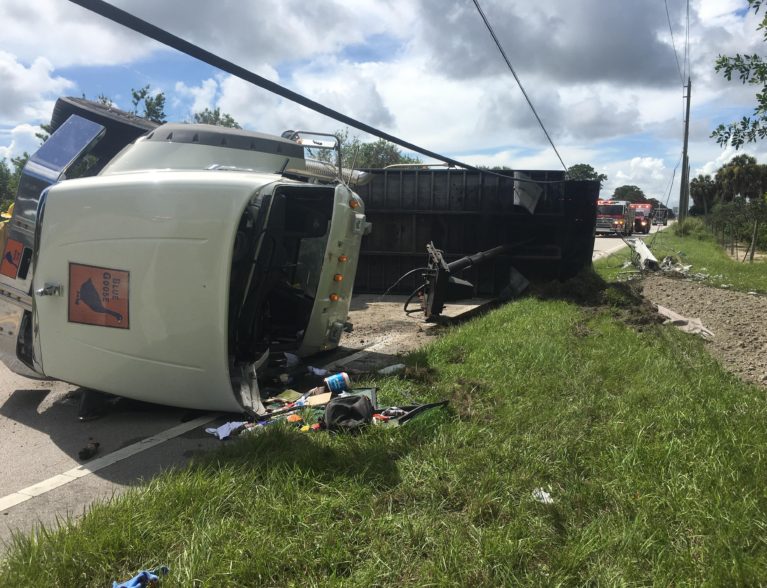 Photo contributed by Indian River County Fire Rescue
A driver was injured Monday after he swerved his dump truck – which tipped over – to avoid hitting a motorcyclist on the road, an Indian River County Fire Rescue official said.
The crash temporarily closed 66th Avenue between 69th and 77th streets for several hours , authorities said.
Fire rescue crews responded to the single-vehicle crash about 11 a.m. Monday in the 7300 block of 66th Avenue in north county. The dump truck struck and knocked down a concrete pole before flipping on its side and spilling rocks into the roadway, fire rescue spokesman Cory Richter said.
The driver was taken by ambulance to Lawnwood Regional Medical Center & Heart Institute in Fort Pierce, Richter said. His condition was not immediately available.
There were no passengers in the dump truck and the motorcyclist was not injured, Richter said. 66th Avenue reopened by 3:30 p.m., troopers said.
Florida Power & Light Co. crews were at the scene repairing the pole. Florida Highway Patrol troopers were also at the scene investigating the cause of the crash, said FHP spokesman Alvaro Feola.
Photos by Indian River County Fire Rescue and Sheriff's Office