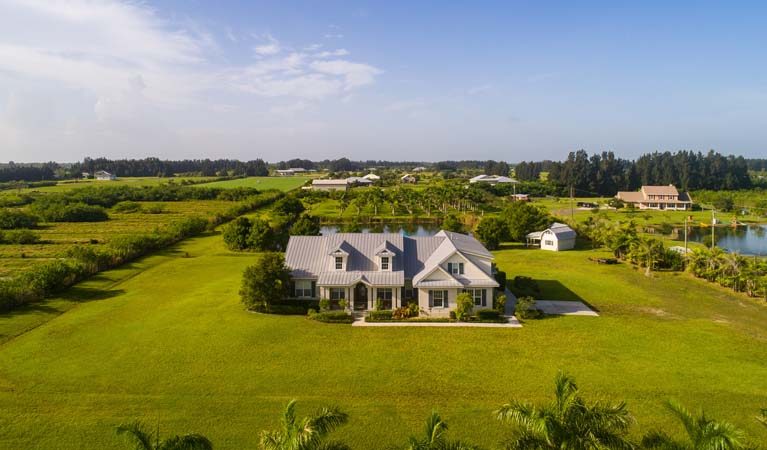 The owner of 6975 65th St., who has a home and business on the island, followed the upper-class South American tradition of living in "town" during the week and retiring to the country estate with family and friends on weekends and holidays.
The 10-acre property is among other large-acre estates along 65th Street, which turns into a dirt road just before the home's driveway, a deep canal running parallel for miles. The canal, similar to a moat, must be crossed, and the bridges, entrance gates, fences and plantings reflect the landowners' personalities.
This long rectangular property has a quiet entrance, with a raised unpaved driveway tracing a gentle S-curve through the front five acres planted as an ornamental royal palm grove. The trees are in strict formation, the aesthetic experience like passing through the open-air columns of Karnak Temple.
The back acreage is similarly planted, but also includes pomegranate, mango, avocado, guava, banana, lemon, lime and orange trees.
The house is at the center of the property, with a square lake behind that also makes a geometric-aesthetic statement. The lake nearly spans the width of the lot and is shaded by cypress trees and edged with cattails. It's stocked with small mouth bass, blue gill, tilapia and catfish, and the owners came to the covered platform to feed and commune with the fish, a meditative time-out so valued they did not allow fishing.
There are two artesian wells onsite, a 5-inch diameter well north and a 4-inch diameter well south, according to the county Health Department Environmental Specialist Reid Hawkins. The lake water is clear, replenished by one of the artesian wells.
According to county records, an irrigation system permit was issued in 2007, the same year the house was built.
There are two substantial out-buildings, a work and storage shed joined together in an L-shape, a covered carport filling in the rectangle. The current owners store their large golf cart, generator, lawn equipment and work tools there, with work space to spare.
The house is concrete block and stucco, but recalls "Old Florida" traditional wood-frame architecture. It has a square-pillared front, steep metal roof with dormers, broad eaves and wide front porch. The porch roof and front façade look like Miami Dade heart pine, known for its density and bug-repelling quality. The front and back porches are cut sand stone.
Inside, dramatic Australian cypress hardwood floors predominate, with porcelain tile in the bathrooms and laundry room. The ceilings steal the show, however, with every communal room on the first floor graced with tray ceilings, some with double, triple or even quadruple crown molding. Rounded wall corners, high baseboards, solid wood doors, nine to 13 foot ceilings, also announce fine building standards.
The kitchen is worthy of a chef who doesn't mind an audience. Admirers can line up on stools before an open-angle counter, granite finely veined in earth tones. The island is immense, the cool granite calling out for complicated rolled pastry projects, the handy bar sink good for keeping the dough moist. Raised-panel wood cabinets with traditional trim and soft-close drawers are beautiful and functional. A big pantry will ensure ingredients are always on hand, with prep space for catering large parties.
A stainless-steel double oven, propane cook top with hood and refrigerator are top notch, the dishwasher whisper quiet. A work-horse ceramic farm sink can handle a bushel of corn.
The current owners have his-and-hers offices, although one could be a guest bedroom.
There are two master suites on the first floor plus another guest bedroom. The split floor plan ensures privacy. All the bathrooms have porcelain tile floors, tumbled marble tile, granite counters and honey-colored wooden cabinets. The master baths also have walk-in showers, the cultured marble finish running from floor to ceiling. There is also a jetted tub for long luxurious baths.
Upstairs is another guest bedroom and bath, as well as a huge bonus room or sixth bedroom, the perfect enclave for a passel of grandchildren to bunk, eat and play together. The intercom system lets parents check in on them.
The owners said they came here during storms, the high-impact windows and solid construction making them feel safe and secure.
If you would like to see this magnificent property, you are in luck. Berkshire Hathaway Home Services listing agents Gretchen Hanson and Cindy Schulz-Long will hold an open house Sunday, Aug. 26, from 1 p.m. to 3 p.m.
Vital Statistics
Address: 6975 65th St., Vero Beach
Year built: 2007
Home size: 4,424 square feet
Lot size: 10 acres
Construction: Concrete block and stucco, metal roof
Bedrooms: 5
Bathrooms: 5
Additional features: Two-car garage, stocked lake, ornamental grove, fruit trees, two storage buildings, two artesian wells, covered deck overlooking lake, irrigation system, big pantry, big laundry room, gourmet kitchen, intercom, central vacuum
Listing agency: Berkshire Hathaway Home Services
Listing agents: Gretchen Hanson, 772-713-6450;
Cindy Schulz-Long, 772-559-4464
Listing price: $ 1.2 million