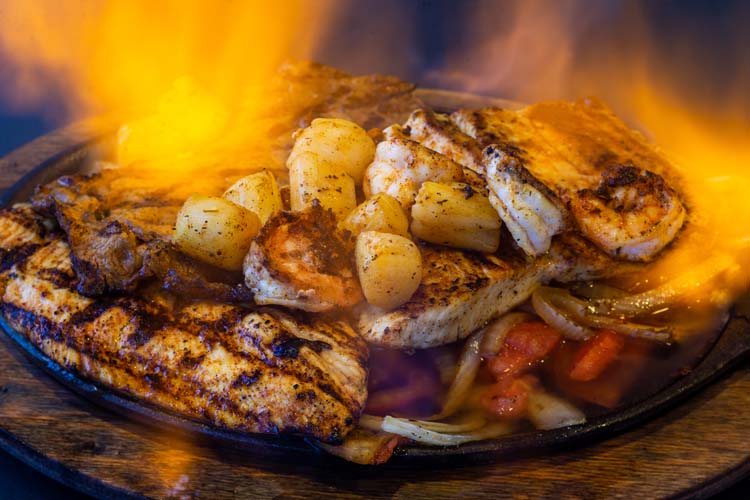 For years, we've lamented Vero's lack of a restaurant serving good Mexican dishes.
But there's hope, at last, nearby. If you are willing to drive about 40 minutes south from Vero on U.S. 1, a new restaurant called Casa Amigos in Port St. Lucie is offering authentic and tasty comida Mexicana.
Still not much more than a month old, this family-run cantina – housed in a large building newly repainted bright yellow and red – has been pretty much full on our two recent visits. And many of those dining there were Mexicans.
We were only seated for seconds when a basket of complimentary chips and delicious, slightly spicy salsa arrived at the table, and while I was trying to appraise a menu with a wide array of choices, the eyes of my husband and our companion quickly focused on the plentiful drink options.
Casa Amigos offers a dozen different varieties of Margaritas, as well as a number of traditional and not-so-traditional mixed drinks and beers. Our companion went for the jumbo house Margarita ($9.25) and apparently liked it because a half hour later he ordered another.
My husband and I, meantime, decided to try the homemade red sangria (glass $5.99, pitcher $21.99). I found it a bit too sweet for my taste, but my husband thought it was a perfect companion for spicy Mexican food.
In lieu of appetizers on both visits, we went for the guacamole made at tableside ($8.99). The show here is not as elaborate as at some big-city restaurants we've visited like Rosa Mexicano, but the price is more than right for a two-avocado bowl of guacamole as fresh and authentic as you will find anywhere.
Then for entrées on our most recent visit, I ordered the arroz con pollo ($12.99), my husband went for the carnitas ($13.99), and our companion opted for a jumbo shrimp fajita ($16.99).
My arroz con pollo – strips of grilled chicken with a flavorful creamy, cheesy rice and a side of black beans – was juicy and full of aromatics.
Our companion gave high marks to the fajita, loading his tortillas with shrimp along with lettuce, sour cream, pico de gallo, bell peppers, onions and guacamole.
My husband's carnitas consisted of seasoned chunks of pork, deep-fried until crispy on the outside and tender and juicy on the inside, topped with grilled onions.  The pork was perfectly cooked, and was served with delicious rice, refried beans and pico de gallo. Another excellent dish.
On a previous visit, I tried the steak, chicken and shrimp fajita ($16.99) and my husband had the arrachera ($16.99). The fajitas again were excellent, and my husband's dish – grilled marinated skirt steak topped with chimichurri sauce – was perfectly cooked medium rare, and accompanied by rice, steamed veggies and black beans.
The dishes, with their excellent use of Mexican spices; the creative variety of the drinks; and the attentive service on our two visits were almost too good to be true. If Casa Amigos can keep it up, my guess is people will be flocking there from miles around for a Mexican food-fix.
I welcome your comments, and encourage you to send feedback to me at tina@verobeach32963.com.  
The reviewer dines anonymously at restaurants at the expense of Vero Beach 32963.   
Casa Amigos
Hours: Daily, 11a.m. to closing
Beverages: Full Bar
Address: 7950 South U.S. 1, Port St. Lucie
Phone: 772-204-2744
Photos by: Gordon Radford
Click HERE to see more or buy photos