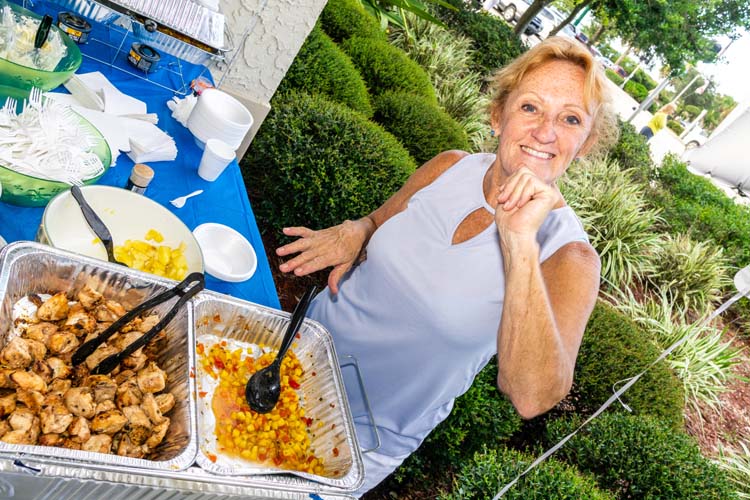 After the storms rolled through last Friday afternoon, more than 30 businesses fired up their grills for a night of Mango Madness during the eighth annual Sebastian River Area Chamber of Commerce Grill Out Night.
"It's the middle of summer, and while it appears that things have slowed down like they do every year, it's a great time of year for our businesses to open their doors to the community and show customers their appreciation," said Beth Mitchell, Sebastian Chamber president. "We've had a tremendous response to this low-key Friday night Sebastian party over the years."
The summertime event was inspired by Light up Night, which began more than 25 years ago, according to Mitchell. "For the businesses it's a great way to show customer appreciation, but it's also a way for the community to learn about the businesses that are out there. Hopefully, people will learn about what's available in terms of goods and services to keep it local and do their Sebastian shopping here."
Local businesses celebrated everything mango  ̶  enticing patrons to stop by and taste mango Italian ice, mango salsa, mango-themed appetizers, mango cocktails, mango sweets and more. Not mad about mangoes? Not to worry  ̶  there were plenty of other options available along the way.
"Getting their grill out adds a summer touch to it. We select a special fruit every year and challenge our businesses to be creative and come up with ways to serve that fruit to the public. It's Mango Madness this year. That's certainly a local fruit," explained Mitchell.
Raffles, games and discounts were offered to thank consumers for stopping by. Families strolled down the streets stopping to find out what various businesses had to offer from as far north as the Sebastian River Medical Center, where a large crowd gathered for the full buffet served by the hospital's leadership team, all the way down to the Tax Collectors office.
"Any time that you have an organized event like this, the community benefits," said Mitchell as friends and neighbors clustered in groups catching up and debating over their favorite mango dishes while children played cornhole and gobbled up hot dogs. Music blared, new shops were discovered, Mariner Pete flew in and visited with children at Marine Bank, Pareidolia Brewing Co. brewed up their special Mango Wheat beer and the Sebastian Police Department's COPs mobile (Community Outreach Program) featured Miracle, the star potbellied pig who was on hand to accept praise for her debut in the department's Law Enforcement Lip Sync video, Piggypop.
Mother Nature did her part to end the evening on a high night, putting on a powerful display of pinks and reds as the sun began to set bursting with the orange blush of a mango.
The Sebastian River Area Chamber of Commerce will host the 25th Annual Lifestyle & Media Auction on Sept. 14 at Pareidolia Brewing Co. Visit sebastianchamber.com for details.
Photos by: Gordon Radford
Click HERE to see more or buy photos