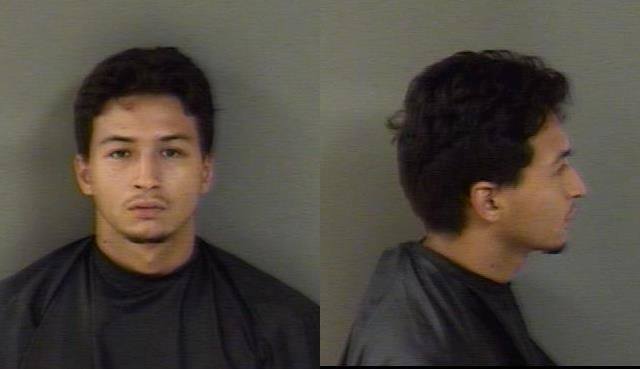 FELLSMERE — A 17-year-old who police said wore a ski mask during an armed robbery – where he stole pizzas and cash from a delivery man last week – was arrested Tuesday.
"We are grateful for the witness who came forward in this case," Fellsmere police Chief Keith Touchberry said. "While the subpoena provided valuable information, this witness was key in solving this case and could have very likely prevented additional crimes from occurring."
The teenager, identified as Noe Montiel Jr., "racked a round in a shotgun" and told the Papa John's pizza delivery man, "Give me all the money and the pizza," reports show. Police said Montiel used the mobile phone app called "TextMe" to place the order under a fake name.
Officers used the app to track down Montiel.
Police spoke with a witness who talked to Montiel the day of the robbery. Montiel told the witness he planned the robbery because "he needed money," reports show.
Montiel also said he was going to "wait for someone and rob them, but he didn't know if he was going to beat them up or kill them," authorities said.
Police arrested Montiel on charges of robbery with a firearm and wearing a mask while committing an offense. Details on if Montiel is being held at the Indian River County Jail or was taken to a juvenile detention center were not available.
Officers responded to reports of a robbery about 10:20 p.m. August 9 in the 10040 block of Esperanza Circle. The victim, a Papa John's employee, told police he was approached from behind by a teenager later identified as Montiel.
The victim gave Montiel his wallet containing $60 and two large pizzas, police said. Montiel ordered the victim to lie on the ground and count to 90. Then, the teenager fled the area.
The victim, who was not hurt, went to a nearby restaurant to report the crime. Officers issued a subpoena for subscriber information for a mobile phone app user to track down Montiel's phone.
Officers detained Montiel on Tuesday at his home and took him to the police station. Montiel admitted to officers he owned a shotgun, but denied committing the robbery.
Police arrested Montiel.
The case still remains an active investigation. Anyone with additional information about the armed robbery should contact the Fellsmere Police Department at 772-571-1360.