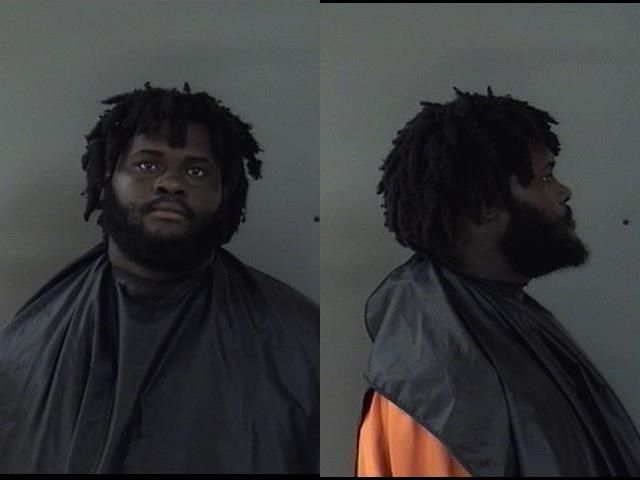 SEBASTIAN — A man and woman who authorities said brutally beat a resident during a home invasion before stealing the persons's vehicle, were arrested.
The man – identified as 26-year-old Kiandre Lennell Willis – hit the victim over the head several times with the leg of a wooden chair, reports show. The victim, who suffered a hemorrhage and skull fracture, spent four days at the trauma center for treatment to his injuries.
The victim's stolen vehicle was later recovered in St. Lucie County.
Sebastian police on Friday arrested Willis, of Jensen Beach, on charges of third-degree grand theft, home invasion robbery, grand theft auto and aggravated battery. Willis, also called "Fat Boy," is being held at the Indian River County Jail on $420,000 bond.
A 23-year-old woman also involved in the incident – Sherry Lynn Smiley – was charged with grand theft of motor vehicle. Smiley is being held at the St. Lucie County Jail on $3,750 bond.
Smiley told officers that the victim had tried to buy cocaine from Willis, reports show. Smiley said the victim thought the cocaine was fake, which angered Willis and led to the beating and grand theft.
Willis denied Smiley's claims, reports show.
Officers responded to the incident shortly after 6 a.m. July 31 at the victim's home on Kildare Drive. The victim was taken to a hospital, where he told police he was sitting on his couch earlier when a man, identified as Willis, walked in his home through a back sliding door and attacked him with a leg chair.
The victim said Willis was with a woman, identified as Smiley, during the incident. He initially denied knowing Smiley, but then later admitted to officers he knew the woman and let her into his home about 5 a.m. that same day.
The victim said he didn't know Willis was outside waiting. Willis stole the victim's wallet, two sets of keys and cell phones during the attack, authorities said.
Willis and Smiley then drove from the home in the victim's 2004 Honda Pilot. The pair left behind a 1996 Grand Marquis.
St. Lucie County sheriff's deputies spotted the stolen vehicle August 2 traveling on U.S. 1. Deputies spoke to a passenger, identified as Smiley, who admitted she knew the vehicle was stolen.
Smiley was arrested and later identified Willis in a photo lineup.
Police arrested Willis and took him to the county jail. Willis has an arraignment at 8:30 a.m. Sept. 26, court records show.