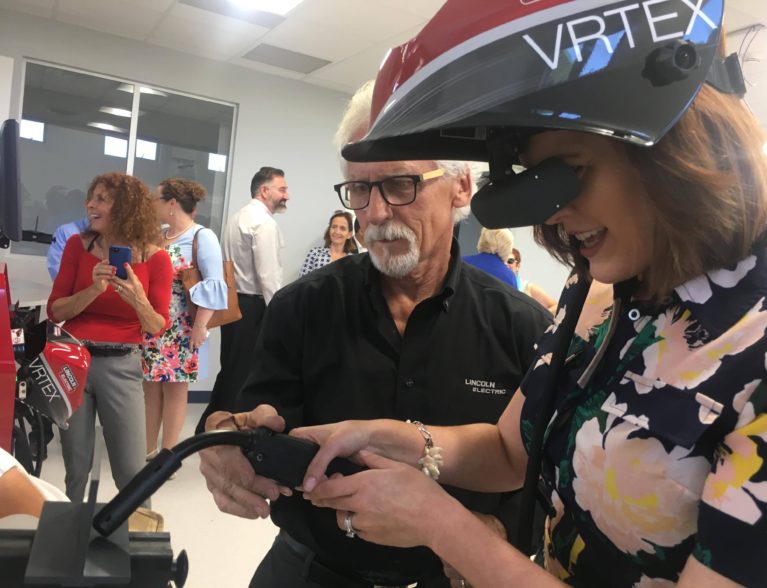 INDIAN RIVER COUNTY — This is not your grandfather's vocational school.
Indian River County residents on Thursday toured a new industrial technology building packed with state of the art equipment to help students excel in different trades. The new building is part of the Treasure Coast Technical College, which offers classes in the medical field, welding, construction and more.
"With the fluctuating unemployment rate in the county, it's important our students have a trade to fall back on," Indian River County school board member Laura Zorc said. "It's a good opportunity."
School board member Tiffany Justice and Vero Beach councilwoman Laura Moss got first hand experience of the virtual welding class at the new building. Welding engineer Lou Kleinsmith, of Lincoln Electrtic, demonstrated to attendees on how to properly use one of the welding simulators.
"That's so neat," said Justice as Kleinsmith showed her how to weld items in virtual reality. "What a great way to get students excited about a job opportunity in welding."
More than 100 people flocked to the new industrial technical facility about 3:30 p.m. Thursday after a ribbon cutting ceremony held at the college campus, 4680 28th Court. Some notable people in attendance include school district Superintendent Mark Rendell, school board Chairman Shawn Frost, commissioners Tim Zorc and Joe Flescher, sheriff's spokesman Maj. Eric Flowers and Gifford Youth Achievement Center Director of Public Relations Freddie Woolfork.
Students in welding take virtual training first. Virtual welders are given tools and a helmet that shows a digital screen of their real-time progress in fusing materials together.
College principal Christi Shields said the virtual training helps students to master their skills.
"It's like a video game. They can change the reality of where they are welding – such as a booth or desert," Shields said. "The machine gives teachers feedback on the student's welding ability. It's much safer and it cuts down on the cost of supplies."
*Note for videos – Click the audio icon in the lower right hand corner for sound.  
Students then move to the welding center, where they will physically fuse items together with real tools.
"My passion is to see young people get involved in welding. I've been doing it since 9-years-old," Kleinsmith said. The welding program is a dual-enrollment program for high school seniors and adults.
Other schools in the country using virtual welding reported that the equipment helps teachers train and test their students more efficiently. Schools reported the technology – which includes the VRTEX 360 – helps students to become well-equipped and adapt easier to a fast-paced welding shop environment.
Students enrolled in the building construction technology program, which has classes located in the same building, will learn hands on about carpeting, plumbing and more. There are no virtual classes for carpeting and plumbing,  Shields said.
Shields said there will be one teacher each for the construction and welding classes.
A separate facility for medical classes is also located on the campus. Students can earn their certifications for programs at the technical college in a year or less, Shield said.
"The programs are good for hardworking moms and dads who don't have time for a four-year college degree," Zorc said.
Details on the costs for the new welding equipment were not immediately available.
Photos by Nick Samuel