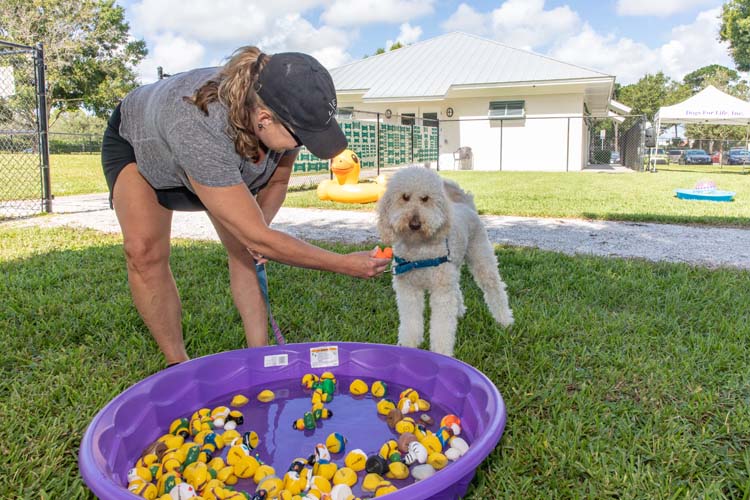 Under the bright morning sun, there was no spotting Sirius – the 'dog star' nose of Canis Major from Greek mythology – but there were certainly plenty of wet noses and wagging tails at the Dog Days of Summer Pool Party at Dogs for Life last Saturday.
Tongues lolled from 'smiling' snouts as well-behaved pooches relished small pools, slip and slides, lots of great toys and, of course, affectionate pats from one and all. For humans there was cake, to celebrate the birthday of board president Kathi Schumann, a staunch supporter since joining the nonprofit organization five years ago.
Founded in 2001 by Shelly Ferger, DFL operates an off-leash dog park and, more importantly, a Training Center offering specialized dog training. Instruction includes everything from Canine Good Citizen classes to assistance dog and service dog training. Their focus lately has been to train dogs to assist veterans returning home with physical and psychological injuries.
"The Veterans Training Veterans program is what now has been so successful" said Ferger. "I think we have about 30 in the program that are coming in; learning how to train dogs, learning how to teach an obedience class and learning how to be a foster home for the dogs Mrs. Schumann is purchasing for us."
They currently support 40 dogs, administering the required yearly certification or retraining, if needed, for the life of the dog. There are also 20 dogs in training, a process that takes between six months and a year; 17 of those pooches are for veterans.
"We have hundreds of veterans here in Indian River County that have applied," said Ferger, adding that they average 25 applications on pending status at any time. "We haven't had to turn anyone away that met all the criteria and had a dog that qualified."
Schumann said DFL will soon receive two golden retrievers that will eventually find a forever home with a veteran. "The lady who raises these dogs is a veteran in a wheelchair and has been doing this for a long time," said Schumann. "These are seventh- and eighth-generation service dogs."
Foster families, with guidance from Ferger and DFL trainers, begin teaching puppies the basics before they're given to a veteran at about a year old.
"I started training with Tucker in June of last year," said Marine Corps veteran Tracey Higginbotham of his 18-month-old yellow lab, who is trained to assist with various mobility issues. A member of the Veterans Training Veterans program, Higginbotham advises other veterans with issues such as mobility, hearing or PTSD not to wait.
"It's only going to get worse. It's a lot easier to start working and training with your dog now, instead of waiting until you're unable to do the training when you really need it," said Higginbotham.
It's not just veterans who are helped by DFL programs. Barbara Gormas said her golden doodle Lola is being trained to assist her with mobility issues after foot and back surgery. "She helps me with balance and to pick things up for me."
Training has always been provided free of charge thanks to generous individual donations, sponsorships and grants. For more information, visit dogsforlifevb.org.
Photos by: Denise Ritchie
Click HERE to see more or buy photos