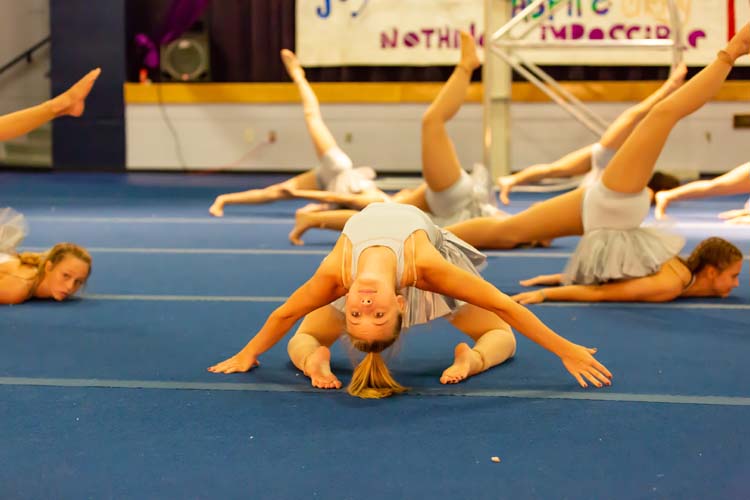 Inspiration and positivity oozed from the rafters of the Saint Edward's School Gonzalez Activities Center gymnasium last weekend, as nearly 250 performers wowed the audience at the 44th annual Aerial Antics Youth Circus. The performance was the culmination of weeks of study in the Vero Beach Recreation Department's performing arts and gymnastics classes, and Aerial Antics summer camp held at Leisure Square.
Families and friends filled the house during three packed performances, watching as performers from ages 3 to 25 executed acrobatics, gymnastics, dance routines and daring circus aerials in a choreographed display of spectacular acts that lived up to the show's theme: "It is Time to Inspire."
Every performer was given their moment in the spotlight – from the littlest tumblers to gymnasts, dance students and aerialists. Deeply rooted in the community, the program has a four-decade-long history of providing a healthy outlet for children.
"There's a lot of negativity in the world, even here locally. We wanted the kids and the audience to walk away feeling positive and feeling good about everything," said Patty Howard, assistant recreation director. "We wanted to send a message, especially for the kids. Be brave, don't give up, don't succumb to the negativity in the world and keep your head up."
Explaining that she and her sister, Liz Matthews, the performing arts instructor, had themselves participated in the program from an early age, she added, "I don't believe there is any other recreation department that offers something like this, anywhere."
As their mother, Jennie Howard, sat in the bleachers watching her grandchildren perform, memories of when her daughters participated came tumbling back.
"It's still such a wonderful program," she said. "My girls learned how to be on stage, to know their presence, learn poise, confidence and through it all they were having a good time."
Three long-time participants, who will head off to college this fall, spoke with emotion about the impact it has had on their lives. All three said they aren't ready to hang up the towel just yet; they plan to return during college breaks.
"I've been in the program since I was 2 years old. It's like my second family. I learned all about teamwork and friendship," said Justine Higgins.
Madison Torrent, a 14-year participant, said it has helped her to develop self-confidence and to always "do you."
"I like the inspire theme this year," said 12-year participant Taryn Sovine. "The coaches do that for us."
The program's longevity is attributed to its non-competitive, family environment.
"We don't expect anyone to be perfect. We just want them to learn something and be proud of themselves," said Howard. "I've been doing this for 21 years, and it's amazing to see these kids come out of their shell, their self-esteem is built up, and there's no pressure of competition.
This year's finale literally rocked "the boat," a rolling, steel frame that had performers timing their movements in a synchronized, dramatic display that summed up the inspirational message to never give up.
Their annual Holiday Drama, "Christmas Road Trip," takes place Dec. 2 at the Vero Beach High School PAC. For more information, visit covb.org.     
Photos by: Denise Ritchie
Click HERE to see more or buy photos