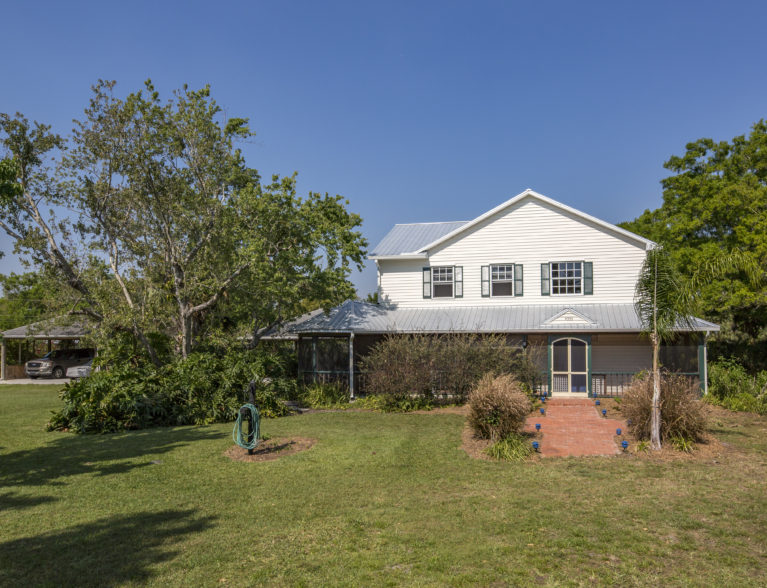 Husband and wife Ben Stone and Danica Perhacs turned an eight-acre site at 4335 60th Dr. into a dream compound and retreat over the past 30 years. Now they're ready to lighten their worldly ties so they can travel and are letting their "Shangri-La" go to pursue other adventures.
The next owner will appreciate the couple's sense of craftsmanship, functionality, beauty and love of nature. The building and land sculpting done over the years enhanced natural habitat, creating views from every window and prospect.
Growing children and an aging parent were given room to explore and ponder in a big guest house.
Perhacs' business, Canvasworks, which produced custom canvas work and upholstery for boats, was given scope in a large studio. Stone worked alongside her, restoring antique MGs or readying for a big fishing expedition as a boat captain.
Car collectors and hobbyists take note – the work building is tall and engineered to handle a second floor or lifts, which would nearly double the 24-foot-by-48-foot floor space.
The MGs, not surprisingly, are stored under custom canvas covers in two double carports, built to enclosed-garage specifications. It would be easy to add walls and convert the space to a secure garage.
Over the years, as the couple worked on the property, the location gained value as the county center shifted west and north, making their gated retreat close to all the stores and restaurants along 58th Avenue and other major arterial roads. "We have the ultimate in privacy with the ultimate convenience," Perhacs said.
"We bought it because we knew there could be no more neighbors," she said. "There are dead-end streets to the east and west and the deed can't be split."
The couple transformed a plain and not very functional 1964 two-bedroom, one-bath, block and stucco house into a five-bedroom, three-bath, two-story home that was completed in 1997. They clad the block first floor and frame upper level in vinyl siding for the energy savings, good looks and easy maintenance. New two-zone air conditioning was installed in 2010 and 2011. The old shingle roof was replaced with metal in 2014.
They built a two-bedroom, two-bath guest house in 1996. The square footage is the maximum allowed by code at 1,200 square feet, with 300 square feet covered and screened porch. It's frame construction, vinyl siding with a metal roof.
A pond was dug to provide fill for the guest house site. It is fed by an artesian well they had drilled at the same time, greatly enlivening the wildlife population and providing irrigation. "Only land zoned agriculture may have an artesian well now," Perhacs said. "What we've done here would not be possible now."
The pond is the centerpiece of the property, with main house, guest house, work studio, garages and storage sheds – all with metal roofs – nestled among trees and plantings ranged around the water.
"Everything flows beautifully and is nicely placed," Berkshire Hathaway Home Services listing agent Michelle Clarke said. "Mature plantings, time and nature have created an ambiance and given character to the property."
Extending into the pond is a covered dock with a large lounge area. People walking out on the dock brought watery denizens to the surface, expecting to be fed. Turtle and fish swarmed and maneuvered for kibble, catching it mid-air or mid-sink, while an unconcerned gopher tortoise moseyed by on land, stalwart legs moving under a shell the size of a turkey platter.
The gathering and feeding of humans happens in the large wrap-around covered porch, framed in cedar wood and screened, incorporating a hexagonal gazebo dining area. An outdoor kitchen with a built-in propane gas range is set off by a cobalt blue ceramic tile surround.
"We open both French doors and the porch becomes a part of the house," Perhacs said. "We eat 90 percent of our meals out here."
Inside are pine wood floors throughout, laid on the diagonal in the bedrooms, "which adds so much character," Clarke said. The kitchen counters are butcher block and granite, with a pass-through window to the dining room. A copper sink and painted Italian tile add to the "country kitchen" aesthetic. Well-engineered pull-out maple drawers below and cabinets above are handsome and functional.
There are three bedrooms in addition to two master suites, one downstairs and one upstairs. Crown molding, marble sills, wood floors, big windows and big closets give a rich, expansive feel to the house, which can accommodate a small tribe.
The master baths are marked by big cultured-marble walk-in showers. A jetted tub is upstairs.
The hardworking couple also put in a large office, a built-in taking up three walls providing two corner desks with filing space beneath. There are capacious wall cabinets, as well.
Ceiling fans in every room and a "whole house fan" that sucks hot air up and out make air conditioning unnecessary most of the year.
Plantation shutters, awnings on the southwest windows and plantings make the house cool in the hottest months. Loquat, gumbo limbo, myrtle, royal Poinciana, gardenia and other trees provide welcome shade while their scent and beauty spellbinds the occupants to Shangri-La.
Vital Statistics
Address: 4335 60th Dr.
Year built: 1997
Main home size: 3,024 square feet  •  Lot size: Nearly 8 acres
Construction: Concrete block first floor, frame second floor, vinyl siding, metal roof
Bedrooms: 5  •  Bathrooms: 3
Additional features: Main house, guest house, two double carports, I-beam workshop 24' by 48', pond fed by artesian wells, lift station, dock with electric, screened gazebo porch, gated entrance, pine wood floors, cathedral ceilings, granite counters, cultured marble showers, jetted tub, two master suites in main house, newish air conditioning, 2014 metal roof, fenced
Listing agency: Berkshire Hathaway Home Services
Listing agent: Michelle Clarke, 772-263-0386
Listing price: $825,000