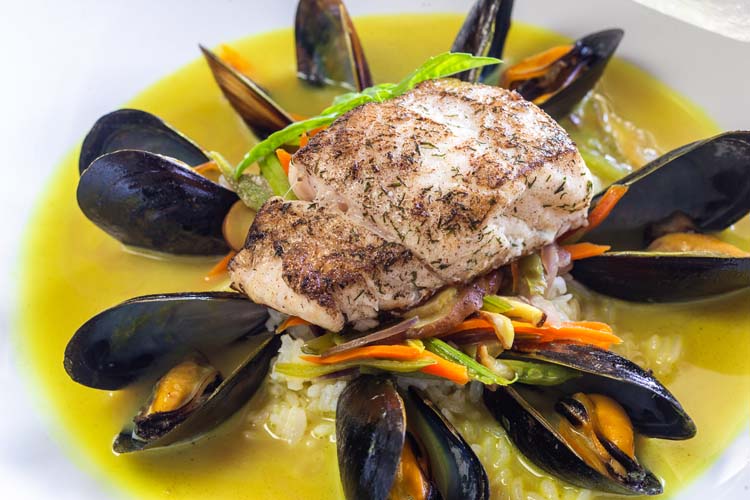 For an evening of fine dining, the Blue Star Brasserie on 14th Avenue has become our go-to choice on the Vero Beach mainland.
When chef Kitty Wagner opened this restaurant in Vero's Old Downtown as the Blue Star Bourbon Bar and Southern Kitchen in 2013, the ambiance was about as casual and roughhewn as the name.  Five years later, it's still casual – but each year, it also becomes more elegant.
And when we visited last week, the piano stylings of Jim Van Voorheis provided an excellent backdrop for an evening of comfortable but gracious dining.
Word of how good this restaurant has become is clearly getting around, because even on a summer Vero evening, it was fortunate that we had booked ahead.
Seated far enough from the piano for easy table conversation, our very attentive server quickly took our wine order, and returned with a basket of the Blue Star's rosemary rolls.
For appetizers, I decided to have the chilled cucumber and dill soup ($8), my husband opted for the foie gras ($24), and our companion ordered the escargot saute ($14).
The soup, made with nonfat Greek yogurt, was light and refreshing – the perfect starter on a hot summer night. The pan-seared foie gras was exquisite, served with a blueberry and blackberry chutney and accompanied by a petite mixed green salad.
And Kitty's escargot sautee – not your classic presentation, but a deconstructed dish with tender snails surrounded by bacon, shallots, and slices of apple, and a square of puff pastry on the side as a garnish – was great, as always.
Then for entrées, I ordered the diver sea scallops ($36), my husband chose the lobster risotto ($38), and our companion went for the swordfish ($34).
My dish consisted of four pan-seared jumbo scallops served on top of a shitake, tomato and spinach orzo with a little bit of goat cheese and a basil pesto. Accompanied by grilled asparagus, it was a fabulous dish.
Our companion's very thick cut of swordfish was cooked perfectly, nice and moist, and complemented by a roasted tomato, caper and olive ragout.
But my husband's lobster risotto was absolutely amazing – the meat from a pound-and-a-half Maine lobster, removed from the shell, and served on top of a shitake, leek, tarragon, parmesan, white wine risotto. Superb.
On another recent visit, I started with a very light and refreshing summer watermelon salad ($14), and my husband enjoyed an excellent Maine lobster bisque ($12).
Then for entrées, I chose the pan-seared Faroe Island salmon ($28) – always very good here, and on this visit served atop succotash – and my husband had one of his favorites, the sautéed calves liver and fried onions ($28) served with whipped potatoes.
On neither of these recent outings, alas, did we have room for one of the Blue Star's delicious homemade desserts.
This summer's special deal (every restaurant seems to have one) is a free bottle of wine with every two entrées or four appetizers. And these are pretty good wines. The nights we were there, we opted for the Bogle chardonnay.
Dinner for two, if you have an appetizer, entrée and dessert, can still run $90 to $100 before tip – even with the wine special – but it can come in considerably less if you dine light on the interesting selection of small plates.
Chef Kitty has been through a number of restaurant iterations – some we really liked, some less so – in her years in Vero Beach. At the Blue Star Brasserie, she currently is at the top of her game.
The reviewer dines anonymously at restaurants at the expense of Vero Beach 32963.
Blue Star
Hours: Open Tuesday – Saturday from 5pm
Beverages: Full Bar
Address: 2227 14th Ave., Vero Beach
Phone: 772-492-9057
Photos by: Gordon Radford
Click HERE to see more or buy photos