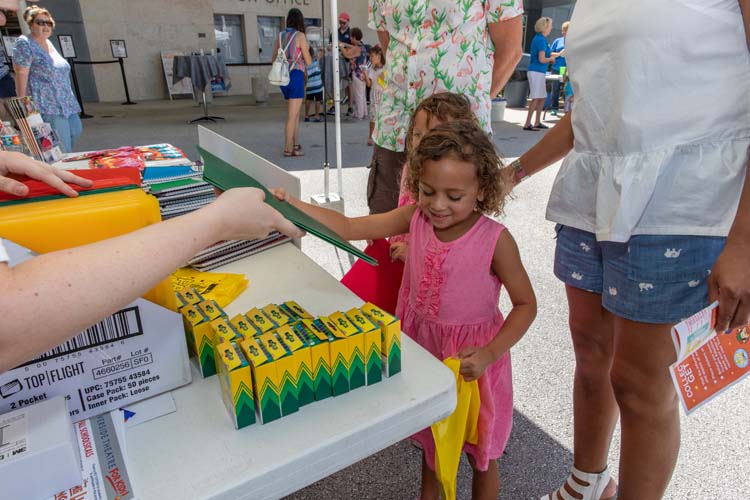 Star power abounded at Riverside Theatre last Saturday at the fourth annual RT Star's Back to School Party, a partnership between Riverside Theatre and the Education Foundation of Indian River County.
"We both have a commitment to education, and the fine arts certainly are important to education," said Cynthia Falardeau, Education Foundation executive director. "There is that collaborative spirit of promoting education within our community. In order for children to be successful, we have to have strong community partnerships to support our children."
Families swarmed the Riverside campus for a morning bursting with children's activities, including hands-on crafts, face painting, zipping down a slide, games, storytime, a DJ Dance Party, plenty of live performances and fortification from hot dogs to ice pops.
Parents gathered information about school lunches, bus routes, transportation schedules and vision screenings. Representatives from the Tobacco Free Partnership of Indian River County's SWAT (Students Working Against Tobacco) team, Vero Beach Museum of Art and Voluntary Pre-Kindergarten were also on-site to share programming.
The School District's Transportation Department took families on mini-bus rides to ease any first-day jitters before the Aug. 13 start of school.
Emcee Hamp Elliott and DJ Joe Tessier oversaw spirited interactive competitions for everyone to enjoy, such as building a lunch box, limbo, hula hoop and getting dressed for school contests. After stocking up on school supplies donated by Publix, families watched School District employees play a rousing game of Name That Tune, with help from student participants.
Oscar Sales, Riverside's marketing director, said Jon Moses, managing director, wanted to expand exposure to live performing arts opportunities for families.
"Many schools have scaled back tremendously on arts programs," said Sales. "For kids who are interested in the arts, we want them to know they can come and participate through our scholarship program. Any child who wants to learn, take a class or perform does not have to worry about financial need. If you can't pay for it, please come. There are people that are happy to help."
The afternoon concluded with the seventh annual Riverside Dance Festival, a performance showcasing original numbers choreographed for students during a two-week intensive, summer dance camp. This year, Adam Schnell, Riverside's director of dance education and artistic director of Ballet Vero Beach, invited the CORE Dance Company to work with the students.
"It's one of the best parts of my year because the kids make a huge leap forward over two weeks," said Schnell. "I feel like the kids are developing their own voices as to what type of dance and what type of art they want to make."
"When I take lessons it's just ballet and just jazz," said Mia Girard, a four-year participant who stressed that the camp has helped her grow as a dancer. "But when I come here, there are all different styles.
You're exposed to different groups and choreographers every year and I get pushed out of my comfort zone."
CORE Dance choreographers involved the students in creating the dances, taking bits from each of them and weaving them into a moving testimonial of how the dancers perceive the world.
Visit riversidetheatre.com for more information or to register for fall dance and theater classes.    
Photos by: Denise Ritchie
Click HERE to see more or buy photos