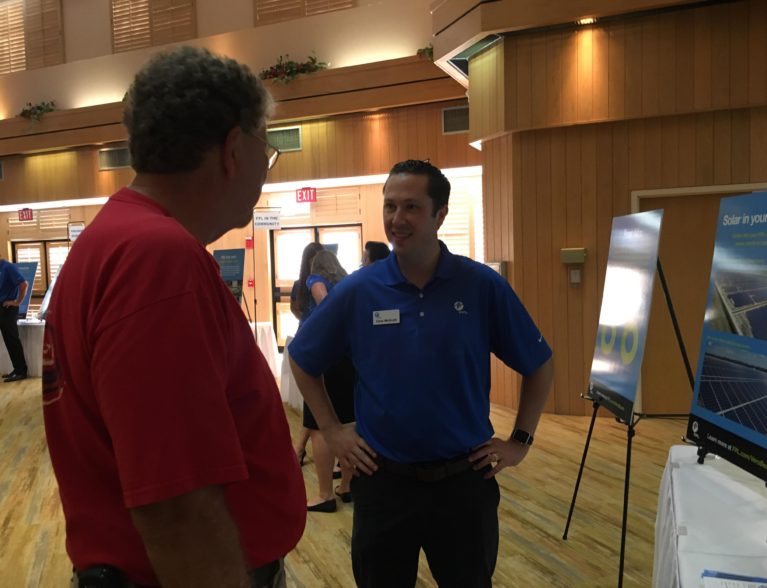 Florida Power & Light Co. employees spoke with several Vero Beach Electric customers at an open house Tuesday about the delayed sale of the city's electrical system, and what those customers should expect.
"We're hearing from Vero Electric customers that will become FPL customers," Sarah Gatewood, FPL spokeswoman, said Tuesday.
Vero resident Maria Winslow, 76, said she's looking forward to the sale.  "I think they're a great company," said Winslow, a Vero Electric customer.
Residents Len and Joy Heinlein, of Vero Beach, said they can't wait to get lower rates with FPL. Len, 84, and Joy are both Vero Electric customers. Joy declined to give her age.
"Vero Electric is not bad. I think we'll get better service from FPL," Len Heinlein said.
The open house was held from 4 p.m. to 7 p.m. Tuesday at Holy Cross Catholic Church, 500 Iris Lane, in Vero Beach. A second open house will be held from 4 p.m. to 7 p.m. Wednesday at the Richardson Center at Mueller Campus – Indian River State College.
About a hundred people attended the event, including Vero Beach Mayor Harry Howle, Vero Councilwoman Laura Moss, County Commissioner Tim Zorc, City Manager Jim O'Connor and County Attorney Dylan Reingold.
"The Vero Beach electric system acquisition was shown during extensive hearings at the Public Service Commission to save FPL's existing customers more than $100 million while immediately providing Vero Beach customers with FPL's lower rates, high reliability, clean energy and award-winning customer service," Gatewood said in a statement.
In early June, the PSC voted 3-2 to approve the sale of Vero Electric to FPL. But, protests to the PSC's proposed approval – including from the Florida Industrial Power Users Group – led the sale to be postponed.
Moss said it's unfortunate there is a delay. However, she remains positive and looks forward to a successful conclusion of the sale.
FPL will present the case at the PSC hearing in October.
"A decision probably won't be made that day. That will probably happen by the end of the year," Gatewood said. "We are going to continue to work through everything needed to transition smoothly so that we are ready to go when a new closing date can be set."