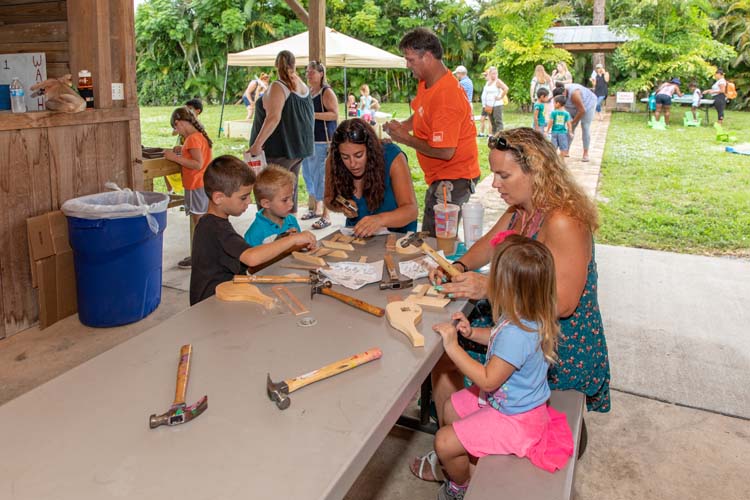 Old MacDonald has nothing on Laura LaPorte. The LaPorte Farms petting zoo on Roseland Road in Sebastian boasts everything from standard farmyard animals to exotic wildlife and birds.
The five-acre, handicap-accessible farm was overrun with children and families last Saturday at its third annual Back to School Family Fun Day – although school was very clearly not on the minds of the little ones that day. There were far too many interesting things going on.
In addition to interacting with all the friendly critters, visitors enjoyed numerous activities throughout the entire farm – pony rides, hammering away with Home Depot volunteers to make wooden helicopters, and even taking turns on 'Bodacious' the mechanical bull.
"This isn't ice cream," stated one little girl, her brow furrowed in confusion as she peered at carrot slices sticking up from an ice cream cone. LaPorte explained that the local McDonald's is helping them become eco-friendly, by supplying cones to hold critter food. The animals happily eat the empty cones as well.
At the end of the day, youngsters took home roughly 600 free book bags filled with school supplies donated by local residents and businesses, as well as goodies handed out at a host of vendor and nonprofit booths.
LaPorte's indomitable spirit continues to triumph over the challenges life has thrown at her – Muscular Dystrophy, a devastating car accident that left her partially paralyzed, a stroke that rendered her a quadriplegic, and the loss of a kidney.
"But I'm good; I'm awesome," said LaPorte with a big smile. "We are now a nonprofit; Friends of LaPorte Farms is a 501(c)3."
After seeing a need in the community, she developed the Back to School event three years ago, quickly garnering help from the Sebastian Rotary Club. "They jumped right in the game with me."
She noted that any bags left over will be donated to homeless students and to school teachers needing help. They are also collecting various toiletries and gift cards to distribute throughout the year to seniors, the homeless and "anybody needing a hand up. They're always welcome to call. If we've got something to share, we will be honored. It's not going to be a one-time shot; it's a lifetime thing."
The community-oriented event was one of many hosted by the farm since its founding in 1994. They regularly schedule school and afterschool groups and also cater to special needs children and adults.
Annual events include a Fall Festival in October, a Cowboy Christmas with thousands of twinkling lights, and Easter on the Farm. Next up: They're a participant in the Aug. 10 Sebastian Chamber of Commerce Grill Out Night, and will host a Sept. 8 Kids' Fishing Tournament and a Sept. 29 Special Needs Western Hoedown.
LaPorte Farms is open Monday to Friday, 8 a.m. to 2 p.m.; Saturday and Sunday, 8 a.m. to 4 p.m.  Admission is free; donations appreciated. For more information, visit laportefarms.com.
Photos by: Denise Ritchie
Click HERE to see more or buy photos