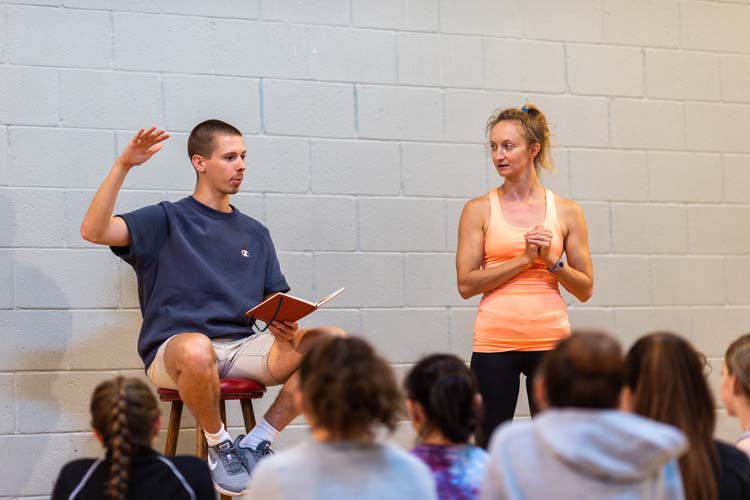 Balletomanes (such as myself) will certainly have cleared this Friday/Saturday on your Absolutely Must Do calendars for the sixth annual Riverside Dance Festival, an exciting partnership between Ballet Vero Beach and Riverside Theatre. Making this already special event even more compelling is a first in the Festival's history, one full evening-length work, presented by Ballet Vero Beach and performed by the professional Atlanta-based contemporary dance company, CORE Dance. The recently premiered work "Memorial. Memory. Relationship" was created by D. Patton White, choreographer and CORE company manager, following the unexpected and untimely death of his brother, Claiborne. The piece explores "love, loss and life's passages," and White found the creation process cathartic as he dealt with his own loss and grief. The other Festival program will be presented by Festival students and their instructors, a culmination of two intense weeks of classes and workshops. The students – dedicated dancers from 10 and up – experience master classes, open rehearsals and technique classes with professional instructors: CORE dancers and Riverside's dance faculty, led by Adam Schell, artistic director of Ballet Vero Beach and Riverside's director of dance education, culminating in the creation of their own work to be performed alongside CPC in a free, mixed repertory showcase to conclude the festival. Student Showcase: Saturday, Aug. 4, 2 p.m. Tickets: free. Professional CORE Dance performances of "Memorial. Memory. Relationship" Friday and Saturday, Aug. 3 and 4, 8 p.m. Tickets: $10 to $75. 772-231-6990.
"A Bond Unbroken" is the fitting title of the week-long art exhibition currently on display in downtown Vero's galleries through this Wednesday, Aug. 8. Whether you experienced this tumultuous, heart-breaking, divisive era yourself or have simply heard the stories, you will be moved by this tribute to Vietnam War veterans, presented by Next Generation Veterans and the Cultural Council, and featuring Vietnam-themed work by local artists. On Wednesday, 5:30 p.m. to 8 p.m., there'll be a reception at the Heritage Center on 14th Street, with refreshments, cash bar and an auction of many of the works, all in support of Next Generation Veterans. Clips will be screened from the documentary, "A Bond Unbroken," the powerful documentary narrated by well-known broadcast journalist Bob Woodruff, which traces the emotional 40-year journey of Navy SEALs to reunite with their Vietnamese combat interpreter, according to Vimooz.com. Reception ticket: $45 Vietnam veterans: free. 772-770-4857.
"Vegas Nights" – One more weekend to spend with Lady Luck at Riverside Theatre, with Riverside's just-for-fun-and-some-prizes casino gaming; free, free, free Live in the Loop concert, plus food, bevs and, this weekend, Dueling Pianos, the Howl at the Moon Experience (whereby you can let your hair down, sing along, dance even, and help pick the music). Duking it out across the ivories this week – and daring you to suggest a tune they can't play – it's Howl faves Ken Gustafson and Katie Pinder Brown, playing non-stop till 10:30 p.m. Bringing the free concert tunes will be the pop stylings of Cyndi Rapp and Rappture; and the Jacks Band's classic rock. Live in the Loop concert: 6 p.m. to 9:30 p.m. Howl at the Moon Dueling Pianos: 7:30 p.m. and 8:30 p.m. seatings. Tickets: $12, seating only; $18 to $22, table seating. 772-231-6990.
The Tiki Bar and Grill is a cool little place smack on the Indian River off Sebastian's India River Drive, well worth a little jaunt north. In addition to live music nightly, there's homemade foodstuffs (super good dogs, as I recall). This Friday, grab a beer, put your toes in the sand and enjoy the music of Cover Story, playing "eclectic music you know and love," 7 p.m. to 11 p.m. Come Saturday at 1 p.m., it's Chris Fenn, an experienced, self-proclaimed "one-man band." Chris plays a variety of instruments – guitar, sax, flute, harmonica – and sings, in several genres, from classic rock to blues to country. Loaded Dice starts rollin' at 7 p.m. 772-388-1080.