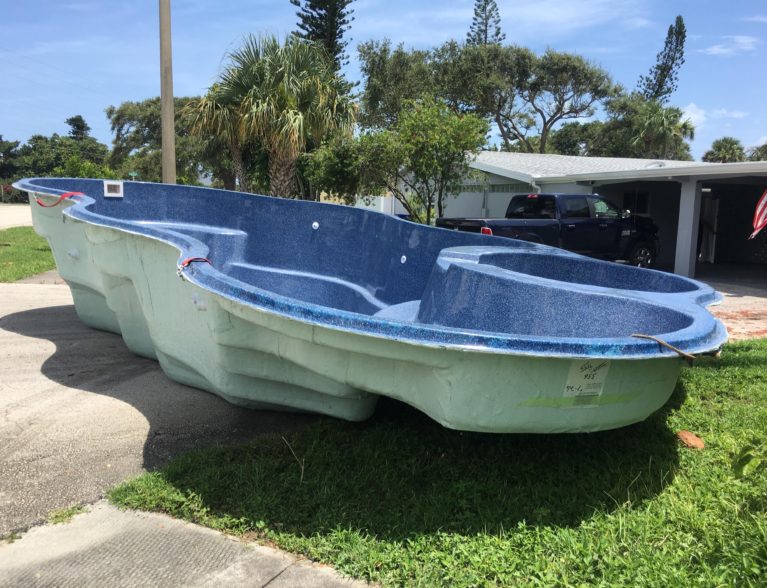 VERO BEACH — What's that on the side of the road on State Road A1A?
Motorists driving on A1A south of Jaycee Park probably noticed a 6-foot deep and 30-foot long swimming pool sitting outside of a home. The sight raised several eyebrows from passersby, but the owners say it's a custom built, $50,000 Laguna Deluxe fiber glass pool waiting to be installed.
The mystery pool is not trash, but part of a plan.
"We're very happy. It was worth it," said 58-year-old Angela Colson, homeowner and local real estate broker. Angela and Lee Colson recently bought the pool, which is 14 feet wide by 30 feet long, and had it delivered to their home Tuesday.
Midwest Fiberglass Pools hired local contractors to dig up a hole in the Colson's backyard to install the Laguna Deluxe, the Colson's said. Construction workers were still using an excavator to create a space for the pool Wednesday afternoon.
Lee Colson, 59 and local engineer, said jokingly "they're tearing up the yard."
The Laguna Deluxe, created by Viking Pools, has a spa, tanning ledge and swimming pool. The pool also has a heat pump that lets users control the temperature of the pool and spa, the Colson's said.
*Note for videos – Click the audio icon in the lower right hand corner for sound. 
Angela Colson talks about a custom built $50,000 pool that she and her husband recently bought that will be installed at their Vero Beach home on State Road A1A.

Posted by Nick Samuel on Wednesday, August 1, 2018
A fence will also be installed around the pool. The Colson's, who previously lived in Melbourne Beach, moved to Vero Beach about a year ago.
"It's so beautiful here. The people are so nice and everything is so convenient (such as stores, beaches, parks and more)," Angela Colson said.
The Colson's have six children and grandchildren who live out of state that often come to visit.
The Colson's said the pool should be in the ground sometime Wednesday. But, it will take several more weeks to complete the installation.
Photos by Nick Samuel