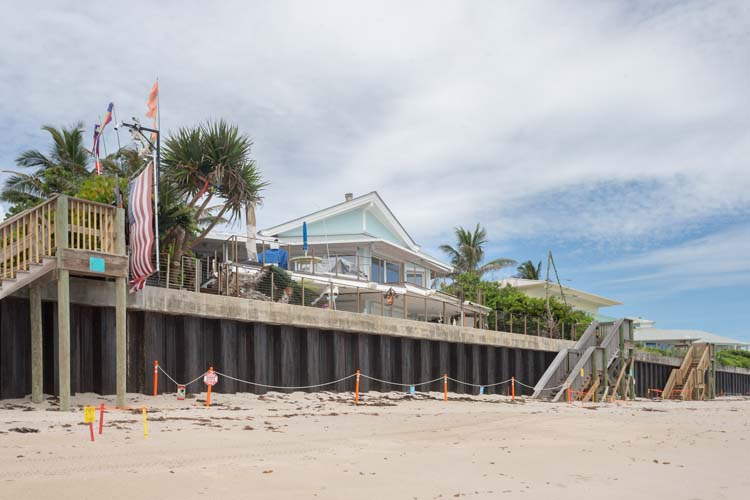 Bad laws often give people an excuse to do the wrong thing, especially in Florida, where our legislators seem to specialize in foolish legislation.
We've seen it with the so-called "stand your ground" statute, which makes it legal to kill someone, presumably in self-defense, when such drastic measures might not be necessary.
We've seen it with the mostly unenforced statute that makes it legal to buy fireworks – as long as you promise to use them only to scare away birds from agricultural property or fish hatcheries, but illegal to set them off for recreational purposes.
Now we're seeing it with the Florida Legislature's latest gem: a statute that went into effect July 1 that makes it more difficult for cities and counties to pass ordinances declaring that all beaches are open to the public under the common-law doctrine of "customary use."
In essence, the new law allows oceanfront property owners to rope off a section of beach up to the mean-high-tide line and chase people away or have them arrested unless a coastal city or county goes to court to challenge the property owner's actions.
Local officials say they don't expect the new beach-access statute to be a problem here, mostly because of the county's participation in the Florida Department of Environmental Protection's beach renourishment program, which funds up to 50 percent of those projects and imposes restrictions on beachfront property owners.
Just in case, though, our county commissioners voted unanimously in February to send Tallahassee a letter stating that all 24 miles of the county's ocean beaches should remain accessible to the public.
That said, it's still a bad law – which means it gives people an excuse to do the wrong thing.
Case in point: On the day the new law went into effect, Summerplace resident Robert Jaffe used orange posts and a plastic chain to block off a small, rectangular section of the beach immediately east of the seawall behind his oceanfront home.
The chained-off portion extends out about 6 feet from the seawall – to what appears to be the mean-high-tide line – and runs the length of his property, which includes a wooden stairway to his backyard.
He also posted signs warning that trespassers will be prosecuted and advising that the area is under 24-hour video surveillance. One of the signs reads, "SMILE, You're On Camera," and at least three video cameras are visible from the beach.
Why is Jaffe doing this?
There doesn't appear to be any compelling reason. His property is a safe distance from Wabasso Beach Park, and few, if any, beachgoers set up camp that far north of the county-owned facility.
Besides, the only reason beachgoers might want to sit so close to the seawall would be to find shade and avoid the afternoon sun. But unless Jaffe was using his cameras, he wouldn't even know they were there, let alone be annoyed or threatened by them, because he couldn't possibly see them from his house or yard.
So I tried calling him at his home and twice left messages asking him to return my call. He didn't.
I then called Walter Garrard, president of the Summerplace Improvement Association Inc., to see if he knew why Jaffe chained-off that section of the beach.
"He doesn't talk to any of us, so we can only speculate," Garrard said. "But I think he's making a statement."
And, apparently, that statement is: He's doing it because, legally, he can – or at least he believes he can.
Garrard said he "can't find any proof" that Jaffe owns the area east of the seawall that he has staked out. The one deed he has found states that the beach property still belongs to Summerplace Homes, the community's original developer.
In fact, Summerplace's beach-access path on E. Barefoot Place runs along the southern edge of Jaffe's property to a wooden platform connected to a wooden stairway to the beach.
That may be where the real explanation for Jaffe's actions can be found.
The path is lined with video cameras and an array of signs – all on Jaffe's property – citing Florida statutes and warning "nosey neighbors" against "peeping" into his yard and stating that the path and platform are not for "entertainment, napping or drinking."
Then there's the large-but-shredded American flag Jaffe placed on the north side of the association's beach-access platform.
"Somebody made the mistake of saying the platform is a good place to watch the rocket launches at the Cape, and he must've heard it," Garrard said. "So he put up that big American flag to block the view."
All of this, Garrard said, is related to an ongoing legal dispute between Jaffe and the association, which has cited Jaffe for numerous community rule violations.
Garrard said Jaffe's first four lawsuits against the association were dismissed and Jaffe is working on a fifth, purportedly alleging that his Summerplace neighbors have violated his rights and sabotaged his property.
"He says we invade his privacy when we use our beach access," Garrard said of Jaffe, who purchased his Summerplace home in 2012.
Apparently, Jaffe doesn't want anyone invading his beach, either. Garrard said Jaffe has "gone out to tell people to get off his beach."
And, according to two teen girls who were walking past the chained-off area on the beach last week, Jaffe refused to help when one of their friends recently became overheated.
"We put her in the shade next to the seawall and, when he came out, we told him we needed water," one of the girls said. "He said, 'We don't have water.'"
If the girls' story is true, Jaffe was wrong – just as he was when he blocked off that small section of beach behind his house, seemingly for no reason other than to annoy people and simply because he could.
He was wrong, legally, as well, when those orange posts, plastic chains and warning signs were still there last Sunday afternoon.
Three days earlier, Florida's governor issued an executive order placing a moratorium on any new state regulation that could inhibit public beach access.
Apparently, the governor, who is now running for a seat in the U.S. Senate, realized the legislature passed another bad law.