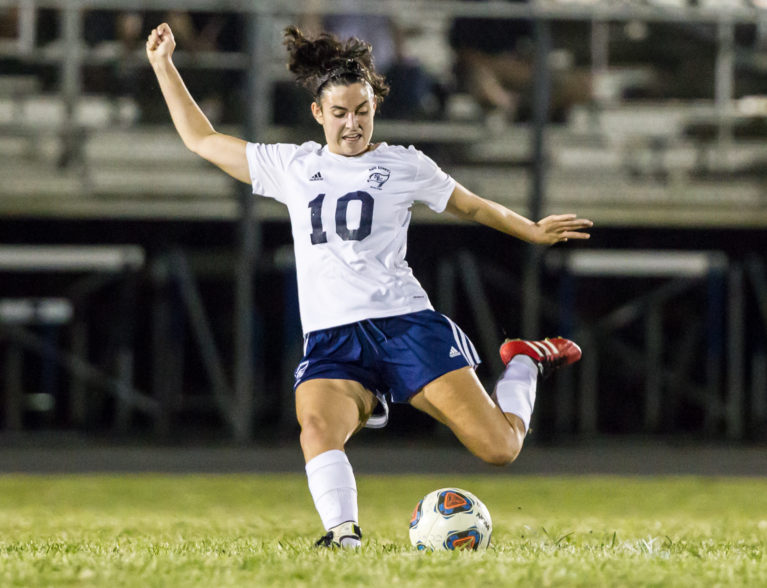 Carter Cooper began and ended the K-12 phase of her education at St. Ed's, but after experiencing two interruptions during those years, she was ultimately able to secure a stable and comfortable landing as a junior, senior and, finally, a 2018 graduate.
"I was here in pre-kindergarten, left, and then came back in ninth grade for high school," Cooper explained. "I left again for a year to go to boarding school in Tennessee, and then I came back for 11th and 12th grade, basically because I thought the school was so great."
This was a clear example of absence making the heart grow fonder. Soccer was without a doubt one of the primary dimensions in her ability to settle back in for the final two years of high school. To spice it all up, these past two soccer seasons have been among the most fascinating that any high school player might experience.
The sport has been a constant in her life for a long time, and that pattern will definitely not be disturbed any time soon.
"I've been playing soccer since I was 4 years old, and it has always been a big part of my life," Cooper said. "It was really great to have a chance to play for and represent St. Edward's. We've always had a great group of girls, especially this past year when coach (Jaclyn) Mohr was pregnant. It was kind of a hassle for her, but it was a lot of fun for us.
"Mr. (Scott) Mohr was our assistant coach, and he would protect her on the sidelines. Coach Mohr couldn't run with us at practice like she had done in the past, but that didn't mean we ran any less. She was more of a director out there, which was out of character for her, because she really likes to get involved. It was hard for her."
Circumstances like that can't help but bring a team together. In addition to witnessing the Mohrs go through the process of adding daughter Taylor to their family, the girls soccer team gave birth to a district championship the year before, but only after going through some long, difficult labor pains.
"We had some pretty good teams in the three years I was here," Cooper said. "In my freshman year we lost to Holy Trinity Episcopal, 5-2, for the district championship. I was so excited just to be there, playing high school soccer and looking up to the rest of the girls."
The following year while she was away at boarding school, St. Ed's was again defeated by HTE for the district championship, this time 1-0. It marked the fifth consecutive year that HTE bounced St. Ed's from the district tournament. Cooper and her Pirate teammates were not about to be denied when they were reunited the following season.
"We beat them 5-0 in the district finals last year, and that was really awesome, because we did it against HTE," Cooper had no trouble recalling. "They had been our rival for so long, and beating them 5-0 was like scoring one goal for each year they beat us. It was a total blowout. It was something that we had been building toward, and we finally got it done."
This past season St. Ed's was blanked in the district championship game 2-0 to – you guessed it – HTE. However, Cooper and her teammates assisted in a much more important mission by guiding their coaches through a successful pregnancy.
Cooper was the Pirates Offensive Player of the Year as a freshman. She was All-Area Honorable Mention as a junior. As a senior she had 12 goals and 11 assists despite missing a half-dozen games due to injury or illness.
"Carter is a phenomenal soccer player," Jaclyn Mohr told us. "She was constantly an offensive threat, as well as a sound defender. She has a clear understanding of the game, impeccable skills and amazing vision. Her ability to play the game can't be taught. She will truly be missed, but we know she will be successful playing at the next level."
That next level will be D-3 soccer at Sewanee – the University of the South, off I-24 atop the Cumberland Plateau between Nashville and Chattanooga. She will catch up with her sister, a junior lacrosse player, in beautiful surroundings, explore her creative side, and leave with appreciation for what just transpired.
"I want to go into liberal arts. I really like art history and writing, so I wanted to go to a place where I could try all sorts of different things.
"A lot of my friends are diehards, they have been here forever and say they can't wait to get out of Vero. It's different for me because I moved around a ton for my whole life. I guess it's a unique thing to like your high school, but for me this is a really special place."