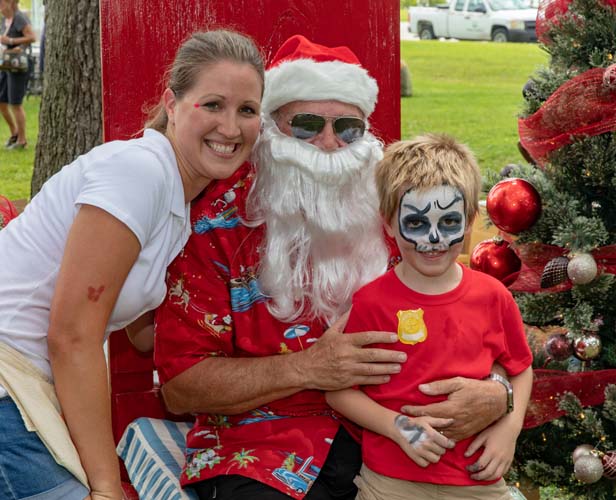 A bit of northern frost blew in to cool things off – at least in people's minds – last Saturday when Santa dropped by to visit during the annual Christmas in July celebration at Sebastian's Riverview Park.
The focus of the day was to raise funds to support efforts to provide children with Christmas gifts through the annual Shop with a Cop program.
Members of various local law enforcement groups host the summertime holiday hoopla so that in December officers can take about 150 children Christmas shopping at Walmart. The funding enables each child to spend $100 on their spree with a little help from their own personal shopping buddy.
According to Ashley Penn, Sebastian Police Department officer and the event's coordinator, social media has made a negative impact on society's view of law enforcement officers. Shopping with the officers turns that around and helps build trust and develop a bond.
"They get to laugh and talk, maybe bring some of these kids out of their shell. The officers also get to learn about the kids that need help and what we can do when we're in the community," said Penn. This way, when the children encounter the officers out in the community, they remember the positive experience and are more likely to seek out help when it's needed.
Families enjoyed shopping, food trucks, a car show, a flurry of games, dancing and watching the Sebastian Police Department's K-9 Unit show off their skills. A splash zone provided an area for children and officers alike to cool off with water balloons, squirt guns and a frozen T-shirt contest.
Santa was escorted to the scene by the Sebastian Police Department, sirens and lights flashing, and received a warm welcome from boys and girls anxious to chat with the jolly old fellow and inform him of their Christmas wishes well in advance.
Indian River County Sheriff's deputy Teddy Floyd spent the morning coaxing passers-by to try their hand at soaking Maj. Eric Flowers of the Indian River County Sheriff's Office in the dunk tank.
"I've been doing this since the beginning and every year it gets better," said Floyd, pointing out that the event is all about collaboration between the community and law enforcement. "In today's society, every time you look on Facebook, Twitter or something it's always the negative, no positive. Here, people are having a good day."
"Shop with a Cop is one of my favorite days of the whole year," added a sodden Flowers. "Anything to raise money to be able to give kids a good Christmas every single year. We'll do whatever it takes to make that happen. It's such a positive time for kids to interact with law enforcement. It's a pivotal minute and if we can just capture those few minutes with the kids, we can really show the good in the world."
Photos by: Denise
Click HERE to see more or buy photos