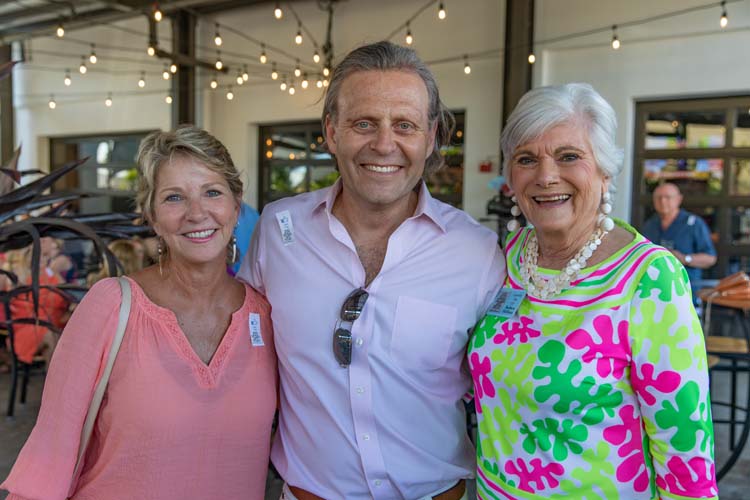 A sold-out crowd gathered last Tuesday evening at Post & Vine to support and learn more about the Vero Beach Cultural Arts Village, a project of the Cultural Council of Indian River County. The new open-air restaurant on 14th Avenue in the Downtown Vero Beach Arts District is at the eastern edge of the Edgewood neighborhood they are working to revitalize into a mixed-use residential area, replete with historic homes, artists' studios and shops.
Attendees perused an enviable assortment of donated silent-auction items, including what Barbara Hoffman, Cultural Council executive director and chair of the CAV leadership committee, said was more than $20,000 worth of artwork, while enjoying cocktails and a delicious buffet dinner before hearing from a number of individuals involved in the project.
In addition to Hoffman, speakers included Edgewood resident Travis Beckett, owner of Wild Thyme Catering, one of five 'block captains' who will assist police with crime watch and code enforcement issues; architect/realtor Luis Van Cotthem, chair of the CAV zoning committee; realtor Samantha Irvin; landscape/urban designer Neil Sickterman, chair of the infrastructure committee; artists and Edgewood residents Dawn Miller and Ross Power; and photographer Phil Reid.
"I invested in the neighborhood 15 years ago and I envisioned the area becoming an artists' community.  I chose the Edgewood area because I felt it was the right location to attract other artists," said Power, who credits Hoffman with turning the concept into a reality.
"Because of all her hard work, Barbara took my vision for this art community and fine-tuned it into the Cultural Arts Village, which is very brilliant, very refined, and also much more than I ever conceived."
Power, who is currently creating a piece at his Edgewood-based studio commissioned by Next Generation Veterans to be installed at Memorial Island, said he was also involved in the creation of Miami's famed Wynwood Art District, now home to multiple galleries, museums, art complexes and studios.
"What I see here in our Edgewood district is something that is much softer and more community based; a gentle arts community that people can come in and experience," said Power. "Everything is being designed to keep the nature of the historic quality."
"Vero Beach is a gem and a fantastic place to live," said Van Cotthem. "The Edgewood neighborhood was part of the original town made by the founders."
That original design, he said, was laid out with purpose, explaining that in addition to beautiful tree-lined streets and porched homes, there are also alleys, which reinforces its superior urbanism.
"If we wanted to preserve and enhance the town and those original neighborhoods, we needed to do deliberate measures and actions the same way the founders of the town did them," said Van Cotthem, noting their wish to uphold the founders' specific intentions. Adding that while some people feel that if nothing is done, things will still fall into place, he asserted "that is not the case. If we do nothing we would destroy what is there. We needed to embrace the project and take action."
Additional plans for the revitalization of Edgewood, which stretches west from 14th Avenue to 20th Avenue and from 18th Street to 20th Street (Route 60), include such improvements as landscaping, lighting, colorful murals, vintage street signs and pocket parks.
For more information, visit verobeachculturalartsvillage.com.     
Photos by: Denise Ritchie
Click HERE to see more or buy photos