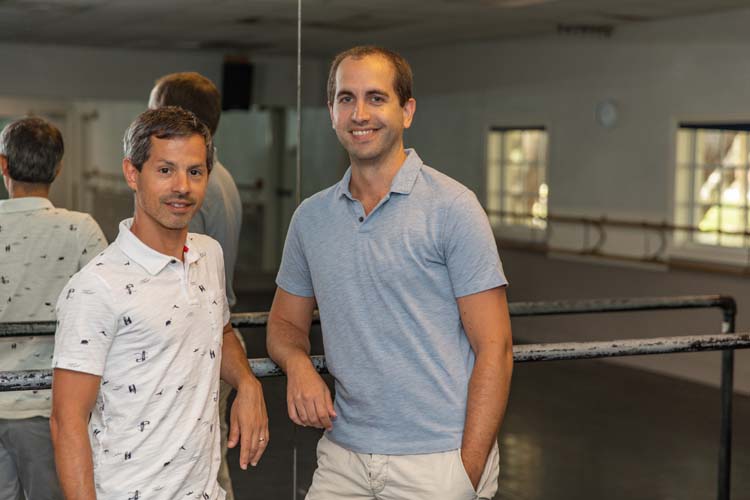 "What has been remarkable for me is that we're starting season six, and that in itself is a huge feat for any arts organization that started from zero," says Adam Schnell, founder and artistic director of Ballet Vero Beach.
"I have seen time and time again things move faster than I thought they would. You can put a goal out there like, 'Oh, we're going to do 'Nutcracker' in year five.' And then when you start working on it and people are responding, you realize, it's actually happening and now we have to do it."
In fact it was to great acclaim that Ballet Vero Beach launched its outstanding original production of "Nutcracker on the Indian River" this past December, at the conclusion of its fifth season. At the same time, the organization has also been strengthening its various other focus areas, thanks to generous donors.
When Gov. Rick Scott and the Legislature slashed state arts funding by 90 percent this spring, that donor support became even more critical. Florida is now ranked No. 48, two spots from the bottom of the barrel in terms of arts funding. Indian River County is even worse – it's one of only a few counties where arts allocations are a big goose egg.
With their anticipated $25,000 state grant reduced to zero, Schnell said he and the board opted to ask supporters to make a three- to five-year commitment to their Annual Fund.
"The pitch was, we've gotten to this point; we've shown you what we can do with this fabulous new production and we really need help matching what has been generated in ticket sales with donations," says Schnell. Their successful campaign made up for the grant loss and doubled their Annual Fund income.
"So that's been great. What is sometimes hard for me to articulate is that it's not just great, it's necessary," he says.
Ballet Vero Beach shares its professional dancers with its sister company, American Midwest Ballet (formerly called Ballet Nebraska).
"And, of course, that exploded with adding 'Nutcracker on the Indian River,' because it had more of our dancers here at once," says Schnell, of the expense of flights, hotels, rental cars and per diems for the 23 professional dancers.
The impetus behind the American Midwest Ballet name change is its alignment with an organization working to revitalize Council Bluffs, Iowa, across the Missouri River from Omaha.
"They're building them a theatre, studios and they're giving a certain amount of funding for administrative support over the next few years," says Schnell. It has also equated to an increase in salaries, workers' comp and health insurance.
"For me, there was definitely an 'oh no' moment this past spring, because it was a substantial increase. It was a 25 percent increase in what I was paying for payroll. For a young organization it was a big deal," he says. "But, we have always wanted to present the best side of professional dance and that means paying a living wage. It may have happened a little faster than we wanted, but it's a great thing and a great challenge for us to rise to."
Their Education and Outreach program includes a ticket donation program that provides free performance tickets to 12 local social service nonprofits. A student matinee series, which presents one free performance each to all third- and fourth-graders, has mushroomed to upwards of 700 students.
A third growth aspect, he says, pertains to presentations that advance a broader view of the dance community as a whole.
"That grew last year with our Wendy Whelan event," Schnell says, speaking of a visit by the former New York City Ballet principal dancer. "That has sort of snowballed this year in that Wendy has recommended a small company from New York that will come down in the fall and have a residency in the studio with Camilo (ballet master Camilo Rodriguez) to create new work that will then be performed."
That performance, "konverjdans with Camilo A. Rodriguez" takes place Nov. 7 at the Vero Beach Museum of Art.
"So the presentation aspect has grown, the company has grown and the educational component has grown.  People want more, but more costs more. So that's going back to why we need to increase ticket sales and we need to increase donations," says Schnell.
"But it's a good problem to have. I am excited to see what the second half of our first decade holds. When you start something like this you think, 'we'll just see where it goes,' and all of a sudden we've just hit year five. And that's pretty cool."
Schnell is also pleased with the growth of the annual Riverside Dance Festival, an intensive summer dance study program presented in partnership with Riverside Theatre.
"Now in its seventh year, Schnell explains, we have brought small companies from all across the country – a different company every year – to work with the kids."
Professional dancers are here for two weeks, teaching classes and choreographing a show that students then perform. The visiting company also presents two professional shows on the Stark Stage as the start of the BVB season.
This year features the Atlanta-based CORE Dance, with two ticketed performances at 8 p.m. Aug. 3 and 4. The free student showcase takes place at 2 p.m. Aug. 4, following the RT Star Back to School event at Riverside Theatre.
With the addition of "Nutcracker on the Indian River," there are now two opportunities for aspiring young dancers to interact with quality professionals. This past season, local dancer Katerina Schweitzer moved to Nebraska to join the company after completing her training.
"That was really a cool thing. All of this – the Dance Festival, Ballet Vero Beach – has finally led to someone who had a passion for it and grew up here being able to dance as a career. That was a very proud moment for us for sure."
Some of their current students remember when Schweitzer performed with them. As a result, he says, "I've seen an increase in kids asking about schools where they could go away and finish their training."
To those who voice a preference for big city ballet, he says the same could be said of any of our cultural arts organizations – Riverside Theatre, Atlantic Classical Orchestra, Vero Beach Opera, the Vero Beach Museum of Arts, etc. He adds that people with that philosophy are missing out on the cultural identity that is unique to this area.
"Why can't we have our own ballet company with its own identity? I think that has been a fun challenge for us from the very beginning," he says. "When we started this, we looked around and we saw all these organizations that were credibly producing professional art in this town and we said, 'we want to do that for dance.' We are giving the very best quality that we are able."
And he continues to be thrilled with audience's reactions to their performances.
"People who walked into 'Nutcracker on the Indian River' had no idea what they were in for, and they left blown away. And that is always my intention; to exceed people's expectations," says Schnell.
For more information, visit balletverobeach.org.