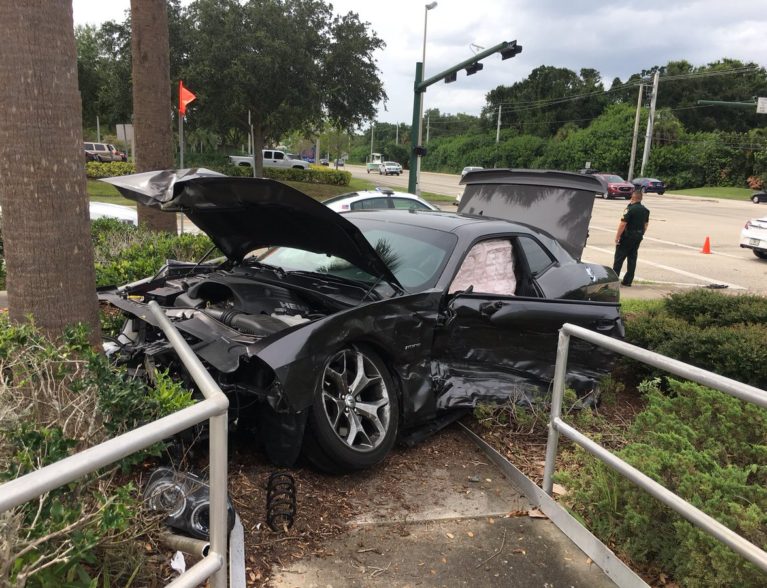 INDIAN RIVER COUNTY — An off-duty corrections deputy and a woman were hurt in a two-vehicle crash that caused the law enforcement officer's car to slam into a palm tree, authorities said.
The 51-year-old deputy, of Sebastian, was driving his personal vehicle to work, according to deputies and highway troopers. The driver of the second vehicle, a 90-year-old woman, of Vero Beach, has traumatic injuries, deputies said.
"This was a serious accident," Indian River County Sheriff's Sgt. Jim Dixon said. "They both were lucky." Names for either driver were not released, according to Sheriff's spokesman Maj. Eric Flowers and Florida Highway Patrol spokesman Alvaro Feola.
Sheriff's deputies responded to the two-car crash shortly before 4 p.m. Friday at the intersection of Barber Street and U.S. 1, Dixon said. The crash involved a white Buick Regal, driven by the woman, and a dark-colored Dodge Challenger, driven by the deputy.
The crash caused the deputy's Challenger to smash through a railing and hit a palm tree. Airbags in both cars deployed during the incident.
The crash happened directly in front of a Walgreens and across the street from a SunTrust Bank. Both vehicles had heavy damage. A large trail of mangled debris – including pieces of glass and metal – could be seen between the two cars at the intersection.
*Note for videos – Click the audio icon in the lower right hand corner for sound. If that doesn't work, try refreshing the page.
An Indian River County Sheriff's Office corrections Deputy and woman were hurt in a two-vehicle crash Friday afternoon at Barber Street and US 1. The deputy's car struck a palm tree in the crash. The deputy, whose name was not released, was on his way to work in his personal vehicle, officials said.

Posted by Nick Samuel on Friday, July 20, 2018
Fire Rescue crews took the off-duty deputy by ambulance to the Indian River Medical Center, according to Dixon and Flowers. The woman was taken by ambulance to Holmes Regional Medical Center in Melbourne.
Details on the deputy's condition were not immediately available. There were no passengers in either vehicle, FHP spokesman Cpt. Ryan Lloyd said.
FHP will be investigating the cause of the crash.
Photos by Nick Samuel