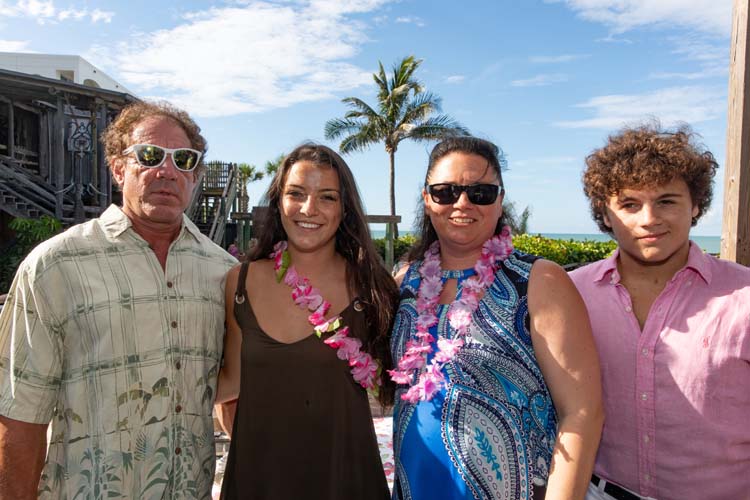 Rita Dion was the ultimate matchmaker, matching thousands of at-risk youth from low-income, single families with adult mentors during the roughly three decades she served as executive director of the nonprofit Youth Guidance.
Many of those mentors were joined by numerous other supporters and family members last Monday evening on the deck at Waldo's to share fond memories and celebrate the life of Dion, who passed away June 8 at age 78.
"It's wonderful to see such a representation of people who have supported Youth Guidance over the years," said Dion's daughter, Gretchen Sauerman. "There are 40 years' worth of volunteers and supporters here."
Providentially, the board of directors and Felix Cruz, the current executive director, had announced at the end of last year that when the renovations are completed on their newly purchased facility, it will be named the Rita Dion Mentoring Academy.
The organization was founded by the county in 1973. Jacelyn Block, the late wife of Sam Block, served as its first executive director, before Dion assumed the position a couple of years later.
"Rita was very sociable. She loved taking to people and learning about them," said Barbara Schlitt Ford, who initially got involved as a mentor and became executive director upon Dion's retirement in 2006.
"Her gift was the way she cared, because you can't do that job unless you really have a passion for it. It's hard to hear those stories. It really takes a lot out of you personally," said Ford. "But she just never changed. Everyone will tell you – her hair was the same, her talk was the same – she was just even-steven, low keyed, unassuming, even-keeled, pleasant."
Ford said Dion truly had a heart for the children, not only knowing their names and those of their family members, but also their background stories, what they liked and what might be needed to bring them out of their shells.
"So then she could introduce them to an adult at one of the mixer events," said Ford. "She was like a matchmaker of adult/child friendships. Actually, she liked to be a matchmaker in other ways too."
Several others at the event also laughingly remembered Dion's multiple attempts to hook them up with one person after another.
The annual Luau fundraiser was one way of getting adults interested in the organization, after which Dion would begin connecting them with individual children. Ford eventually introduced the group mentoring concept to the organization due to the ever-growing number of children on the wait-list, noting "there weren't enough volunteers for one-on-one."
Rebecca Hornbuckle and Allene Moorehead were among the many mentors who warmly reminisced about Dion and their mentorship experiences.
"Being a mentor really changed my life," said Hornbuckle. She and husband Mark mentored a little girl whose two brothers were mentored by Moorehead; all are still in touch.
"Rebecca and I used to take them swimming, fishing, all sorts of things. We just had the greatest time.  It was very meaningful," said Moorehead. The women agree that they got as much, if not more, out of the relationship as their mentees, who are all doing very well. They said one boy, now 21 and a junior at Indian River State College, is their shining star. "And it's Youth Guidance; it gave him a great start. It's just been a phenomenal program."
"Even though she was taken too early, she certainly could have satisfaction looking down on what she left, and the thousands of lives she made better. Not just the kids, but the adults too," said Ford.
Photos by: Denise Ritchie
Click HERE to see more or buy photos