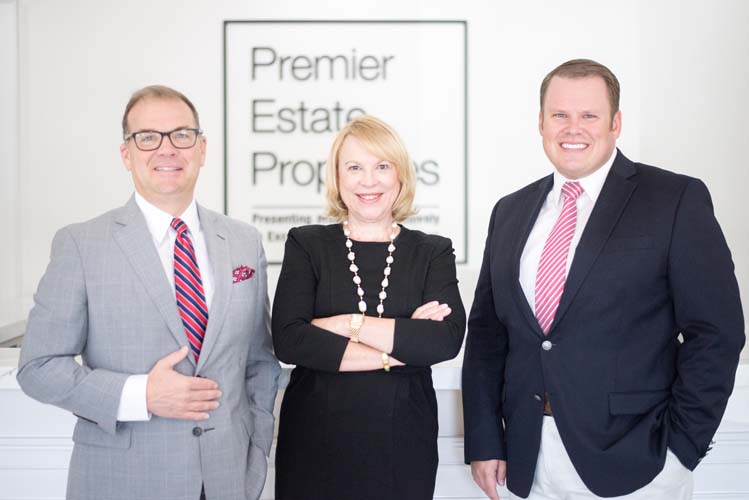 The O'Dare, Boga & French team at Premier Estate Properties made it onto the prestigious Real Trends 1000 list again this year, for the fourth time in the past six years, coming in at No. 177 nationwide and ranking as the ninth most successful real estate team in Florida in sales volume. The 2018 list recognizes sales achieved in 2017.
The three team members – Cindy O'Dare, Richard Boga and Clark French – sold more than $145 million in land and luxury home property in 2017.
They achieved the feat despite being in one of the smaller markets that appears on the Real Trends list, competing with agents in huge markets like Miami, Fort Lauderdale, New York and Los Angeles.  They topped the sales of many real estate "stars" in those larger markets, including the Steve Gold Team featured on Million Dollar Listings New York, which sold $11 million less than the Premier team.
The Premier team had 36 transaction sides last year, representing either the buyer or the seller, and participated in 22 oceanfront sales.
"We are consistently the oceanfront sales leader," says O'Dare.
The team's biggest sale in 2017 was the property at No. 10 Ocean Lane in Indian River Shores, where a 6-bedroom, 8.5-bath, 13,500-square-foot home on a 2.6-acre oceanfront lot listed by the trio sold for $9 million.
Since joining Premier 10 years ago, when the company opened its Vero office, the team has listed and sold many of the most high-profile properties on the barrier island, including one home that went for close to $20 million, but O'Dare says properties listed between $1 million and $3 million are the partners' "bread and butter."
"Twenty-six of our 36 transaction sides last year involved homes that sold for less than $3 million," says Boga.
Premier Estate Properties agents only list and sell homes valued at $1 million or more, so the team has a sharp focus on the luxury market. All three team members believe the $1-million-and-up market on the island is "very healthy" and expect it to stay that way through 2019, though prices seem to have temporarily plateaued after a period of strong growth.
Boga says the partnership has more than $80 million in sales closed or pending so far this year and O'Dare says "we have been very busy and have not slowed down going into summer. We have a number of new buyers flying into town to look at property this month."
"At this point, I believe our market is well-balanced," says French. "Buyers continue to seek value and sellers are recognizing this and pricing homes firmly 'in the market' for quicker sell-through times."
French and O'Dare teamed up in 2005. Boga joined the group as an assistant in 2009, moving up to junior partner in 2012. He became a full partner in 2017, at the same time that French broadened his horizons, becoming a strategic advisor to Concierge Auctions, the leading luxury property auction company in the U.S.
His affiliation with Concierge has led to tens of millions in sales for the team and also brought many new buyers to town, who did not know Vero prior to participating in auctions here. Charmed by the town, some have ended up buying non-auction homes here and spreading the word to friends and family about Vero's virtues.
"Our buyers nowadays mainly range from their late 40s to their late 50s," O'Dare says. "They consistently say it is the quality of life here – the beautiful seaside setting, low traffic, low density, fine dining and shopping, cultural amenities and friendly people – that most attracted them. Vero Beach is our best selling tool."
Carmen D'Angelo, one of three co-owners of Premier Estate Properties, along with brothers Joseph and Gerard Liguori, says the O'Dare, Boga & French team has been key to his company's success in Vero Beach. "Oh gosh, yes. They have been real leaders."
He attributes their big sales numbers to a great work ethic and exceptional market knowledge.
"Clark and Cindy are probably the most knowledgeable brokers I have ever known as far as product knowledge goes. Product knowledge is so important – knowing who the sellers and buyers are, along with the history of homes, even if they are not for sale.
"If you are talking direct oceanfront properties down in the estate section, or direct oceanfront in John's Island or in mid-beach, they know the property inside out – how old it is, how many square feet, who built it, when and for how much it has sold in the past, everything. It is like they have computers in their heads!"
O'Dare says new partner Boga brings a suite of skills that have added value to the team, including a youthful appreciation of technology, ever more important in real estate sales, and an outstanding ability to gather and analyze market data and make it meaningful to both buyers and sellers is ways that facilitate sales.
"Our success ultimately comes down to our relationships with our clients," adds French. "They know we are going to be absolutely professional and they stay loyal to us for decades. We have several clients who we have done eight or more deals with."
Founded in 1993, Premier Estate Properties has approximately 60 agents working in six offices in Boca Raton, Delray Beach, Fort Lauderdale, Palm Beach and Vero.
Real Trends, which was founded in 1987, has put out its widely respected top realtor list for the past 13 years. Company president Steve Murray says the firm requires multiple sources of information to verify sales it tabulates in composing its list of the 1,000 most successful agents and teams, including third-party verification of sales and in some cases tax returns and other documents.