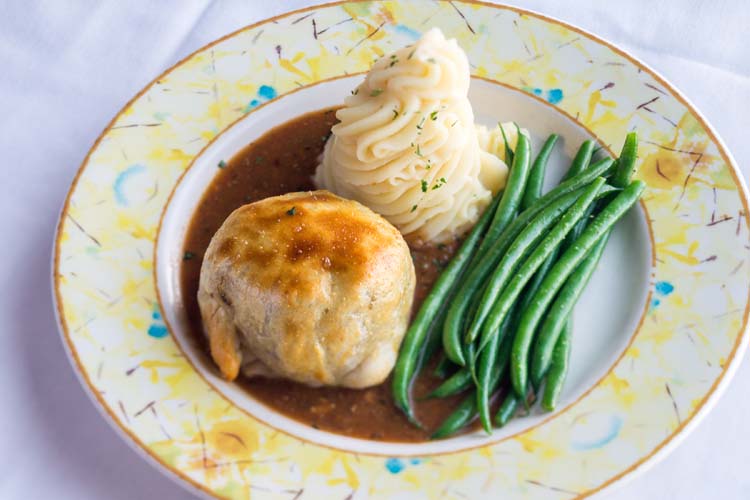 Of all the summer dining deals being advertised these days, nothing tops the four courses for $24 special being offered at the Amalfi Grille.
While we have on a number of occasions cheerfully spent a few dollars more than that savoring some of the creative dishes offered by the Amalfi, $24 a head is all you need to lay out to enjoy a great four-course culinary experience at this excellent restaurant.
On our visit last week, we waved off several of the evening's specials – which as usual, sounded mighty tempting – and told our excellent server Dana we intended to see how happy we could be sticking to the special menu.
No problem, she said.
So for appetizers, I started with the fried mozzarella while my husband ordered the other choice available, the spinach and mushroom ravioli.
The mozzarella cheese had been panko breaded, and flash fried to crispy golden perfection, it tasted terrific when dipped into a homemade marinara sauce. The spinach, mushroom and ricotta cheese ravioli, however, was positively sublime, and was served with a wonderful gorgonzola cream sauce. A great start to the meal.
The second course was a choice of salads. I went for the mixed green salad, and chose a light white balsamic dressing. My husband opted for the Caesar salad with anchovies, which he pronounced a good version of the classic Caesar.
For entrées, the choices got tough. There were chicken and fresh local fish options, and I was sorely tempted by the sausage lasagna. But I finally settled on the shrimp gorgonzola. My husband flirted for a time with the beef Wellington, but ultimately ordered the veal and mushrooms.
My shrimp gorgonzola consisted of beautiful large Gulf shrimp, sautéed with wild mushrooms, sun-dried tomatoes and spinach, and tossed with cavatappi pasta in a gorgonzola cream sauce. Yummy.
My husband's slices of veal scaloppini were sautéed with extra virgin olive oil, white wine, butter and mushrooms, topped with a light cream reduction and served over penne. He loved the dish.
Finally, it came time for dessert – which is always a highlight of the evening at Amalfi, where the pastries are nothing short of amazing.
I ordered the coconut-infused white cake layered with coconut mousse and finished with fresh coconut, and my husband tucked into a large slice of fresh lemon sponge cake layered with a fresh blueberry mousse and finished with whipped cream. The desserts totally lived up to expectations.
Depending on what you choose to drink, the total tab for two can obviously climb a fair bit above the $24-a-person prix fixe price for the special menu.
But it's your choice. You are getting a full four-course dinner – the same caliber of food that you would get if ordering a la carte from the menu – and your meal deal is not being bundled with a bottle of so-so wine.
Will we order from the 4 for $24 menu on our next visit? That depends on how tempted we are by that night's specials.
But on this visit, we went home feeling happy and well fed after enjoying a bargain evening at the Amalfi Grille.
I welcome your comments, and encourage you to send feedback to me at tina@verobeach32963.com.
The reviewer dines anonymously at restaurants at the expense of Vero Beach 32963.   
Amalfi Grille
Hours: Dinner nightly from 5 p.m. to closing
Beverages: Full Bar
Address: 398 21st Street, Vero Beach
Phone: (772) 564-8218
Photos by: Gordon Radford
Click HERE to see more or buy photos