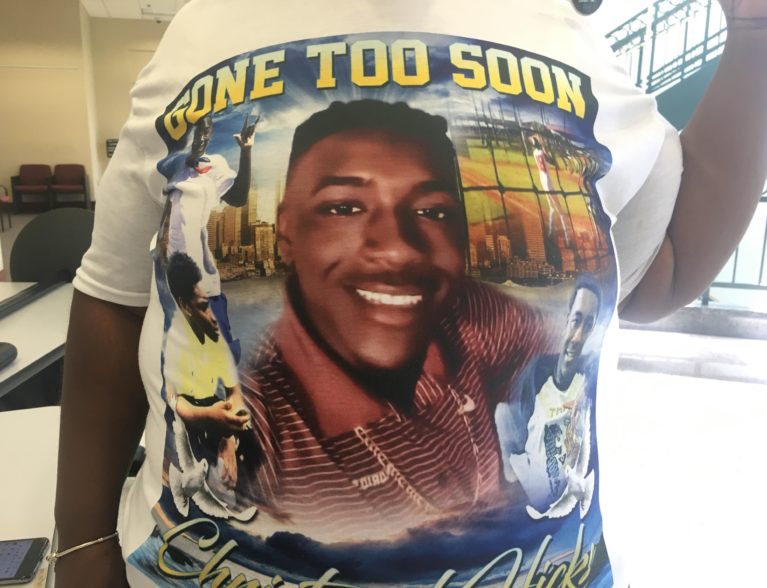 INDIAN RIVER COUNTY — Moments before the grand jury made a decision to indict a former Sebastian River High School football star on murder charges, the mother of the victim shed tears, hoping the panel would pave the way for justice in her slain son's case.
"We're just here to make sure we get justice," said 40-year-old Lillie Hicks, of Fort Pierce. Lillie Hicks is the aunt of Christard Hicks, who was killed in a drive-by shooting in April. "We're seeking capital murder (charges)."
The grand jury met Tuesday for about five hours and returned a true bill – a decision to formally charge former football star Jamal Riggins, 19, on several murder charges. Those charges include first-degree murder with a firearm, attempted first-degree murder with a firearm, four counts of attempted second-degree murder with a firearm and possession of a firearm by a prohibited person, court records show.
Prosecuting attorney Jeff Hendriks hugged 38-year-old Christina Hicks, of Gifford, who is the mother of the victim. Tears streamed down Christina Hicks' face shortly after the decision was read.
Hendriks told Vero News he is pleased with the indictment.
"We're one step closer to justice," Lillie Hicks said. The victim's 23-year-old sister, Ernecia Hicks, of Melbourne, said, "that's all I wanted. I'm happy."
About 30 family members and friends gathered about 1:30 p.m. Tuesday at the Indian River County Courthouse to seek justice for Hicks. Some wore T-shirts emblazoned with Christard Hicks' face with the words "Gone Too Soon" at the courthouse, 2000 16th Avenue, Vero Beach.
Christina Hicks and Lillie Hicks both wore medallions that showed pictures of the fallen teen. One medallion read, "Fly High, 'Dat Way,'" a self-proclaimed nickname for Hicks, according to family.
The deadly drive-by shooting stemmed from an altercation involving Riggins and a friend of Christard Hicks. Investigators said the argument centered around Riggins insulting the friend while the former football star was jailed on other unrelated charges.
Deputies said Riggins, of the 700 block of 5th Place Southwest, sprayed bullets from the passenger seat of a vehicle about 5 p.m. April 20 in the 4400 block of 25th Avenue.
Hicks, who was standing outside with a group of friends, was struck by the bullets, deputies said. He was taken to a local hospital, where doctors pronounced him dead.
It was nearly a week shy of what would have been his 20th birthday, according to family members.
Deputies arrested Riggins on May 15 in connection with the shooting. A friend confronted Riggins after the incident, where Riggins told the friend, "Christard was never the target," reports show.
Hendriks previously told Vero News he would ask the grand jury to file an indictment of first-degree murder against Riggins.
"In a case where there's evidence of multiple rounds being shot, that's clear evidence of premeditation," Hendriks previously said.
Hendriks told the family outside of the courtroom they can expect a trial for Riggins most likely within the next year or two.