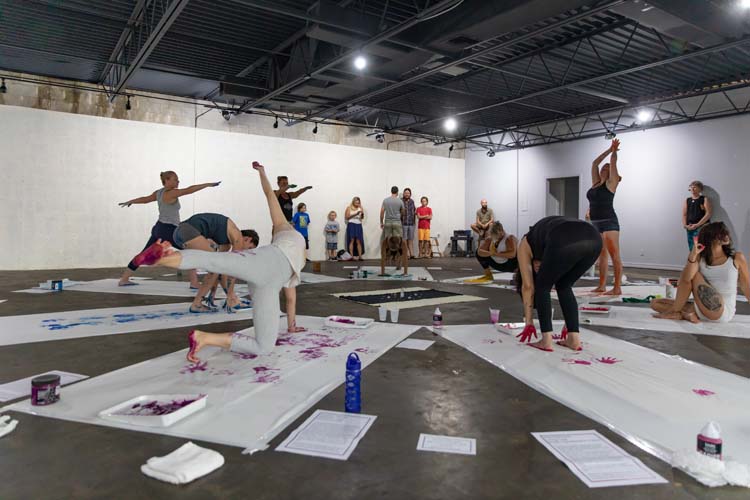 Art takes many forms – and at Raw Space during last week's First Friday Gallery Stroll it took the form of self-expression, as nine local yoga teachers used their bodies to answer the question: 'What does your yoga look like?'
Utilizing white canvas 'yoga mats' set in a circle surrounding a focal center with crystals, the women spent an hour and a half periodically dipping hands, feet and other body parts into vibrant paint colors as they employed their own uniquely individual yoga poses and techniques to create their abstract works of art.
The end results of their live-performance art pieces were sold that evening in a silent auction. But even if you missed watching their creation, you can still view the final products as the finished works will remain on the walls of the gallery during the month of July.
"We did it four years ago downtown and it was super popular; way more people came than we could ever have predicted," said event organizer Megan Hoots, who holds a BFA from the Savannah College of Art and Design.
"This was all from Megan deciding one day to see what her yoga looked like," said Annabel Robertson.
"I'm always making art; turning everything into art," Hoots admitted.
The previous event was a benefit for SafeSpace and this time proceeds were supporting a photographic project by Niurka Barroso called The Faces of Eve.
"The Faces of Eve is my artist-in-residence project at Raw Space. I was invited by the Art Concept Alternative," said Barroso, a Cuban-born photographer who lived in Toronto before relocating to Vero Beach.
Her objective for the 'Photographic Tribute to the Power of Women' is to capture the faces of a diverse group of 100 local women of different ages, social and cultural backgrounds, which will eventually be made into a coffee table book.
"I'm working with a collaborative of women; the working name is 'The Woman's Collective,'" said Hoots, noting that the nonprofit 'women by women multi-disciplinary project' hasn't yet settled on its official name. In addition to art, the group will focus on global issues affecting today's women and the role they play in society, including through an upcoming symposium in January.
"In the future, this 501(c)3 women's collective will be a think tank and support group to incubate women's initiatives in Indian River County," said Hoots. "We're moving forward with or without a name."
"Our mission statement is to inspire and support women in developing art and business ideas," added Robertson. "The goal is to create a community of women to mentor, support and inspire each other."
"Clearly, we're all about women," said Hoots.
Photos by: Denise Ritchie
Click HERE to see more or buy photos