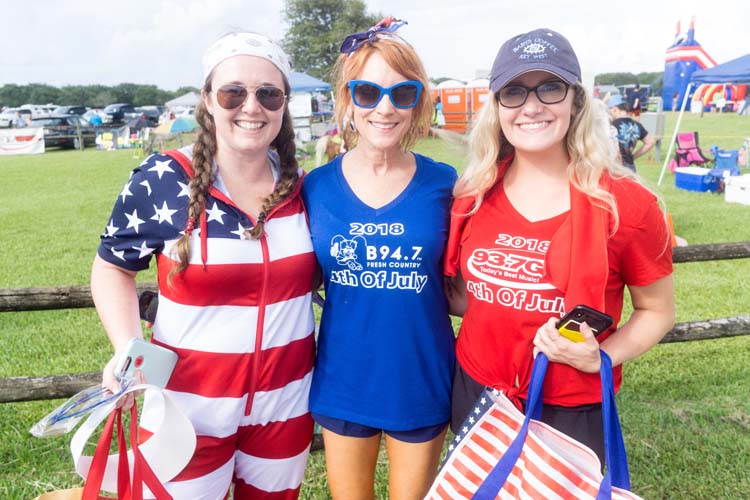 All eyes were turned skyward last Wednesday evening as Vero Beach boomed with patriotism, rolling out the red (white and blue) carpet to celebrate 242 years of freedom at the Family Fun and Fireworks Spectacular at Riverside Park. Revelers flooded the park, many arriving early in the day to lay claim to the perfect spot to view the evening's grand show, sponsored by Mulligan's Beach House Bar & Grill.
The family-friendly event was presented by the City of Vero Beach Recreation Department, with support from Indian River County and Treasure and Space Coast Radio's 93.7GYL and B94.7 Fresh Country.
"We partner with the City of Vero Beach Recreation Department because they have limited funds and we want to help bring Vero an event on the 4th of July, so people don't have to leave town," said Karen Franke, station manager at Treasure & Space Coast Radio.
While waiting for the grand finale, families tailgated, lounged under tents, on blankets and even RVs, watching as people played games, children took pony rides and met farmyard critters from Sarah's Petting Zoo, bounded out excess energy in the ubiquitous bounce houses, and took dips in a pool of water at the end of the waterslide.
Teresa Blake said her family watched the fireworks from the river several years ago and decided to head over to Riverside Park this year so their 4-year-old twins could enjoy the full festival. While mom's favorite part of the day was the fireworks, the girls really loved the pony rides.
For those not grilling their own feasts, food trucks offered a variety of dining options and the Vero Beach Lifeguard Association sold beer to quench everyone's thirst.
A VIP tent sponsored by Indian River Medical Center offered a shady spot for sponsors and radio station contest winners to sit back and relish dinner from Carrabba's, the Paella King and Sweet Creations. They also enjoyed a front-row seat for the evening's musical entertainment featuring Johnny and the Blaze, Leslie Cours Mather and JessLee Strong, a season 14 competitor on "The Voice."
The City of Vero Beach has presented a 4th of July fireworks show for at least 25 years, according to Rob Slezak, COVB director of parks and recreation, and Tammy Bursick, city clerk.
"Next year is the big one, the Centennial," said Slezak.
"We'll have a longer festival with double the fireworks, bands starting earlier and more vendors," added Bursick.
The crowd grew steadily as afternoon gave way to night and sleepy-eyed children with sticky faces began to slow down.
In addition to Riverside, folks lined the bridges and nearby roadways or floated in watercraft in the lagoon, everyone stopping to watch as the night sky burst with color and sound. Even Mother Nature threw in a few thunderous booms and flashes of lightning, adding her own touch to the fiery display of patriotism in honor of our nation's birthday.
Photos by: Gordon Radford
Click HERE to see more or buy photos