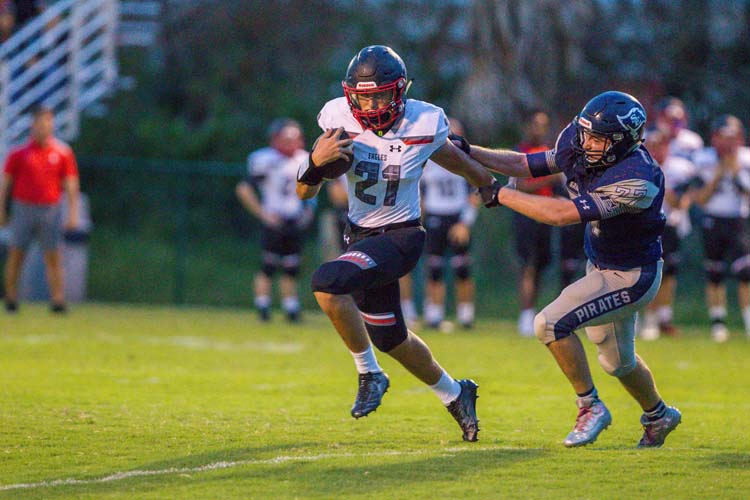 Edward Klinsport was a rock-solid fixture for St. Ed's football and weightlifting programs over the past six years, and if all goes according to plan, the next phase in college will look very much the same. In a few weeks he will be playing football and studying engineering at Rose-Hulman Institute of Technology located in west-central Indiana near Indianapolis and Bloomington.
Klinsport was a lifer at St. Ed's and will depart for the Hoosier state with a figurative scrapbook full of memories. This is also prime time for adding a few more, as those with deeper historical chronology can certainly attest. More often than not, extracurricular activities – particularly sports – are the essence of that plotline.
"Sports have always been a part of my life since I was really young," Klinsport said. "I was trying just about everything in intramurals at school and with the rec department. I decided to stop playing rec in seventh grade and mostly focus on playing for St. Ed's.
"I was on the middle school football team at the time and my coach, Mr. (Les) Rogers, talked to me about starting weight training. There was no middle school weightlifting team, so he said I should come out and join the high school varsity team. At that point I just stuck with those two sports."
Rogers was the also the head coach of the weightlifting team, and Klinsport was his first lifter ever to be on the varsity team for six years. A year later Klinsport was introduced to varsity football head coach Bill Motta. Those coach-player relationships would thrive for all concerned until the day Klinsport graduated.
Weightlifting is synergistic cross-training for football, and as Klinsport matured physically he was making steady gains in the weight room. He would also become a standout two-way lineman for the Pirates football team. Overall, this was top-notch, year-round training that will be extremely valuable as preparation for what is coming next.
"I got introduced to Rose-Hulman through Coach Motta. He talked about its outstanding engineering program and how they really have good postgraduate job placement. That was very important for me to look forward to.
"I had an official visit back in December and the school was absolutely amazing. I bunked with a former Berean Christian QB who I played against last year. We rehashed the game (won by St. Ed's, 35-26). He had a couple of good plays against me and I kind of ate some dirt at a few points, but I sacked him a couple of times as well.
"The Rose-Hulman football program is amazing and I'm really looking forward to playing there."
That college visit brought a high school memory back to life, so we asked about others that he might wish to share. He cited his favorites from football and weightlifting, and both qualify for the championship of the offbeat division.
"My fondest memory in football was in eighth grade when I got a chance to play for the varsity at the end of the season. I was a bit nervous and one day at practice I went up against this big stocky guy, Jad Shalhoub (Class of 2014). I believe he could bench press around 300 pounds. I did a head-to-head drill against him and when the whistle blew I got knocked about 20 feet backwards."
That might have been the impetus to spend an extra few minutes in the weight room. As a senior Klinsport lifted a combined (bench plus clean & jerk) 435 pounds at the district tournament. That was good enough to qualify for regionals, however this entire postseason unfolded in strange, but memorable ways.
"The whole journey from districts to regionals was kind of a funny one. At the conclusion of the district tournament I was originally announced as being the final qualifier for regionals in my weight class. Then due to a video review technicality another lifter was placed ahead of me. So I ended up getting my medal taken away.
"The following Monday Coach Rogers told me there was another miscalculation with the totals and, as it turned out, I actually made it and was going to regionals.
"The night before the regional tournament I asked Coach Rogers to help me shave my head. I went six-for-six on all of my lifts and got some personal records, which was awesome. When they were announcing all of the medalists they called my name for the last spot.
"Coach Rogers told me another lifter tied me for the last spot, but I weighed three-tenths-of-a pound less than him. So I won the medal at regionals and I have it at home. That did not qualify me for states, but it was till an amazing journey.
"And shaving my head really helped."