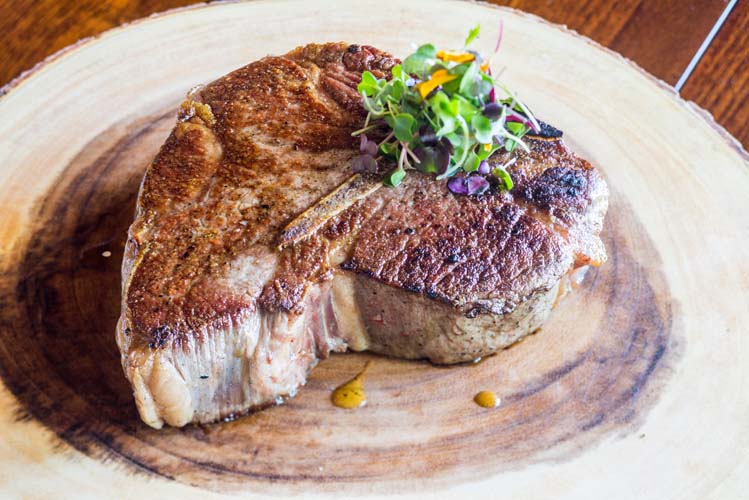 While Florida is home to three of the largest cattle ranches in the United States, relatively few steak houses in this area feature Florida beef. Most of the filets and ribeyes you get in Florida chop houses come from beef cattle raised and processed in the Midwest or far West.
But now, the Braford Steakhouse has opened in downtown Fort Pierce featuring all-natural beef from cattle bred, born and raised by the Adams family, whose Adams Ranch is headquartered straight out Orange Avenue fewer than 20 miles from the restaurant. The Braford cattle – a breed developed to fit the Florida climate, the land and the feed grown on it – get no antibiotics, no growth hormones and no steroids.
The steakhouse is a joint venture between Adams Ranch and the developer of the Galleria, where the restaurant is housed – next to a sister restaurant, Rooster in the Garden – at the southeast corner of Orange Avenue and Second Street.
Look & Feel: The Braford Steakhouse has a unique décor reflective of Florida's cowboy culture, yet is as classy as any chop house you would find in Palm Beach or Orlando. And the ambiance is perfect for a steak house: You don't see men in cowboy hats being seated across from smartly dressed women in most restaurants.
Food: For starters, I ordered the sliced heirloom and beefsteak tomatoes ($12) and my husband had the blue bibb salad ($10). The thinly sliced tomatoes were served with shaved Peruvian red onions, feta cheese and balsamic vinaigrette. My husband's bibb lettuce was topped with Neuskeles bacon, Point Reyes blue cheese, grape tomatoes and pickled red onion.
All entrées, it turns out, also come with a small house salad or a bowl of soup, so we each sampled their lobster bisque. Very creamy.
Then for entrées, we decided to try two of their best steaks. I went for the 20-ounce dry-aged bone-in ribeye ($50) and my husband chose the 16-ounce dry-aged bone-in filet mignon ($65).
Neither of us opted for sauces on our steaks – an add-on that ranged from $2 for a Bernaise up to $7 for au poivre and $11 for an Oscar – but we did add a couple of sides, a 1-pound baked potato we shared for $4, and some sautéed crimini mushrooms for $5.
Our steaks, ordered Pittsburgh style (charred on the outside, rare on the inside), were cooked perfectly, and we found the Braford beef every bit as juicy and flavorful as we had hoped.
We had no room for dessert.
Drink: The Braford has a very attractive bar against its south wall, and offers a nice selection of reasonably priced wines, beer and cocktails.
Service: Our server, Bill, was both attentive and knowledgeable. And even though the Braford had only been open for two weeks, general manager Kate Shanaphy Maingot appeared to have everything running very smoothly.
Prices: You could save a few dollars on steaks by not ordering dry-aged beef, but the least expensive cut on the menu is the 9-ounce filet ($39) and the beef tops out at $79 for the dry-aged porterhouse. There's also Colorado rack of lamb or Berkshire double pork chop (each $42), seafood (which varies from night to night) and the least expensive entree is the Bell & Evans chicken ($16).
Initial impressions: We were very impressed by the Braford, now entering its third week. Our question would be whether these prices are too high for this market.  Management might take the edge off a bit by not charging extra for steak sauces.
I welcome your comments, and encourage you to send feedback to me at tina@verobeach32963.com.
The reviewer dines anonymously at restaurants at the expense of Vero Beach 32963.
The Braford Steakhouse
Hours: Thursday through Saturday, 5 p.m. to closing
Beverages: Full Bar
Address: 100 S. 2nd Street, Fort Pierce
Phone: (772) 882-9786
Photos by: Gordon Radford
Click HERE to see more or buy photos