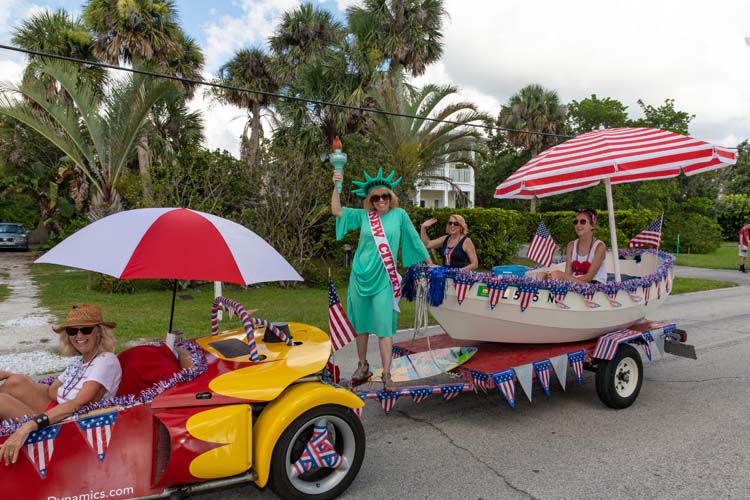 Flags waved, bands played and families enjoyed quality time together throughout the day at Sebastian's 46th annual Fourth of July Celebration sponsored by the City of Sebastian and the Lions Club of Sebastian. Throngs of red-white-and-blue-adorned residents and visitors lined the waterfront to wave at parade participants, who proceeded south from Davis Street, the 3-mile-long procession streaming along Indian River Drive and ending at Riverview Park.
Once at the park, revelers and participants alike were treated to food, music and myriad local vendors selling festive attire, artwork and jewelry. Later in the evening, the crowds returned to watch as fireworks lit the skies over the lagoon.
The action started earlier in the morning with a Freedom Run 5K to support the LifeSkills Training Program, which is coordinated by the Substance Awareness Center of Indian River County. The program is taught in all local middle schools and in six elementary schools, its goal to prevent substance use and violence.
"We had over 100 runners out this morning enjoying the sunrise along the Indian River Lagoon," said volunteer Carrie Maynard-Lester.
Coldwell Banker Paradise employees led the parade, walking amongst the crowd to distribute American flags for everyone to wave.
"We've been doing this since the very beginning and we are honored to hand out this sacred emblem at the start of each parade," said Linda Schlitt Gonzalez. "We've handed out more than 165,000 flags over the years."
Veterans from as far back as WWII were welcomed by the cheering crowds; the sincere shouts of thanks and gratitude touching the hearts of those who fought so hard for our freedom. The same enthusiasm greeted our very own protectors, including groups of law enforcement and first responders as they marched by.
"Sebastian loves America and this day exemplifies small town Americana!" enthused Sebastian Mayor Jim Hill, riding along in a trailered boat filled with family and friends. "We have about 80 participants in the parade and literally hundreds of our community neighbors have come out to enjoy the day."
And, of course, the annual July 4th Parade wouldn't be complete without the music of the Sebastian River High School Marching Band, whose members strutted in cadence and confidence as they performed patriotic songs.
There were also plenty of politicians and candidates as well as seemingly endless floats, cars, motorcycles and trucks, all decked out in patriotic colors and themes as they ferried along their smiling riders.
As the parade neared Riverview Park, four skydivers circled above the crowd; the brilliant blue sky making the perfect backdrop for their aerial antics and colorful smoke trails. One proudly pulled a massive American flag that swayed gently in the breeze as a symbol of American pride. One by one the skydivers approached a clearing by the river, landing in perfect succession to the delight of onlookers.
"Sebastian knows how to celebrate the birth of our country," said Martin Zickert of the Veterans Council, who summed up the day's activities expressively. "I don't think I've ever seen a more patriotic community. Just look around. Everyone is dressed in red, white and blue; from the kids to grandma and even the dog. I wouldn't want to be anywhere else today."
Article by: Kerry Firth, correspondent
Photos by: Denise Ritchie
Click HERE to see more or buy photos