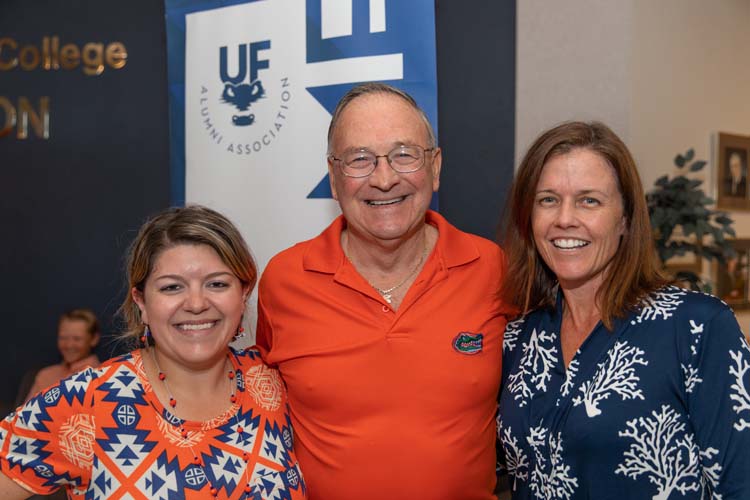 Shining star students traversed a sea of orange and blue as they accepted scholarships to the University of Florida at the 11th annual Treasure Coast Gator Toast, hosted by the Treasure Coast Gator Club.
Nearly 150 UF alumni, supporters and family members gathered at the Richardson Center on the Mueller campus of Indian River State College to recognize a group of exceptional students from Indian River and St. Lucie counties, who are either currently attending UF or were recent high school graduates heading to the university in the fall.
"Scholarships totaling $37,500 were given to 25 deserving students this year," said Katie Profeta, president of the TC Gator Club. "That is a record amount for our club, bringing our 10-year total to over $230,000. Each $1,500 scholarship is good for one year, but students can technically get it renewed for up to four years if they reapply."
She noted that scholarships are raised through the generosity of local donors, including many individuals and foundations that continue to give the gift of education year after year.
"We couldn't possibly do this without the benevolence of our community," added Profeta. "Additionally, the Treasure Coast Gator Club helps by raising funds with their annual Clint S. Malone Memorial Golf Tournament, to be held in the spring of 2019, and several smaller fundraisers, like 50/50 raffles and silent auctions that take place throughout the year at watch parties and networking events."
In a heartfelt tribute to her children, Donna Haynes donated the Andrew Schmeer Memorial Scholarship in memory of her son, who was tragically killed in an automobile accident, as well as the Andrew and Allison Schmeer Sibling Scholarship in honor of her son and daughter.
"Both of my children attended UF and my daughter Allison graduated with a master's degree," said Haynes. "She was awarded a scholarship through the Gator Club while she was in school and it helped her achieve her goal. Now, as a family, we want to pay that gift forward."
Kevin Mojica, one of this year's scholarship recipients, shared the Haynes family table and spoke of his gratitude for their generosity.
"I am a sophomore majoring in architecture and sustainable development. I bleed gator orange and blue and I am grateful for this gift," said Mojica. The oldest of five children, he said that in addition to achieving his own future goals, he hopes to improve his siblings' chances of pursuing their dreams as well.
After enjoying a hearty dinner, guests were treated to a rousing talk by UF basketball coach Mike White. Reaffirming the university's place as a national powerhouse, White led the team to its third straight 20-win season and secured a second consecutive NCAA Tournament berth in 2017-18. He assured the enthusiastic crowd that the team, which includes three of ESPN's top 100 players among their incoming freshman class, was looking equally promising for the upcoming season.
"UF alumni is strong and united, especially on the Treasure Coast," said Scott Francis, UF Alumni Association president. "I travel all around the country visiting gator clubs, helping them engage in university life no matter where they live. This club is so adept at keeping their members informed and committed that they've won numerous awards from the UF Alumni Association. It's obvious by the turnout tonight that this is truly a Gator nation."
Article by: Kerry Firth, correspondent
Photos by: Denise Ritchie
Click HERE to see more or buy photos