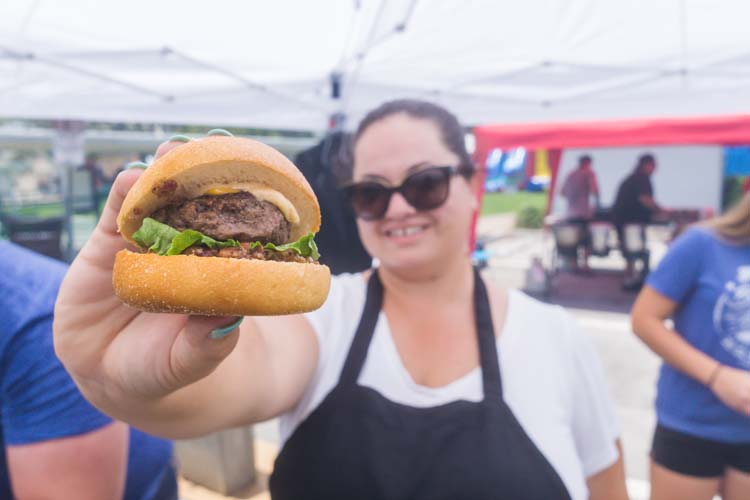 Saturday sizzled as burgers were flipped by 10 local chefs vying for the title of Best Burger in Indian River County during the third annual Burgers & Brews – An American Heritage Celebration Street Festival in Historic Downtown Vero Beach to benefit United Against Poverty.
Chefs from American Icon Brewery, Bonefish Grill, The Green Marlin, Outback Steakhouse, Post & Vine, Sean Ryan Pub, The Source's Dining with Dignity Program, Southern Social, The Tides and Wilke's 14 Bones created meaty masterpieces, each with their own special twist.
Activities began with slider tastings for the masses, as competing burger architects lined up along 14th Avenue to present mini versions of the juicy burgers that would later be judged during the Best Burger competition. During a blind tasting, Chef Cassandra Lynne, Executive Chef Jeff Mather and food blogger Thomas Miller considered presentation, creativity, taste and technique before selecting the Judges' Choice winner.
Explaining his personal judging process, Miller said, "Eat first with your eyes. Your nose is second and then third is taste. Then, everything combined together."
"We're breaking the burgers down layer by layer, tasting it all and hoping for some surprises," added Lynne.
Chef Jarrett Bass and the Bonefish Grill Team won the Judges' Award for their Bang Bang burger, created with Wagyu beef on a potato bun, topped with cheddar cheese and fried shrimp tossed in their signature Bang Bang sauce.
"This was the most flavorful and cleanest burger," explained Lynne. "The beef tasted good and it was cooked perfectly. It was really clean; they nailed it."
Burger aficionados also weighed in, voting for their favorites in the People's Choice competition. The Source's Dining with Dignity Program students and Chef Joe Wiser took home that honor with their Homeless Haymaker, which featured pork and beef with bacon, cheese sauce, pork roll, Havarti cheese and aioli sauce. The Source provides numerous services to assist the homeless, including the culinary skills program, mirroring UP's model of offering a hand up, not a handout.
"Dining with Dignity participated this year, which was a really fun way to partner with another nonprofit. They've actually been winning a lot of competitions around the state," said Annabel Robertson, UP executive director.
A VIP Lounge inside the Heritage Center offered a welcome respite from the heat along with a Bloody Mary bar by Filthy's Fine Cocktails & Beer for sponsors and top-level ticket holders.
Outside, crowds filled the streets, soaking local celebrities in the dunk tank, trying out food truck fare, keeping children busy in the kids zone, and immersing themselves in the Apple Pie Eating Contest.
An afternoon thunderstorm rolled in, cooling things off and clearing the streets for a bit, but not even the summer storm could keep the hungry masses away for long.
Folks shopped at more than 50 vendors showcasing their wares, while others found shady spots to watch a Vero Beach Police Department K-9 unit demonstration and listen to entertainment by the Ladies of Soul, East Harbor and Ballyhoo.
United Against Poverty, UP for short, strives to break the cycle of poverty by providing individuals with the skills needed to lift themselves and their families to economic self-sufficiency. In Indian River County, 22,197 families earn well under the amount needed to afford basic housing, child care, food, healthcare and transportation, according to Robertson.
"We are serving about 640 people a day on the campus in Indian River County. That's an increase over last year," said Robertson. To meet the increasing demands and expand their services, the nonprofit recently purchased a 46,000-square-foot facility.
"That's a big step in our campaign to expand the availability of our programs. We'll be moving all our current campus activities into that building, as well as having 12 collaborative partner agencies housed in there with us. Our goal is to make a one-stop shop as it were."
For more information, visit upirc.org.

Photos by: Gordon Radford
Click HERE to see more or buy photos