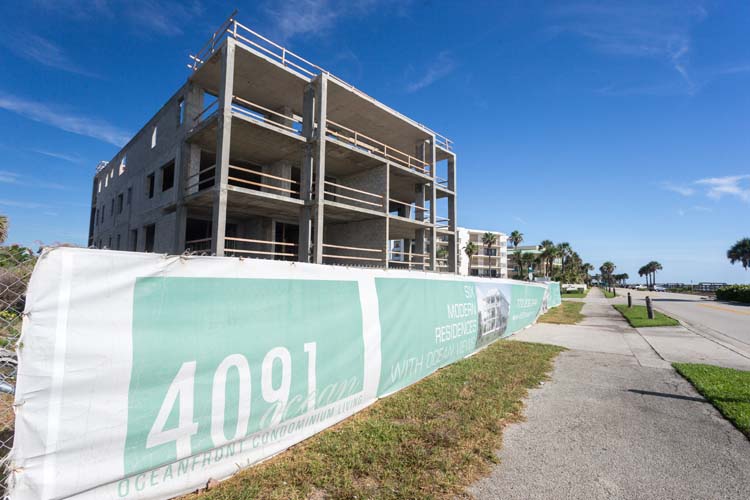 Developer Yane Zana's 4091 Ocean condo project continues to move forward briskly. The St. Ed's grad broke ground last fall, just one day after he got his final permit, and the concrete and steel shell of the 4-story, 26,000-square-foot building is now complete.
"We have most of the interior framing done on the third floor and the windows will be going in during the next few weeks," Zana says. "We're seven or eight months from completion and people will be moving in sometime in the first quarter of 2019."
Zana recently sold the entire top floor of the building as an ultra-luxurious 6,600-square-foot penthouse to a local buyer. The fourth floor had been on offer as two units – with unit 401 on the south side of the building listed for $1,895,000, and unit 402, which has a more open view to the north, listed for $1,995,000, but the developer says "someone came along and made me an offer I could not refuse for the whole fourth floor."
Located at Conn Way and Ocean Drive, across from the boardwalk, the condo has parking on the first level, two 3-bedroom, 3.5-bath, 3,331-square-foot units on the second floor and two more homes the same size on the third floor.
All the units will have large, ocean-facing balconies with expansive sea views and luxury finishes that include limestone flooring and gourmet kitchens with marble or quartzite counters and solid wood cabinetry.
Project amenities will include an elevator, a lap pool and "an oversized aqua spa," according to promotional literature, but the biggest draw is the location, across the street from a public beach with lifeguards and only a few blocks away from the shops and restaurants in Vero's central beach.
Zana says the project has received a good reception from buyers. He listed the building pre-construction with Wendy Wilson of RE/MAX Associated Realty. Between the two of them, they have sold everything except unit 201, which is listed for $1,495,000.
Another 3,300-square-foot unit that was sold last year may be available for resale. "The guy who bought it has a growing family and is not sure now that condo living is what he wants," Zana says. "I told him I am willing to work with him to resell it, if he decides to go that way."
Developers can't close on condo sales until the entire building is complete and they get a certificate of occupancy, or CO, so the sales at 4091 Ocean consist of signed contracts with non-refundable cash deposits of 20 percent or 30 percent.
Zana bought the .67-acre property at Conn Way and Ocean Drive for $1.9 million in October 2016, according to county property records. The purchase included two vacant buildings, one facing Ocean Drive that formerly housed Boardwalk Café & Ice Cream Shop, and a storm-damaged building facing Conn Way.
The buildings were torn down in March 2017, but it took another seven months to get all permits needed to commence construction.
"The agencies we dealt with were all cooperative and worked well with us but developing a multi-family oceanfront property is a complex process," Zana says.
Wilson says people who have contacted her about the condos have been a 50-50 mix of locals and out-of-towners, but most of the buyers so far have been locals who plan to use the condos as primary residences where they will live fulltime.
4091 Ocean is being developed by 4091 Ocean LLC, an entity connected with Coastmark Development, where Zana is managing director. Coastmark Construction, an associated company, is the general contractor.
The building was designed by C.A. G. Caribeno Architectural Group of Melbourne. Bill Stoddard of Schulke, Bittle & Stoddard L.L.C. was the engineer. Buyers are bringing their own interior designers.
Zana says 4091 Ocean is his eighth multifamily development and his 20th oceanfront project overall, including a number of large oceanfront homes, some custom and some spec, in the North Shore subdivision and on Reef Road near The Moorings.
He says he will be announcing another new oceanfront project soon.