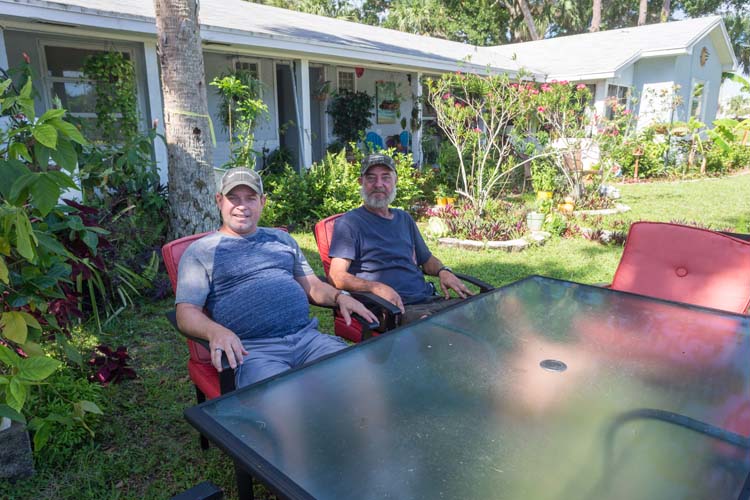 Sandy McLaughlin, soon to retire as a district judge in Louisville, Kentucky, wants to tear down the existing buildings at 1055 Royal Palm Blvd. and double the number of housing units on the rental property so she can house more homeless or struggling veterans.
So far, the City of Vero Beach is not going along with idea.
"I have entered the 'City of No,'" McLaughlin said, fresh from a meeting with Vero Beach Director of Planning and Development Tim McGarry, who told her an application for a variance to increase density would have "no chance" of succeeding.
McLaughlin bought the Courtyard Villas and Apartments of Indian River two blocks east of U.S. 1 nearly a year and a half ago for $1 million. There are several buildings on the 1.5-acre site with a total of 20 units, all built in 1950, according to the county appraiser's web site.
The land is zoned RM 10/12 – medium-to-high-density residential – which allows up to 12 units an acre. The existing complex is a tad over current code allowances with 20 units, but McLaughlin's land use is "grandfathered in," according to McGarry.
The property used to be a hotel in the "motor court" style, which explains the size range from one-bedrooms to tiny efficiencies.
"Some people only have 100 square feet and no kitchen," McLaughlin said, "and they're in bad shape. They're coming down, no matter what happens."
Those who are not veterans currently living there would not be kicked out as a result of the rebuilding, but replaced by veterans "through attrition," McLaughlin said. She plans to do construction and demolition in phases, so that current residents are not made homeless during the renovation process.
"I bought to rebuild the apartments to house veterans," she said. "Tim McGarry said I can tear them down and don't have to go through Planning and Zoning to rebuild 20 units.
"He suggested I buy some place out in the county if I wanted higher density. Density push-back is usually related to parking, but these veterans don't have cars.  And it has to be in an area where they can get to services. We can't put them out in the country.
"I don't want to go broke doing this," McLaughlin added. "I need to build a certain number of units to cover my costs. I've got the will, drive and interest to address a problem here in such a way that will improve the aesthetics. I'm not asking for anything but permission. Just let me improve the lives of veterans and the land. Where is the harm in that? Take a chance on looking at a plan."
McLaughlin has hired Vero Beach architect Jeff Ray to design the new layout.  He is preparing 20-, 30- and 40-unit plans, which should be finished by the end of July, when McLaughlin will apply for a variance hearing before the city's Planning and Zoning Commission.
McGarry said the Planning and Zoning Commission's decision can be appealed to the City Council by any of the parties, including city staff.
The three plans are variations on easily-accessible, first-floor hacienda-style buildings that face inwards, toward courtyards, "which builds community," and leaves the street scene "very pretty," McLaughlin said.
She and her husband have owned and operated low-income housing in Louisville for years. "I take care of the property, I don't increase the rent and I love the work. Everybody has my phone number and they call me with all their problems."