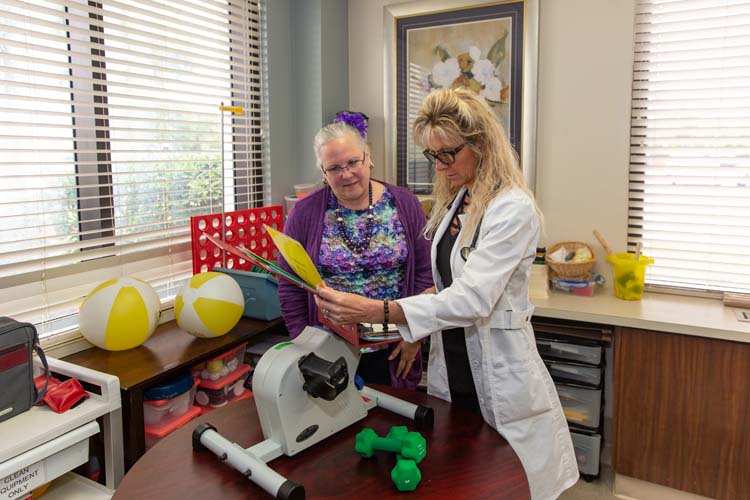 "Transitional care," says registered nurse Virginia (Ginny) Currier, director of nursing at Sebastian River Medical Center's transitional care unit, "is the bridge between hospital and home" for patients that need additional care after an operation or illness.
According to Currier, the goal of the program and its skilled nursing facility "is to help people regain their strength and safety awareness, so that they can return home safely. And, hopefully, stay at home and not end up back in the hospital again."
A typical transitional care patient could be a hip or knee replacement patient who is still unsteady on their feet or someone who is otherwise too weak or fragile – due to age, anesthesia, prescription medications or surgical-related complications – or someone who lives alone and has no one to help care for them at home upon release.
The need for transitional care and its success in helping patients is well documented.
Beckers Hospital Review writes that on average, 20 percent of Medicare beneficiaries discharged from hospitals are re-hospitalized within 30 days, but a large series of "randomized controlled trials" have shown that transitional care programs like the one at SRMC can "significantly lower those readmission rates," according to American Nurse Today.
These programs incorporate services such as comprehensive discharge planning, post-discharge telephone outreach, patient-centered discharge instructions, follow-ups with primary care providers and medication reconciliations.
SRMC's transitional care unit is located at the hospital, but not in the acute care part of the building.
"They're actually discharged as a hospital patient and then they come here for a brand-new admission," Currier says. "They come from upstairs straight down to us, after they are discharged," to do physical therapy, occupational therapy, speech therapy and otherwise prepare to return home.
"This is a skilled nursing unit," Currier continues, "so, it's the same as if they were to go outside to a stand-alone skilled unit. It's the same principle. Except we're under the hospital license."
Which has obvious advantages – few, if any, stand-alone skilled nursing units have fully staffed emergency departments, operating rooms and a full-time staff of highly-trained physicians and surgeons just a few steps away in the same building.
The transitional care unit's administrator, Gloria Tausch, joins the conversation to point out "there aren't that many transitional care units in Florida."
For that reasons, SRMC's TC unit takes patients from other area hospitals, as well. "We take patients from all the surrounding areas, and we do direct admits from physicians' offices."
The availability of the unit is vital given this area's high concentration of retirees. "High-quality transitional care is especially important for older adults," according to the National Library of Medicine.
The need for transitional care is reinforced by American Nurse Today, which reports "fewer than 50 percent of patients see their primary care provider within two weeks of a hospital discharge."
That's a figure that clearly raises Currier's hackles. "We don't allow that," she says. "Before any of our people are discharged home, we've already made their follow-up appointments for them, and the dates and times are written on their discharge paper work."
"Our discharge planner," Currier continues, "who is also our case manager, calls and makes follow-up discharge appointments with primary care doctors. If they have a specialist that is following them, such as an orthopedic surgeon, she also makes that follow-up appointment.
"Even if [the patient is from] out-of-state, we try to follow-up with that too, and with the families, to make sure that patients follow-up with their physicians when they go home and make sure they have all the documentation they're going to need," says Tausch. "We give them a card so they can feel free to call us back if they have any questions."
"We also give them also an entire print-out of their medications and we tell them to take that to their follow-up appointment so their doctor can review and make any changes [he or she] wants. And, if they are put on any new medications while they are in our care, we do a complete educational print-out of the new medication for them."
Currier adds that "any equipment patients used while they were in therapy, if they don't have that at home, we get that for them before they leave. Everybody goes home with home health nursing and home health physical therapy and occupational therapy. If they don't want it they can cancel it, but it is ordered and set up for everyone that leaves here."
Both Currier and Tausch are keenly aware that patients want to leave the hospital and return home as soon as possible. They just want that return to be as safe and long-lasting as possible.
Both Tausch and Currier are with Steward Health's Sebastian River Medical Center transitional care unit at 13695 U.S. 1 in Sebastian. The hospital's phone number is 772-589-3186.