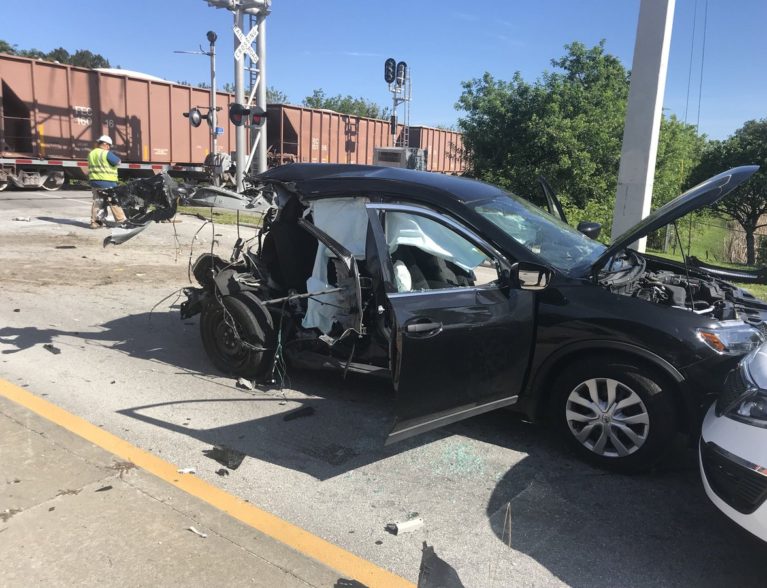 INDIAN RIVER COUNTY —  A man suffered traumatic injuries after driving through a railroad crossing and getting struck by a train, authorities said.
The unusual incident remains under investigation by the Florida East Coat Railway and the Florida Highway Patrol. The crash closed Oslo Road between Old Dixie Highway and U.S. 1 for several hours.
"For those who witnessed it, it was a pretty horrific scene," Indian River County Fire Rescue spokesman Cory Richter said. "We don't know why he drove through."
Fire Rescue crews responded to the scene about 9 a.m. Friday at the train tracks on Oslo Road, between U.S. 1 and Old Dixie Highway. Crews spoke with several witnesses, who said a black eastbound car drove through the crossing arms that were in the down position, ultimately destroying them.
"We don't know how long it will take to fix," Ricther said. "FEC Railway will have to cover it."
A northbound train traveling at 36 mph then struck the car either on its side or rear, jolting the vehicle to the other side of the tracks, said Richter and FHP spokesman Alvaro Feola. The black car hit another crossing arm and then struck a white SUV head-on that was stopped on the westbound side of the crossing.
The man in the black car was taken by ambulance to Lawnwood Regional Medical Center & Heart Institute in Fort Pierce. His identity and age were not immediately available.
The woman in the SUV refused to be transported.
"She was shook up," Richter said. "She's just sitting there stopped and then sees a car get hit by a train, and then (the car) hits her."
There were no passengers in either car, Richter said. The crash totaled the man's car, leaving the vehicle mangled with most of its rear missing.
The train had stopped on the tracks after the incident. FEC officials removed the train from the intersection about 1 p.m., causing Oslo Road to reopen, Feola said.
Photos provided by Indian River County Fire Rescue and Sheriff's Office