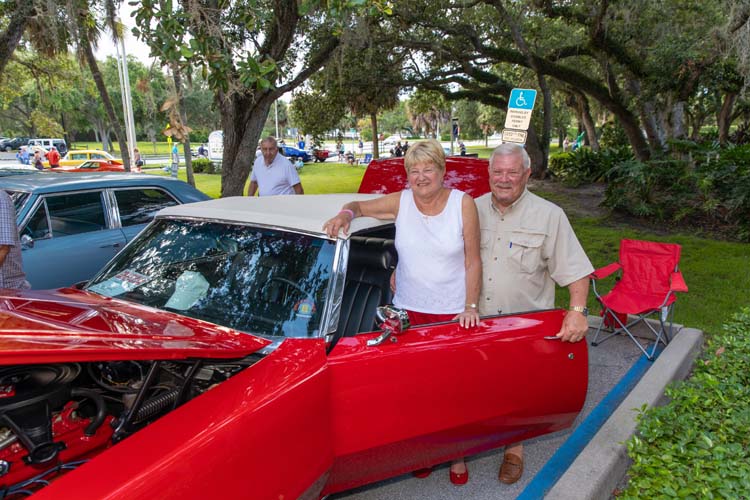 As the Danny & the Juniors doo-wop group accurately foretold, "Rock 'n' roll is here to stay, it will never die." The large crowds at this past weekend's Cruise-in Classic Car Show and Doo-wop Concerts at Riverside Theatre were a testament to the fact that 60 years after the song's release, rock 'n' roll is still undeniably alive and well.
"With the night events we have going on, we wanted to introduce fun themes," said Garrett Schiefer, Riverside Theatre promotions director, who coordinated the event. Coming up, Schiefer said, are Vegas Nights in July – where casino-game proceeds benefit the Riverside Theatre for Kids Discount Tuition Program – and in August, a Jimmy Buffett-style Cheeseburgers in Paradise.
The Riverside campus was a hubbub of activity, with some folks wandering about the colorful collection of classic cars, stopping periodically to chat with owners about their histories. Others gathered at tables and on lawn chairs, feeling the beat and getting up to dance to the music of the Beach Street Band on Friday evening and Doo Wop City on Saturday.
Even the theater's 'drive-in' menu had a retro feel, with everything from 'Grease Lightning' burgers and 'Route 66' pulled pork to 'hot diggity, dog diggity' franks and 'garage' fries. And yummy soda fountain favorites had a grown-up twist – spiked ice cream floats.
The oldies leitmotif continued into the Howl at the Moon shows, where performers Ken Gustafson – who as a 21-year Howl at the Moon veteran is considered the 'Yoda' of the industry – and Rhoda Johnson accepted requests for songs from the '50s, '60s and '70s, the sort everyone could sing along to – and many did.
"We're really trying to keep things interesting, fresh and fun," said Jon Moses, Riverside's managing director/COO. He noted that about one-third of the attendees at Howl at the Moon and Comedy Zone nights have either never been to Riverside Theatre or have not been in the past five years. "So there are always fresh people coming and generating new interest in the theater."
Howl at the Moon and Comedy Zone events are offered on alternate weekends; all begin with a free outdoor Live in the Loop Concert.  For more information, visit riversidetheatre.com.   
Photos by: Denise Ritchie
Click HERE to see more or buy photos