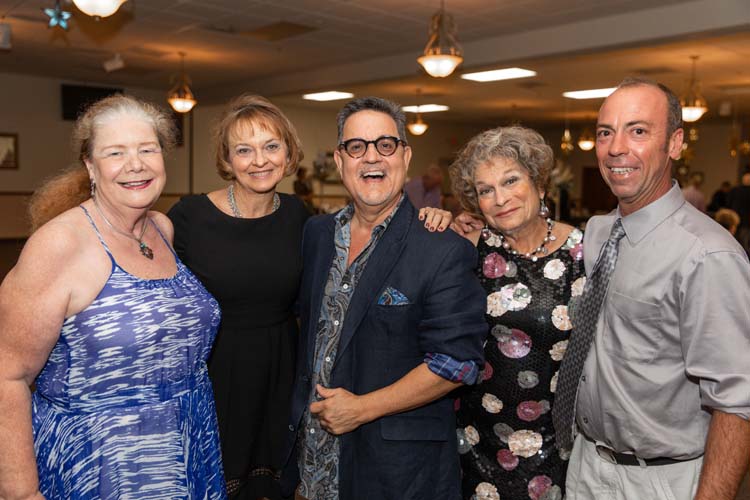 It was a night to remember for Vero Beach Theatre Guild members, who all shone brightly at the 2018 Genie Awards dinner last Saturday evening at the Elks Lodge, closing out their 60th anniversary season with the celebration of another successful year.
The Genie Awards were named in honor of Eugene Davis, one of the guild's first resident directors, and honor excellence in theater by recognizing the contributions of the cast, crew and volunteers.
Jon Putzke, VBTG president, shared that the guild had recently acquired scrapbooks belonging to Davis, which chronicled the early years of the community theater. He noted that the first Genie Awards ceremony had lasted until 4 a.m., and had garnered press coverage in publications from Miami to Daytona Beach.
"Tonight we're going to remember Eugene Davis by honoring all-star casts and volunteers, around who the guild actually revolves," said Putzke. "We may shoot for the moon and if we fail, we're gonna fall among the stars."
Under a canopy of gilded stars, guests dined on a scrumptious affair catered by Wild Thyme Catering, before emcee Larry Strauss took the floor, admitting to the crowd that serving as Genie emcee had been one of his bucket list items.
Despite sage advice from wife Carole that involved "no jokes and no singing," the actor hammed it up with a brief musical interlude and a joke that began, "A Genie judge and a horse walk into a bar …"
Claude Cooper summed up the sentiments of many in the crowd as he accepted an award for his role in "Lend me a Tenor," saying, "I am so thankful that we have this wonderful creative outlet that we can go to and dispense our art to, hopefully, a grateful public that will continue to support us in so many ways."
Commenting that every member of the cast and crew is essential, former guild president and "Little Shop of Horrors" director Mark Wygonik borrowed wise words from the late American bit actor Dabbs Greer, saying "every actor in their own little sphere is the lead."
The 2017-18 Outstanding Production Award was presented jointly to: "The Lady With all the Answers," directed by Art Pingree, and "To Kill a Mockingbird," directed by Jon Putzke.
"Lend me a Tenor" was the big winner of the night in the Play category: Jason Avery, Leading Actor; Bill Lembeck, Supporting Actor; Doy Demsick, Character Actor; Eleanor Dixon, Character Actress; Claude Cooper, Actor in a Secondary Role; and Tennessee Callie, Actress in a Secondary Role.
"Little Shop of Horrors" garnered a number of awards in the Musical category: Ben Earman, Leading Actor; Kelly Brown Clemenzi, Leading Actress; Nick Keeler, Character Actor; Courtney Godwin, Sara Gordon and Shannon McNair, Actress in a Secondary Role; and Isabel Garrett, Actress in a Cameo Role.
"The Fantasticks" earned awards for: Alex Martinez, Male Newcomer and Outstanding Male Vocalist; Kaitlin Ruby, Outstanding Female Vocalist; and Aidan McDonnell, Supporting Actor in a Musical and Outstanding Juvenile.
Other award winners included: Eleanor Dixon received the award for Leading Actress in a Play for "The Lady With all the Answers."  The play "To Kill a Mockingbird" garnered awards for Samuel McDuffie, Outstanding Rookie; Tori Hallsten, Female Newcomer; Shara Kyles, Supporting Actress in a Play; and Jon Putzke and Shawn Webber, Best Set Design.
The shows would not have been possible without the support of individuals working behind the scenes, and among the awards recognizing support crews and volunteers for their tireless work was this year's Lifetime Member Award winner, Larry Strauss.
The guild announced that for the first time in its 60-year history; the 2018-19 season will feature performances year round.
Visit verobeachtheatreguild.com for more information and tickets.
VBTG 2018-19 Season
Main Stage 
July 10-22: "The Dixie Swim Club"
Sept. 11-23: "'Yankee Tavern"
Nov. 6-18: "The Game's Afoot or Holmes for the Holidays"
Jan. 15-27: "Miracle on South Division Street"
March 12-24: "A Funny Thing Happened on the Way to the Forum"
May 7-19: "The Savannah Sipping Society"
Apron Series for Readers Theatre
Oct. 12: "12 Angry Men"
Dec. 7: "Jacob Marley's Christmas Carol"
Feb. 8: "A Night at the Theatre"
April 12: "Things You Shouldn't Say Past Midnight"
Photos by: Denise Ritchie
Click HERE to see more or buy photos