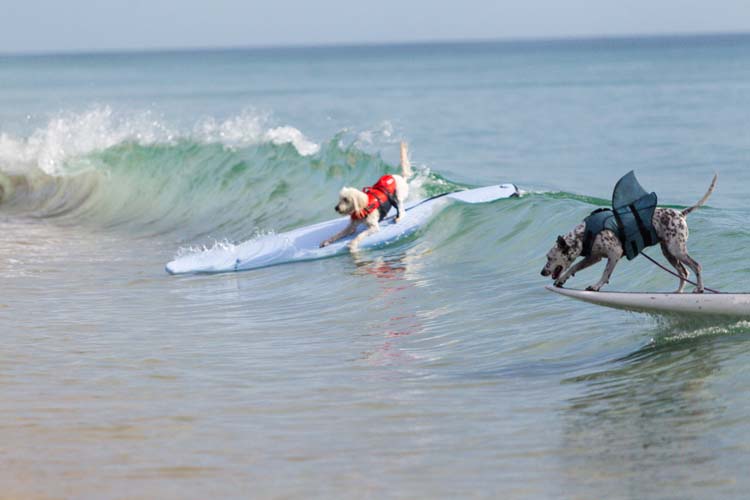 I am MEGA-STOKED! This week I had a Total Blast, an added to my Bucket List.
Remember that laid-back surfer pooch Waldo Leverette, a Tibetan Terrier I innerviewed a few years back? He's Way Cool Kibbles: rocks dark sunnies, a flower lei an a neon green ball cap with custom ear holes. Gotta doghouse fulla trophies.
I didn't get to see him ackshully surf back then, but he said he'd woof-mail me when there was a com-puh-TISH-en nearby. Well, he finally did! So, last week, me an my assistant went down to Pepper Park Beach at, like, 8 a.m. (for Lassie's Sake), to see the East Coast Dog Surfing Association's first-ever St. Lucie Dog Surf Classic: "Surf Paws: Hang 20." It was a fundraiser for the St. Lucie County Humane Society.
When we got there, there was already a line of pooches signin' in, and a bunch more on the beach practicing.'
"Yo, Doood!"
It was Waldo! Lookin' Majorly Surf Dog in those sunnies, flower lei, ballcap an matching life-vest. Cool as a bowl of water with extra ice cubes.
"Good to see ya, Dawg!" I said.
"Back atcha, Bonzerooni! Great you could make it!" He squinted at the glassy water. "It's a liddle flat out there, but it should pick up. I'm totally stoked about this big turn-out! Didja know me an my Dad Mike wrote the com-puh-TISH-en rules?"
"No Woof!"
"There's a bunch. We call the Judging Guidelines PAWS. Clever, right? P stands for Poise (or Attitude), like, is the surfdog happy? A is for Awareness, is the surfdog facing forward? Does he/she know where he's/she's going? W's for Wave. Is the surfer in control all the way in? And S is for Sports(dog)manship. This applies to both dog an human."
"Dog, Waldo, that took a lotta thought!"
"You bet your biscuits! I'm in Pro Solo an I'm seein' serious hot-paws competition out there, so I'm gonna go grab some practice. Later, dude!"
An off he went. Woof, did I ever wanna get Out There, but, alas, I was On The Clock. So I opened my notebook and innerduced myself around, tryin' to look as cool as possible. The surfer pooches all had their posses helpin' em get ready. There were a lotta non-surfer pooches too, hangin' out on beach towels just watchin.' Missy Plummer was one of the latter, a pretty Lab mix.
"I like coming to the beach, getting a liddle sand on my paws. All this is so-o exciting. Getting wet, not so much. It makes me feel all yukky." She lowered her voice. "Some of us have a liddle pool going. Wanna get in? It's only two Small Dog Milk Bones."
"Tempting, but I'm on the job, so-o …"
Cooper Monuszko, a frenly brindle Catahoula mix, was amazed the surf pooches could stay standing on their boards. "How do they DO that? Do they have, like, Velcro on their paws?"
Cooper's a very happy rescue. He told me he'd been homeless, then lived at Big Dog Ranch, before finding his Forever Home with his Dad Jim.
The Tandem Paddle Board competitors and their human partners were on the water practicing: Big Wave Bonnie Gelman, a Catahoula Dalmatian mix; Rikon Willoughby, a Shepherd mix; Lilly Anderson, a little terrier;  newbee Cole Watkins, a spunky black dashchund mix rescue; Lily Voigt, a pretty yellow Lab; an another Lab Mix, Samuel.
They all had their own style of sticking the board, nose up or tucked, paws forward or back, straight or crouching, whatever it took to ride in, looking good, avoiding leaping or falling (soggy-dogging) into the drink before reaching shore.
Waldo's Solo Pro field was larger and more intense cuz, once their human partners got the surfers positioned, the poocheroos were on their own. And these dogs were bringin' their 'A' game.
With Waldo's champion reputation, everybody was lookin' to beat him. His stiffest competition, it looked like from where I sat, was Lily Voight, who had nailed first in the Tandem, and Bonnie, second in Tandem. Both ladies were lookin' strong in their solo practice runs. Waldo had better watch his caboose, I was thinkin.'
"We're Waldo's cheerleaders," said Little Bit, a perky Maltese. "We try to get to all his competitions."
The rest of the Solo field – some experienced and some gremmies – Riptide Leach, a Golden Retriever; Utah Broadbent; Minx Calhoun, a Lab; first-timer Bella Kepfer, a small but fearless Yorkie; an Bodhi Geer, a brown-an-white mix. Earlier Minx had told me she an her Dad Bob had organized the whole event, and that most of the competitors were 'Second Family' or rescue pooches, which I thought was Majorly Awesome Dog Biscuits, don't you?
I wish you pooches cudda been there. The Solo was So Exciting! The beach was full of humans an pooches cheerin' for their favs. The waves were crankin' near shore so most everyone got some good rides. The judges, all surfers themselves, called the com-puh-TISH-en, makin' it even more excitin'!
"She's up! She's down! She's all right! There's a Clean-up set coming to shore! A big set comin' in! It's neck-an-neck for some of these bad boys! They're givin' it their all! Whoa! It's the wave of the day! THIS IS IT!!"
In the end, girls ruled. Lily Voight took her second First Place trophy, and Waldo settled for second.
"I've been surfing for 2 anna half years," Lily said, executing a graceful nose-to-tail shakeout. "That Waldo really keeps me on my toes, fer sure. I totally love the com-puh-TISH-en! Can't wait for the next one."
Waldo was drooped out, but philosophical. "A little Humble never hurt. Can't be too cocky. Anyway," he grinned, "next time that trophy is MINE."
Heading home, I was adding to my Bucket List. "Ride a wave, standing up, one time." I wonder if doing it in our swimming pool would count. COWABUNGA!