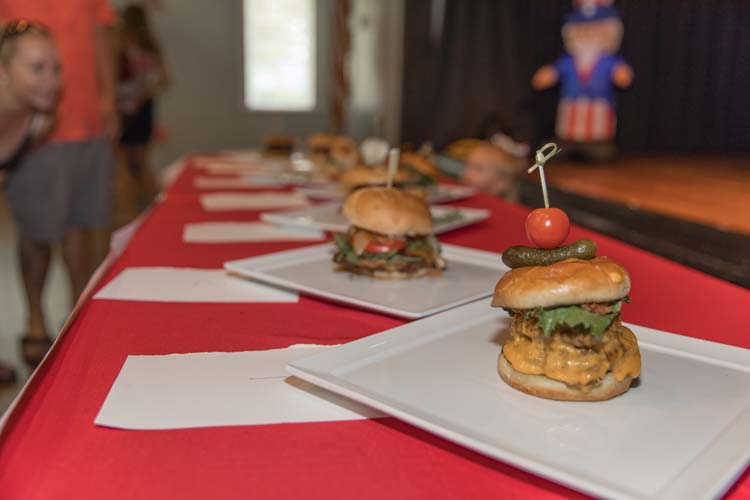 Summertime is festival time, and in July, festivals tend toward the patriotic. This Saturday, in historic downtown Vero, for example, it's the "Burgers and Brews Festival: An American Heritage Celebration." Starting at 11 a.m., in the (air-conditioned) Heritage Center, you'll get to lunch on (and vote on) some of the best burgers/sliders in these parts, lovingly crafted by more than 10 local restaurants, all bringing their 'A' game as they vie for People's Choice and Judges Choice glory. The free street festival and live music get going at 1 p.m. and feature a pair of popular groups. The versatile Ladies of Soul band features a trio of strong female vocalists and back-up musicians. They can bring Motown, disco, R&B, contemporary and jazz, or channel Whitney Houston, Donna Summers or Sade. Based in Jupiter, Tom Jackson (Tom Jackson Band) is a country rocker who's been on stage, according to his website, virtually his entire life. His style is "new, driving, aggressive country, with a rock edge," employing a vocal range that other singers "would die for." Jackson's most popular songs go from "the mud slingin,' four wheelin,' redneck anthem 'Lovin' the Mud' to fan favorite ballad 'First Time Again.'" The festival includes a comfy, air-cooled VIP pavilion with cocktails, beer, soda, and the Burger and Slider contest/luncheon; a Children's Zone, with bounce houses, a petting zoo and lots and lots more; and a street-full of food trucks, vendors, a fire truck and myriad other activities for all ages. Did I mention the apple pie-eating contest and the "Best Apple Pie" contest? Can you get any more all-American than that? So, unless you're a total grump, you'll find something fun and interesting in downtown Vero this Saturday. FYI: All proceeds from the Best Burger Contest and Slider Luncheon; VIP Pavilion; Red, White and Brew tank top sales; and Burgers and Brews Festival beverage sales support United Against Poverty of Indian River County. Festival times and tickets: Heritage Center contest/luncheon, 11 a.m. to 3 p.m., $30; VIP Pavilion, 1 p.m. to 7 p.m., $80; Children's Zone, 1 p.m. to 7 p.m., free; street festival and music, 1 p.m. to 7 p.m., free.
Red, white and blue becomes the new black in Sebastian on the 4th of July, as has been the tradition for almost half a century, when thousands gather to celebrate our country's Independence this year at the 46th annual Parade and Freedom Fest. Probably the most popular, and certainly the biggest, July 4 celebration on the Treasure Coast, this free, patriotic family event kicks off at 8:30 a.m. with a big parade, marching south along Indian River Drive from Davis Street to the Freedom Festival grounds at Riverview Park. There will be plenty of food, beverages, crafts and all sorts of vendors, and live music will fill the air throughout the day. At dusk, of course, everyone gathers for the festival's always spectacular grand finale fireworks show. To get the all-American experience first-hand, turn off the TV and enjoy the real thing in Sebastian. TIP: Arrive as early as you can stand for speedier parking. But whenever you arrive, be assured the Sebastian PD and a battalion of dedicated volunteers are terrific at handling the parking in a friendly, cheerful and efficient manner. Festival hours: 8:30 a.m. to 9 p.m.
You can pretty much always count on Riverside Theatre to keep weekends from becoming ho-hum snoozers, even in the summer. Next Friday and Saturday, July 6-7, it's time for another let-your-hair-down Howl at the Moon Experience with a Vegas Nights theme. First, get your feet tapping and your appetite satisfied at Live in the Loop, the really beautiful outdoor venue with excellent food and full bar, plus free live music. Classic rock-and-roll is on tap with the Comfort Zone band Friday and the Happy Cake Duo Saturday. Then head inside to the spacious theater lobby, which will be transformed into a Vegas-style casino, with blackjack and craps tables and poker. You'll use Riverside's "funny money" and (hopefully) turn in your winnings for a chance at some prizes. Do you feel lucky? Vegas Nights benefit Riverside's Theatre for Kids classes and camps scholarships. Live in the Loop, 6:30 p.m. Free. Vegas Nights, 7:30 p.m. and 9:30 p.m. Tickets: $12 to $22. 772-231-6990.
"Madagascar Jr." is the first of the Riverside Theatre Education Division's five summer shows: all terrific entertainment for the whole family to share. This Friday, June 29, some of the area's best young singers, dancers and actors, 7 to 11 years old, will take the stage in a joyful, one-hour live performance based on the animated hit musical movie "Madagascar." If you have kids, you've likely laughed your way through the hilarious film, and you can expect to be delighted at this show as well. Alex the lion, Marty the zebra, Melman the giraffe, Gloria the Hip-Hop Hippo and the bonkers plotting penguins take you along on the "musical adventure of a lifetime," when this crack-a-lackin' bunch escape from their home in the Central Park Zoo and embark on a wild and crazy journey to kooky King Julien's mad-mad-Madagascar (Jr.). You'll all probably still be getting down to "Move It, Move It!" as you head to your car. Stark Stage curtain: 2 p.m. Tickets: $10. 772-231-6990.