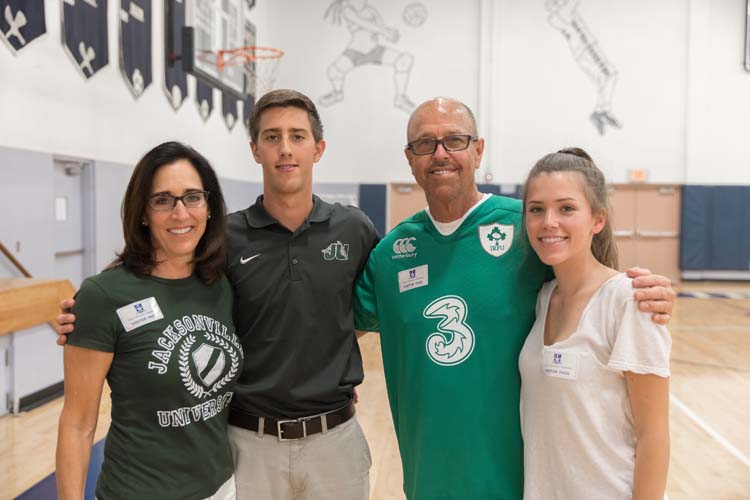 When Alex Houk transferred to St. Ed's as part of a mass exodus of lacrosse players from Vero Beach High School, it was anything but a typical way to finish his final two years of high school. Nevertheless, with graduation now in the rear-view mirror, it is apparent that everything worked out in the best way imaginable.
Exhibit No. 1 is that he will play D-1 lacrosse at Jacksonville University. The official signing took place in November, and that in essence capped off his career as a high school lacrosse player. He suited up for the Pirates as a junior but was ineligible to play as a senior.
"I was a junior in my last year at VBHS and I was actually supposed to graduate in 2017," Houk explained. "I re-classed (repeated junior year) when I came to St. Ed's. I was just trying to come in (to a new setting)."
As it turned out, the timing couldn't have been much better for an aspiring college lacrosse player. The VBHS transfers blended so exquisitely with the existing core that the newly structured team was able to win district championships in 2017 and 2018 under head coach Doug Bailey. The melding of talent accelerated Bailey's goal of elevating the varsity program to state prominence.
Houk described his one season in a Pirate uniform as the best of his entire life. The VBHS group seemed to thrive, as did the entire St. Ed's lacrosse program. It was a classic win-win for all involved. Houk also mentioned that Bailey coached up his game to where it needed to be for college. There was, however, a much earlier lacrosse influence associated with St. Ed's.
"Ironically, I actually started playing here, probably in the first grade," Houk said. "My cousins played here and one was an All-American lacrosse player in college. They got me involved early and I fell in love with the game immediately. All around it was just a lot of fun, both the physical aspect and the IQ aspect.
"At the end of my freshman year I started going up north to summer recruiting tournaments. At that point I realized I had some potential to play at the next level, especially if the game could take me to the college that I wanted to go to."
Houk was the MVP on offense for St. Ed's in 2017. His 29 goals and 30 assists combined for a team-high 59 points. He specialized in face-offs to the tune of a 68 percent success rate. He was first-team All-District, All-Area and All-Region. He shunned the idea of sitting idly by as a senior, even doing a little coaching by managing the substitution box.
"Even though I couldn't play, I was able to keep up my skills by working out with the team in practice," Houk told us. "I've always had great stick skills and awareness when I was on the field. I was primarily a face-off guy at VBHS, but when I transferred I realized that I could take those skills and translate them into becoming more of an offensive player. Last summer when I played for the Dukes (a high-powered travel team out of Philadelphia) I was an offensive midfielder.
"So I kind of shifted my role. At Jacksonville I'm not quite sure what I will be doing. I'm kind of a jack-of-all-trades. I'm going to see wherever I can fit in and however I can get on the field. They had a really good team this year, we have a good recruiting class coming in, and a great coaching staff. It's also a great city."
So Houk will work his way confidently onto the lacrosse team at Jacksonville in much the same way he did after the awkward change midway through high school. While his lacrosse fortunes benefitted immensely from that upheaval, he came to appreciate another equally significant upgrade.
"What really surprised me when I got here was the academic side of the school. The lacrosse aspect was great too. We were building the team to be a state contender. The coaches were great and the administration was supportive. We had a great set-up and a good thing going.
"But it was even more exciting to come here and graduate. I loved my classes, the teachers, the kids. It was just a different type of environment, one that was more focused on you as a person.
"I took some economics and government courses and I think I want to be a lawyer. I will study business at Jacksonville and hopefully go to law school after that."